Lance McCullers, Jr. RHP Houston Astros
10/2/1993
Height: 6'1″ Weight: 195
A quick overview of the 7/31 outing for Lance McCullers against the GCL Marlins. McCullers went 3 innings giving up no runs on 3 hits and 1 walk while striking out 5. That puts him at a 1.64 ERA on the season with a strikeout per inning. Here's the video for today's start from a couple of angles.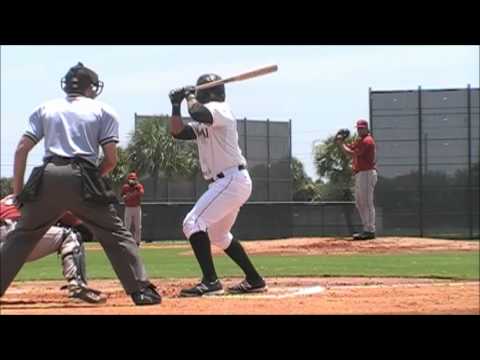 McCullers has a big frame and looks bigger than the list 195 lbs. He's a presence on the mound and was working 93-96 and touched 97 on a couple of occasions. He worked in an 82-85 mph slider which is a tough pitch with the same arm speed as his fastball. Working the two pitches with the fastball up and down you can see why he's been labeled as a potential closer type.
But he flashed a low 80 changeup more than a few times and while we're talking rookie ball hitters, he was using the changeup effectively with good arm speed. So there is more than a good chance that he can continue to develop the pitch into an above average offering.
Look for a full Prospect Instinct on McCullers this weekend.
Stick with Baseball Instinct and we'll keep you a step ahead of the game. Check back soon for more Prospect coverage. While you're here, check out our Baseball Instinct 360° – it's our top 360 prospects for 2012. Also check out a friend of ours for all of your fantasy sports needs. Fantasy Rundown is updated religiously and is truly an awesome resource. Thanks for checking Baseball Instinct. We're working hard to bring you the best of the minor leagues and make the site the best experience it can be, so don't hesitate to tell us what you would like to read about. Email us now at mailbag@baseballinstinct.com. And while you're at it head over to Facebook and join the Instinct page.