Jameson Taillon RHP
11/18/1991
Height: 6'6″ Weight: 225
We're going to take a look at a start by Taillon this season here in the Florida State League for the Bradenton Marauders. We're getting out there to see all of these guys so we can bring you reports and reading of what's actually going on and not a he say she say telephone game where MPHs are getting tacked on and stories are getting blown out of proportion.
Here's the video of Taillon: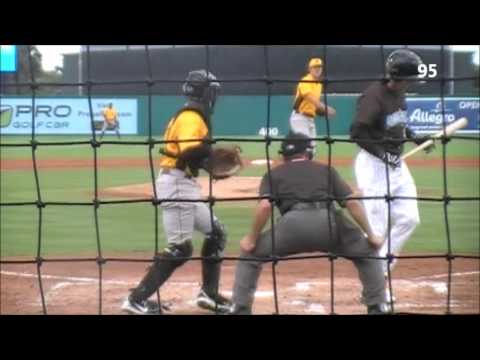 Taillon had been reported to sit mostly mid 90s with the upper 90s in his pocket. He sat mostly 91-94 touching 96 at times. But the pitch is heavy and hard to lift. No one was making really hard contact and the balls made a thud sound upon most contact.
I can see him breaking a fair amount of bats as he reaches his potential.  But the K rate isn't where we expected it to be and it may take some time for him to really put it all together.
His mechanics are clean and he uses his body well. The velocity is there for an elite starter and the curveball will be a plus pitch in time. Taillon will still need at least another full season in the minors to work on command but should be close to seeing a call up no later than 2014.
Stick with Baseball Instinct and we'll keep you a step ahead of the game. Check back soon for more Prospect coverage. While you're here, check out our Baseball Instinct 360° – it's our top 360 prospects for 2012. Also check out a friend of ours for all of your fantasy sports needs. Fantasy Rundown is updated religiously and is truly an awesome resource. Thanks for checking Baseball Instinct. We're working hard to bring you the best of the minor leagues and make the site the best experience it can be, so don't hesitate to tell us what you would like to read about. Email us now at mailbag@baseballinstinct.com. And while you're at it head over to Facebook and join the Instinct page.