Patrick Kivlehan caught our attention this spring during his time with the Rutgers Scarlet Knights.  For those of you who don't know his story, it's pretty impressive.  He won the the Big East triple crown in 2012 by hitting .392 with 14 HR's, and 50 RBI.  He also added 47 Runs, 2 Triples, 11 Doubles, and 24 SB to go with a 40/22 K/BB ratio over 189 at bats in route to being named the Big East player of the year.
Oh but wait, the story gets better.  He took 4 years off from baseball while he played football for Rutgers.  That's right, 2012 was his 1st season of baseball for Rutgers and he won the conference player of the year and triple crown awards.  This didn't go unnoticed by pro scouts either and with the 131st pick in the 4th round of the 2012 MLB draft, the Seattle Mariners called his name.
The novelty of it all was intriguing when the Mariners drafted Kivlehan, but could he play professionally?  The Mariners discussed moving him to the outfield, where they felt is 6'2″, 210 pound rugged body would play better.  However, when short season ball opened in the Northwest League in June, Kivlehan was at third base, as he was at Rutgers, and has remained there all season.   He's hitting .318 with 8 HR's, 2 Triples, 10 Doubles, 37 RBI, 32 Runs, and 11 SB to go with a 65/10 K/BB ratio over 211 at bats.  He has a solid ISoP of .180 and a very lucky .428 BABIP.  It's almost as if he puts the bat on the ball that it's going to find its way safely into play.  He's currently hitting 381 (16 for 42) over his last 10 games.
I've had the opportunity to see him play about a dozen times this season.  What keeps the 22-year-old from being promoted is his approach at the plate.  He's got very quick hands and his weight transfer is excellent and he accelerates the barrel of the bat through the zone.  Where his troubles are at is in his pitch recognition.  Truly a case of being behind the curve of other hitters his age who have had literally 500 to 800 more at bats in game situations.  Some at bats he will work the count too much, missing his opportunities.  Other at bats where he's taking cuts at bad pitches.  Having said that, take a look at the video I took a few weeks ago.  At the end of the season, I plan to update this clip to include video since I uploaded this one.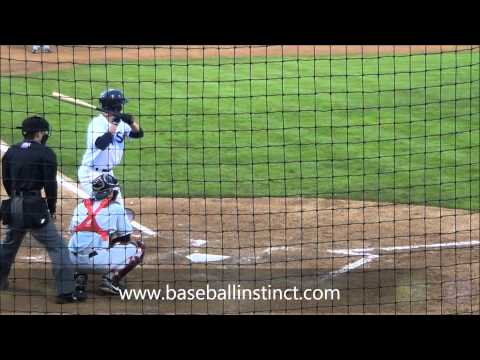 Patrick Kivlehan is having one heck of a season, and his back ground story makes it that much more impressive.  However, the reality is that he's 22 years old and will likely start the 2013 season with the Low-A Clinton LumberKings of the Midwest League.  Hopefully, he continues to show enough this season that Mariners either promote him quickly or start him out with the High-A High Desert Mavericks of the California League.  He will be 23 years old in December and will need to start moving fast.  Still, I've been very impressed with his play at 3B and I think he can stick there.  I love the overall potential, and can say that I'm a fan.
Stick with Baseball Instinct and we'll keep you a step ahead of the game. Check back soon for more Prospect coverage. While you're here, check out our Baseball Instinct 360° – it's our top 360 prospects for 2012. Also check out a friend of ours for all of your fantasy sports needs. Fantasy Rundown is updated religiously and is truly an awesome resource. Thanks for checking Baseball Instinct. We're working hard to bring you the best of the minor leagues and make the site the best experience it can be, so don't hesitate to tell us what you would like to read about. Email us now at mailbag@baseballinstinct.com. And while you're at it head over to Facebook and join the Instinct page.