Jesse Biddle, LHP
10/22/1991
Height: 6'4″ Weight: 225
With less than a month to go before the minor league season comes to a close, we're going through our Scouting Video for the 2012 season and circling back on some of the Scouting Reports. Today we're taking a look at the Phillies top pitching prospect, Jesse Biddle.
Biddle worked mostly in the low 90s with the fastball and was accurate on the corners on both occasions I got to see him this year. He ran the fastball up to 94 on occasion but seems to settle into the 91-92 range.
The curveball was sharp with hard bite 2-7. Since this outing he's adding back in a slider that had been scrapped last season. He also uses the changeup well already which is a good sign for his development.
One concern is that the FSL is known to mask some possible inefficiencies with location in the zone. But it's clear that he made big strides and will start the 2013 season in Double-A where his biggest test will come.
Preseason, Biddle was one of our Top 10 LHP and ranked very high on our 360:
Update Instinct – A youngun of the Top 10, Biddle is still all projection without the refinement. He will spend time in the FSL and if the velocity upticks he could be in the Top 50 before the end of the season. 
The velocity upticked consistently in the low 90s and Biddle is now a Top 50 prospect. Take a look at the video.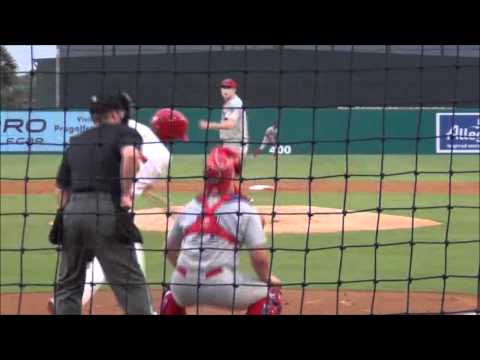 Our Instinct
Biddle is striking out a batter per inning and has dropped his walk rate to 9.2% on the year. Both excellent numbers. He's a step behind Trevor May in the system, but as a lefty with 3 possible plus pitches and the frame to eat innings, he has a higher ceiling than that of May. He also has more things to refine and and longer climb to that ceiling. If he can maintain lefty premium velocity in the low to mid 90s and refine both his changeup and command of his curveball he'll get an above average K rate and be able to eat innings. Not much more the Phillies could ask for at this point. His probable place is as a high end mid rotation starter, but he could become a #2 type. He's in the right organization to learn from pitchers like fellow lefty starters, Cliff Lee and Cole Hamels and then Halladay on the endurance factor. Look for him to spend the entire season in the FSL and to build his innings to 150 or so before he makes his Double-A debut in 2013 and from there he won't be far from Philadelphia.
Stick with Baseball Instinct and we'll keep you a step ahead of the game. Check back soon for more Prospect coverage. While you're here, check out our Baseball Instinct 360° – it's our top 360 prospects for 2012. Also check out a friend of ours for all of your fantasy sports needs. Fantasy Rundown is updated religiously and is truly an awesome resource. Thanks for checking Baseball Instinct. We're working hard to bring you the best of the minor leagues and make the site the best experience it can be, so don't hesitate to tell us what you would like to read about. Email us now at mailbag@baseballinstinct.com. And while you're at it head over to Facebook and join the Instinct page.