Adam Morgan, LHP
2/27/1990
Height: 6'1″ Weight: 195
There's about a week left in the minor league regular season and I'm looking forward to my annual afternoon outing with my daughter to take in the final game of the season next Sunday afternoon at Roger Dean Stadium to see the Palm Beach Cardinals take on the Jupiter Hammerheads.
Today I'm going to jump into a Prospect Instinct complete with Video of another Phillies lefty that has had an excellent 2012 season in the FSL. Today it's lefty Adam Morgan. He's a 2011 draftee that signed for $250,000 after being drafted in the 3rd round out of the University of Alabama.
Morgan has found success at each level so far in his professional career, starting off with a 2.01 ERA in the New York-Penn League fully supported by his FIP. His K rate was strong but his highlight is his ability to control the strikezone and the low K rates are becoming a staple in his profile.
Heading into 2012 he wasn't a top 10 prospect in the Phillies system and came in at 14 on the overall list. He's more than lived up to that and should find himself comfortably inside the 2013 Top 10.
Let's take a look at the pitch arsenal and the mechanics with some instinct video.
The Stuff
Morgan works with a 4 pitch mix and has used all four throughout his career. So no new additions here. He has a low 90s fastball. Working in the 89-91 range through the first couple of innings. He opened it up a little in the 3rd hitting 92-93. Working inside/outside  with fastball while working in 3 off-speed pitches.
His main secondary was a slider the works well out his 3/4 arm slot and the pitch is mostly in the 82-83 range. It has hard cut that's a nice match with the fastball.
He also throws a curveball which is a little more than a show me pitch. Its a high 70s offering with more top to bottom drop than the tradition curveball. So its not projected as a strikeout pitch. But he flashes the pitch with further disparity from the fastball, coming in low 70s and he really spins it well at times. While he's moving through the system quickly, his curveball stands a chance to be above average.
His final pitch is a changeup that comes in around 82-84 with good sink. It gets groundballs much like his fastball does.
The Mechanics
 First look at Morgan and you can see he's athletic. His frame is solid and his legs provide a solid base. Though he doesn't utilize his legs to the maximum in his delivery. Tending to lock out his plant leg after landing.
Combined with a big loop at the back of his arm swing it keeps him from pitching down hill. Neither adds to injury concern though, so I don't see any major mechanical adjustments in his future.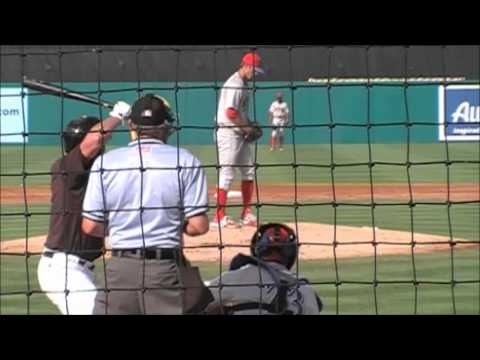 Our Instinct
Morgan has gotten his K rate over strikeout per inning this season. It's a real accomplishment and a testament to his pitchability. He isn't a pitcher that's going to go out and blow away hitters, but he works a solid game, using the entire strike zone with all four pitches.
He's made strides up the Phillies pitching ranks and will close out the year in Double-A where he figures to start the 2013 season.
He projects well as a rotation arm and should be able to slot in at the back end of the rotation. He could grow to be as much as a mid-rotation starter in time as well. That will be highly dependent upon how far his changeup develops.
Expect him to start next year in Double-A, a jump that has stumped many Phillies pitching prospects in the past. If he keeps the K rate up he could see time in Philly as early as next year.
Stick with Baseball Instinct and we'll keep you a step ahead of the game. Check back soon for more Prospect coverage. While you're here, check out our Baseball Instinct 360° – it's our top 360 prospects for 2012. Also check out a friend of ours for all of your fantasy sports needs. Fantasy Rundown is updated religiously and is truly an awesome resource. Thanks for checking Baseball Instinct. We're working hard to bring you the best of the minor leagues and make the site the best experience it can be, so don't hesitate to tell us what you would like to read about. Email us now at mailbag@baseballinstinct.com. And while you're at it head over to Facebook and join the Instinct page.