The New York Mets are a team in flux, but the recent long-term signing of star 3B, David Wright, shows that management is serious about building a team that will get the Mets faithful back on board with the organization. Last year we had a starting pitcher named Matt Harvey at the top of our Mets Top 10 and he lit up Flushing once he made his debut.
Expect him to continue to build on his talent and be a mainstay for that rotation to anchor itself with. The Meta also have some post-hype prospects in Neise and Ike Davis that should both be on target for career seasons in 2013. So the major league club is going to be a sneaky team, though they still have an elite level Nationals club to contend with in the NL East.
This year the system gets deeper at the top, with some ready now talent and some exciting potential in the lower levels.
Let's get started with the New York Mets Top 21 Prospects of 2013.
1. Zack Wheeler, RHP 5/30/1990 H: 6'4″ W: 185  – Wheeler was #2 on this list last year behind only the aforementioned Matt Harvey. Wheeler, was the baby on many lists last year and rightfully so with his elite level stuff. But he still has some things to work on as evidenced by his jump in walk rate and decline in K rate.
Our Instinct: Wheeler will return to Triple-A to start the season and once he gets his mechanics in line and starts trusting his fastball, he'll move quickly and find his way to New York. He has Ace upside, but it won't be based on his stuff, it will based on how well he learns to trust it. His floor is similar to Matt Harvey as well. A top rung #3 or solid #2. Becoming that 2 or 3 seems like a most likely scenario and one that the Mets would be ecstatic to see. ETA 2013.
2012 by the numbers: 12-8, 3.26 ERA, 3.74 FIP, .290 BABIP, 148/59 K/BB ratio in 149 innings between AA and AAA.  2009 1st round draft pick(Giants), 6th overall.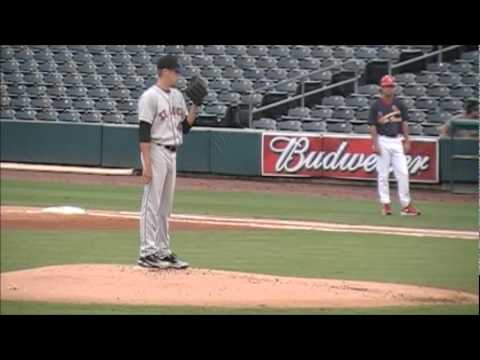 2. Travis d'Arnaud, C 2/10/1989 H: 6'2″ W: 195 – Part of the Dickey trade, d'Arnaud was the Jays top prospect and slides into the Mets order here at #2. No change in the profile but the opening for a spot is much more obvious, with no one outside of Buck in front of him. Buck came over in the trade as well and will only keep the spot warm until d'Arnaud is ready, which should be right around the time the weather warms up. Though if he struggles, Buck will serve the Mets well while they wait.
He comes with a solid defensive skill set. A strong arm and average footwork behind the plate. Still has work to do with running a game from the general spot though and injuries to his knee are red flags long term.
Our Instinct: His calling card is going to be his potential above average power and above average hit tool. He looks like he'll hover around approaching a .300 AVG and put up 20 HR seasons. The power output in 2012 seems like a true HR break out, but the environment in Vegas is one of the best offensive parks in all of baseball.
So I would temper expectations for 30+ HR seasons. But the IsoP with a 2nd consecutive .225+ season is confirmation that there is true above average power here. Speed is not a part of his game and if he doesn't hold up physically he'll end up an average 1B. I think something more along the lines of Carlos Santana might be the player profile inside a few years. ETA: 2013
2012 by the numbers: .333/.380/.595, 39 XBH(16 HR), 1 SB, .374 BABIP, 59/19 K/BB ratio in 279 ab's in Triple-A for the Jays in Las Vagas. Drafted out of HS in 2007 1st round (37th overall).
3. Noah Syndergaard, RHP 8/29/1992 H: 6'5″ W: 200 – We had Syndergaard as the #132 prospect in baseball heading into last season. A high ranking at the time that proved how easy it is to underestimate talent. Syndergaard has the same power arsenal he did heading into last season as well as that perfect pitchers frame.
He works with a 92-94mph fastball that he gets into the upper 90s in the mid innings holding velocity through his starts. Those starts have been shortened as the Jays have protected their young arms. I would expect the Mets to ease off the leash a little in 2013 and let him run to 140 or so innings in the FSL. He'll be refining his curveball and changeup in a pitcher friendly environment and if the strikeout to walk ratio holds, he's going to be on the fast track to elite level prospect. Tempering expectations would have the ERA rise in 2013 to around a 3.00 level as his BABIP normalizes and the hitters become more selective.
Our Instinct: He's actually the one prospect in the system who has the potential to front the future rotation of the Mets. Wheeler is the most likely to reach his ceiling, but Syndergaard is more advanced than Wheeler was at the same age. Expect his name to be highly touted in 2013. Especially in the NY Hype Machine. ETA: 2015
2012 by the numbers: 8-5, 2.60 ERA,  2.21 FIP, .295 BABIP, 122/31 K/BB ratio in 103.2 innings in Low-A. Taken #38 overall in the 1st round of the 2010 draft by the Blue Jays.
4. Michael Fulmer, RHP 3/15/1993 H: 6'3″ W: 200  – 2011 draftee, a lesser touted Oklahoma product, Fulmer is making a name for himself already. His mid 90s fastball and bulldog mentality are already prevalent and his numbers in 2012 show the type of prospect he is. With around a K per inning and a declining walk rate. For a full Scouting Report check his Prospect Instinct.
Our Instinct: He has the stuff for the rotation and as I said last preseason, it will be his command that determines how good he can be. Upside is front of the rotation type so we're talking about a Matt Harvey, Zack Wheeler talent, just a few years behind in development. He'll start 2013 in the FSL ETA 2015.
2012 by the numbers: 7-6, 2.74 ERA, 4.04 FIP, .297 BABIP, 101/38 K/BB ratio in 108.1 innings at Low-A.  2011 1st round draft pick, 44th overall.
5. Wilmer Flores, SS 8/6/1991 H: 6'3″ W: 190 - I was admittedly ready to write off Flores, a prospect who I had watched play more times than I can remember. I had this to say before the 2012 season in Flores Prospect Instinct solo:
I think he will eventually fit in as a platoon 1B with 20 HR power. But I'm going to reserve this one final offseason to see how he comes into camp in St. Lucie and watch his Double-A season closely. He has the talent and bat speed to turn on the power in the blink of an eye. Time is just running very, very short.
Our Instinct: Well he did improve at 3B and the contact ability started to turn into power with a .169 IsoP in the FSL. He had the second breakout season that we have been waiting for and jumped to Double-A with a .186 IsoP. His K rate dropped and his walk rate improved. His ability to make contact is going to drive his success and there should now be more power in store. He should start in Double-A again and possibly see Triple-A mid year. Where he plays in NY is still a mystery, especially since David Wright is entrenched at 3B. A move to LF or 1B is possible. ETA 2014.
2012 by the numbers: .300/.349/.479, 50 XBH(18 HR), 3 SB, .313 BABIP, 60/38 K/BB ratio in 493 ab's between High-A and AA.  2007 International free agent, Venezuela.
6. Jeurys Familia, RHP 10/10/1989 H: 6'4″ W: 230  – Familia is knocking on the door after a brief call up last year, but if he's going to be a starter long-term he needs time in Triple-A to put the command together. His mechanics can become an issue which affect his command. But he has one of the most dynamic arms in the system with a mid to upper 90s velocity and an excellent slider. His change is still developing and will need to improve to be more than a back-end starter.
Our Instinct: I still feel that we're looking at a dominant RP. If the Mets surprise this year, Familia will be a force in the pen. If not, he may spend most of 2013 in the minors. Expect to hear his name called this year. If Parnell doesn't lock down the closer role by mid season it could be Familia eventually that does. ETA 2013.
2012 by the numbers: 9-9, 4.73 ERA, 4.62 FIP, .347 BABIP, 128/73 K/BB ratio in 137 innings at AAA.  2007 International free agent, Dominican Republic.
7. Rafael Montero, RHP 10/17/1990 H: 6'0″ W: 170  – Montero was a standout in his 2011 debut season. He continued that path in 2012, running through the Sally with a 2.52 ERA with just 8 walks in 71.1 IP. That earned him a move to the FSL where he turned on some additional power and bumped his K rate to an elite level 29% while still keeping his walk rate at just 5.9%. His fastball sits low to mid 90s and his slider flashes plus, but is not yet consistent. He is still developing his changeup but it looked like a future average pitch.
Our Instinct: He's not the biggest starter and he wasn't young for the Sally. So his 2013 season will show if he's got more than mid rotation potential. I think he's going to make it to NY as a starter and is a name to watch for in about a year. ETA 2014.
2012 by the numbers: 11-5, 2.36 ERA, 3.40 FIP, .278 BABIP, 110/19 K/BB ratio in 122 innings  between Low-A and High-A.  2011 International free agent, Dominican Republic.
8. Brandon Nimmo, OF 3/27/1993 H: 6'3″ W: 185  – Nimmo is touted as a raw talent, but in real life, that's not actually true. He has an excellent approach at the plate with a very high walk rate. His ability to make solid contact against secondary stuff is his main issue at this point.
Our Instinct: It will indeed take time for him to hit at a high level, but he's flashing pretty big power already. That .158 IsoP isn't going to light up radars, but he hit 20 doubles and 6 HR in 266 AB. He's heading in the right direction. He's another prospect whose true power I don't expect to emerge until he's weathered the FSL. ETA 2016.
2012 by the numbers: .248/.372/.406, 28 XBH(6 HR), 1 SB, .330 BABIP, 78/46 K/BB ratio in 266 ab's at Short Season-A.  2011 1st round draft pick, 13th overall.
9. Domingo Tapia, RHP 12/16/1991 H: 6'4″ W: 185  – Tapia has one of the best overall fastballs in the system and has command of the pitch at a young age. With a 7.1% walk rate, his success has been defined by those two factors. He is still refining his secondary offerings.
Our Instinct: He's still refining a change with fade and his curveball may eventually be shelved for a slider due to its lack on depth. Tapia has the frame and the fastball to project high upside and the changeup being his second best pitch actually is an advantage. If its developed. But he'll see the FSL this year and the staff there is excellent at working consistency from a pitcher like Tapia. ETA 2015.
2012 by the numbers: 6-5, 3.98 ERA, 3.39 FIP, .304 BABIP, 101/32 K/BB ratio in 108.2 innings at Low-A.  2009 International free agent, Dominican Republic.
10. Cam Maron, C 1/20/1991 H: 6'1″ W: 175 – Maron is still an unknown, but after making our Top C Prospects of 2012 List last year, he did what we thought he would. He hit. Despite a very slow start to the season, he remained professional as a hitter and chipped away at his batting AVG all the way to a .300 AVG at the end of the season.
He doesn't have much speed, but enough quickness to be a full-time catcher at the major league level and might just be better than some right now.
Our Instinct: His plate discipline will be tested in 2013 in the FSL, but again we think he'll hit at a high level and once he gets to Double-A, he could turn into a 10-15 HR hitter with a .290+ range AVG.  ETA 2015.
2012 by the numbers: .300/.403/.408, 25 XBH(5 HR), 2 SB, .370 BABIP, 73/53 K/BB ratio in 343 ab's at Low-A.  2009 34th round draft pick, 1034th overall.
11. Gavin Cecchini, SS 12/22/1993 H: 6'1″ W: 180 – Cecchini was outside the Top 30 for us in the Draft Preview. He was taken 12th, an over draft until he proves us wrong. But I'm also stone-headed and I know the Mets will give him every chance to succeed as a 1st round pick. He needs to uptick the power in short order, especially if can in fact not stick at SS.
Our Instinct: He is a good athlete with good speed and should hit enough to eventually be a solid major leaguer. We just don't see a future star. ETA 2017.
2012 by the numbers: .240/.307/.321, 12 XBH(1 HR), 5 SB, .305 BABIP, 44/18 K/BB ratio in 196 ab's at Rookie-A, with a brief stop at Short Season-A.  2012 1st round draft pick, 12th overall.
12. Aderlin Rodriguez, 3B 11/18/1991 H: 6'3″ W: 210 - Rodriguez is a top power prospect in the system with now power and the K's to match. He had a .200+ IsoP on the season and a IsoP of .190 in the FSL which is an impressive number for his High-A debut.
Our Instinct: He has true HR power and if he mature as a hitter and draw more walks, his K rate will be more than tolerable. His long-term position is probably not 3B so he'll eventually move to LF. He'll have that power to be usable there, but will need to draw more walks to be a regular. He'll head back to High-A in 2013 and should be a 20+ HR hitter again. ETA: 2015.
2012 by the numbers: .263/.321/.476, 51 XBH(24 HR), 2 SB, .289 BABIP, 72/17 K/BB ratio in 525 ab's between Low-A and High-A.  2008 International free agent, Dominican Republic.
13. Danny Muno, 2B 2/9/1989 H: 5'11″ W: 175 – Muno worked around a 50 game suspension to have a nice under the radar season. In the FSL where hitting for power is tough, he had 24 XBH in 289 AB with a very high walk rate and a low K rate. He's going to be a 2B and will be 24 this season so the clock is ticking. A move to Double-A is likely in 2013 and Muno will look to bring his high OBP and speed to the game with a touch of power.
Our Instinct: He could be a 10+ HR and 25+ SB MI with very little support in this system under Murphy on the big team. ETA 2014.
2012 by the numbers: .289/.387/.412, 24 XBH(6 HR), 19 SB, .326 BABIP, 53/50 K/BB ratio in 289 ab's at High-A.  2011 8th round draft pick, 252nd overall.
14. Matt Den Dekker, OF 8/1-/1987 H: 6'1″ W: 205 – Den Dekker has all the talent to be a full-time OF for the Mets, but he also has huge holes in his game that may keep him from being that player. With a wildly high K rate at 28%+ in Triple-A he's going to need a year at Triple-A to see if he can adjust to the new level. But adjusting to the level after that is my worry. High K rates likes this don't disappear when you hit the majors.
Our Instinct: So all of the positives – Average power with 56 XBH, the speed with 21 SB and the solid defense in CF will all be for not if he's going to strike out 150+ times per season. He'll start 2013 in Triple-A and Vegas could have his power spike. Watch the OBP and K rate closely. If they trend the right way he could get a mid-season shot in 2013 but the true ETA 2014.
2012 by the numbers: .274/.321/.458, 56 XBH(17 HR), 21 SB, .356 BABIP, 154/34 K/BB ratio in 525 ab's between AA and AAA.  2010 5th round draft pick, 152nd overall.
15. Luis Mateo, RHP
16. K.Plawecki, C
17. C.Puello, OF
18. D. Ceciliani, OF
19. A. Harris, OF
20. C.Vaughn, OF
21. C. McHugh, RHP
BONUS – After the Toronto Trade
22. J.Lagares, OF
23. C.Mazzoni, RHP
For a complete list of the Top 21′s visit the 2013 Top 21′s Page
Stick with Baseball Instinct and we'll keep you a step ahead of the game. Check back soon as we release our top 21 prospects for each organization. While you're here, check out our Baseball Instinct 360° – it's our top 360 prospects from 2012, and we will be updating it for 2013 soon. Also check out a friend of ours for all of your fantasy sports needs. Fantasy Rundown is updated religiously and is truly an awesome resource. Thanks for checking Baseball Instinct. We're working hard to bring you the best of the minor leagues and make the site the best experience it can be, so don't hesitate to tell us what you would like to read about. Email us now at mailbag@baseballinstinct.com. And while you're at it head over to Facebook and join the Instinct page.  You can also follow us on twitter: @BaseballInstinc.