The Seattle Mariners have one of the deepest farm systems in all of baseball.  It was very strong going into the 2012 season when they added Mike Zunino, Edwin Diaz, and Tyler Pike through the draft.  In addition, with the strong showing from 2011 International signee Victor Sanchez from Venezuela, and sign a strong lefty in Luiz Gohara from Brazil, the system is just that much better. GM Jack Zduriencik continues to stay the course and develop his team from the inside, much to the chagrin of most in the Mariners nation. He did however, show a willingness to give up a package of prospects to the point of over payment for Justin Upton.  Upton exercised his right to veto the trade that would have sent Taijuan Walker, Nick Franklin, Stephen Pyror, and Charlie Furbush to the Arizona Diamondbacks. Let's jump in head first and talk about this organization.

1. Mike Zunino, C 3/25/1991 H:6'2″ W:220 –  Admittedly, I was like many in the Mariners nation who had hoped for a "sexier" pick on draft day 2012 than the Florida Gators' slugging backstop.  I guess somewhere deep down I knew it was the right pick, but wanted the Mariners to take a player like Carlos Correa, Albert Almora, or David Dahl.  Players that I had scouted on my trip to southern Florida the previous fall at the WWBA championships.  Fast forward to mid summer 2012 and the Mariners decided to assign Zunino to Short Season A Everett, right in my back yard.  He was with Everett for 29 games and from the get go you could tell that Zunino wasn't going to last very long in the minors.  His approach to the game is professional, yet he has a lot of fun doing what he does.
Here's the video I took of Zunino in his pro debut: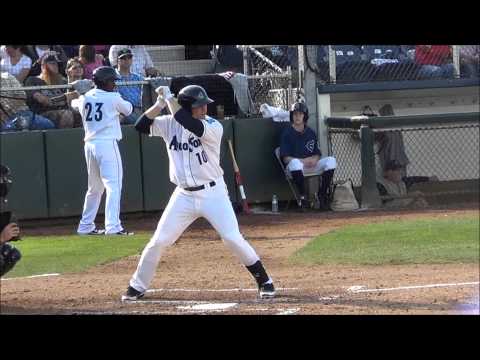 From our 2012 draft preview:
Mike Zunino C Florida – Zunino is the top ranked catcher heading into the draft. He's the squad leader for the Florida Gators and has hit better this season than he has in the past and he was already considered a 1st round talent. He has above average power and has hit for average despite a long swing. Defensively he's a plus with the glove and has caught north of 30% of runners looking to steal a base.
In his first taste of pro ball he dominated Low-A and made the jump to Double-A. Dominating numbers across the board. The Mariners may have pushed the envelope some by sending him to Arizona in the fall. His numbers in comparison to the regular season were dismal. He was clearly tired.
Our Instinct: Jack Zduriencik is anxious for Mike Zunino to take over as his everyday catcher, but won't rush him. He's been invited to Spring Training, but should start the season at Triple-A. He's the real deal and it wouldn't surprise me if in the near future he's mentioned in the same company as Buster Posey and Carlos Santana, as one of the top catchers in the game. Looks for his arrival in the majors sometime this season.  ETA: 2013.
2012 by the numbers: .360/.447/.689, 27 XBH(13 HR), 1 SB, .391 BABIP, 33/23 K/BB ratio in 161 ab's Short Season-A and AA.  2012 1st round draft pick, 3rd overall.
2. Taijuan Walker, RHP 8/13/1992 H:6'4″ W:210 –  Walker almost became property of the Arizona Diamondbacks in a deal for Justin Upton.  Upton vetoed the deal and Walker remains with the Mariners.  Possibly the steal of the 2010 draft, Walker was one the youngest players at AA this past season.  Walker posted respectable numbers for a 19-year-old in the Southern League, which were skewed by an awful June.  He went 0-3 with a 9.15 ERA, 5.33 FIP, and a very unlucky .373 BABIP.  His stuff is excellent when he is on, but his command has got to be more consistent.
Our Instinct: With a mid 90's fastball, excellent breaking stuff, and an improving change-up, Walker has the ceiling of a front line starter, but should settle into a #2 role with the Mariners once he's able to refine his command.  He's been invited to spring training, but even with a lights out performance it's hard to imagine him starting the season in the majors. He should start the season at Tacoma and if all goes well there, make his major league debut this summer.  ETA: 2013.
2012 by the numbers: 7-10, 4.69 ERA, 3.75 FIP, .318 BABIP, 118/50 K/BB ratio in 126.2 innings at AA.  2010 1st round draft pick, 43rd overall.

3. Danny Hultzen, LHP 11/28/1989 H:6'3″ W:200 – Hultzen may be the player that defines Jack Zduriencik's legacy as the Mariners GM.  We definitely felt the Mariners should have taken Dylan Bundy with the #2 pick in the 2011 draft.  Jack had other ideas though.  He felt that Hultzen was very polished and not far away from the majors.  That Hultzen's left-handed stuff would play very well with the dimension of Safeco field.  Ironically, Bundy made his major league debut in 2012 and the Mariners have changed the dimensions of Safeco to make it a more hitter friendly park, to play "fair" after more than a decade of holding firm on keeping the fences where they were – go figure.
Hultzen's season was perplexing to say the least.  I had looked forward to his promotion to Tacoma so I could get a chance to see him before he made his major league debut.  After all, Tacoma was just be a brief warm up before debuting at Safeco, right?  Eh, not so fast.  At AA Jackson, he had everything working for him.  His command was dead on and his luck was tremendous as supported by a silly .211 BABIP.  A 27.2% K rate and a 11% BB rate at AA would turn to a 23.8% K rate and a 17.9% BB rate at AAA.  His command stunk and his luck had run out, posting a .353 BABIP at Tacoma.  When his command was on at Tacoma, he was missing bats. This wasn't the case when he jumped to a new level and all of a sudden became hittable to advanced bats, rather Hultzen was beating himself with his command.  Put simply, he was extremely wild.
Our Instinct: There's two school's of thought on Danny Hultzen right now.  One suggests that he hit the wall and was simply fatigued at AAA.  The other suggests there's either something wrong with Hultzen's arm or mind.  I tend to be in the middle of the 2 groups.  I don't think you can simply dismiss his awful command at Tacoma by simply saying he was tired.  I also believe his arm action is smooth and his overall delivery is sound, I doubt there's an arm or mechanics issue.  Mentally, Hultzen is as astute as they come.  So, where does this leave him?  Spring training is right around the corner and as a member of the 40 man roster, he will be Arizona with the big club.  With a good spring he could very well break camp with the big club, but more than likely he will have to face down his command demons at AAA for a couple of months.  He's got the upside of a decent #2, but should settle in as a terrific #3. ETA: 2013.
2012 by the numbers: 9-7, 3.05 ERA, 3.24 FIP, .328 BABIP, 136/75 K/BB ratio in 124 innings between AA and AAA.  2011 1st round draft pick, 2nd overall.

4. Nick Franklin, SS 3/2/1991 H:6'1″ W:180 – Franklin's fantastic 2010 debut in the MWL left many Mariners fans as well as prospectors to look at Franklin as a superstar in the making.  Unfortunately, it really meant that he had no place to go but down.  Sadly, the drop off in production wasn't at all bad, but it soured many people with unreal expectations.  The tag of "overrated" has been in many circles misplaced on Nick Franklin.
Franklin posted a triple slash of .322/.394/.502 in 205 at bats as a 21-year-old at AA Jackson.  His .184 ISoP at AA was a good sign as I believe there is more power yet to come.  With his promotion to AAA, Franklin as one of the youngest players in the PCL and saw his OPS dip to .717.  Still, he posted respectable numbers and more importantly his ISoP only dropped to .175, a very good sign for the switch hitter.  Franklin as a righty, has a much better stroke from the left side.  He get's through the zone quickly and with a good amount of power.  When it was suggested that it was a natural looking swing that resembled Ken Griffey's swing, many including myself chuckled.  Upon closer inspection, those claims aren't at all far-fetched.  Now, having said that, his swing from the right side is bland to say the least.  There's no power there (no joke, .094 ISoP from the right vs .233 ISoP from the left in 2012), and I'm really not sure why the Mariners brain trust haven't given up on it yet.
Our Instinct: Franklin got an invite to spring training.  It's been suggested that he won't stick at SS.  He played 6 games at 2B, 2 at DH, and 2 at SS in the Arizona Fall League.  However, this had to do more about team's designating other players as priority players in the AFL, than an intent by the Mariners to move him off SS.  With Kyle Seager at 3B, Dustin Ackley at 2B, and massive log jam in the outfield, his best bet is to stick at SS.  Brendan Ryan is an excellent defensive SS, but is hopeless at the plate.  Franklin's bat will play in the majors, and while it's unlikely that he will start the year in Seattle, if one of the infielders doesn't perform, he could step in and take their spot.  He's likely to get around 200 at bats in with the Mariners this season.  ETA: 2013.
2012 by the numbers: .278/.347/.453, 52 XBH(11 HR), 12 SB, .338 BABIP, 106/48 K/BB ratio in 472 ab's between AA and AAA.  2009 1st round draft pick, 27th overall.
5. James Paxton, LHP 11/06/1988 H:6'4″ W:220 – Paxton is possibly the most major league ready of the Mariners big 3 pitchers.  He over-powers hitters with his mid 90's fastball.  He mixes in a curveball with a big break to it, as well it tossing in a good change-up.  He missed a little more than a month with a left knee injury but came back to post a 6-1 record with a 2.40 ERA in the 2nd half of the season at AA Jackson. He's been invited to Spring training, which starts for pitchers on February 10th.
Our Instinct: If it wasn't for missing time with an injury, Paxton may have made his major league debut last summer.  He's had consistency issue at times evidenced by his 11%+ walk rate, but overall has the stuff to have a ceiling as a #2 starter. With above average K rates as well.  If all plays out right and this core of pitchers stays with the Mariners, Paxton and Hultzen should slide into the #3 and #4 slots behind Felix Hernandez and Taijuan Walker in a very short time.  Look for Paxton to start the season at AAA, but he could be one of the 1st call ups and it may not take much time at all.  ETA: 2013.
2012 by the numbers: 9-4, 3.05 ERA, 3.27 FIP, .325 BABIP, 110/54 K/BB ratio in 106.1 innings at AA.  2010 4th round draft pick, 132nd overall.
6. Brandon Maurer, RHP 7/3/1990 H:6'5″ W:200 –  Coming back from elbow problems is never an easy thing.  Coming back from them and shooting up a strong prospect list is an excellent accomplishment in itself.  After working off the rust, and building up innings in 2011, Maurer went on to have a very productive season at AA Jackson, despite being in the shadows of Taijuan Walker, Danny Hultzen, and James Paxton.  He was pretty steady all season long, posting nearly an identical low 3 FIP vs left and right handed batters.  His K rate of 20.3% and BB rate of 8.3% weren't as good as 2011, but he pitched nearly twice as many innings against much better competition.  Maurer generally works in the low 90's with his fastball, but can brush 95 at times.  He's got a slider with plus potential and also works an average curveball and change up in.
Our Instinct: Potentially, it wouldn't be the biggest shock in the world if he reached the majors before Walker, Hultzen, and Paxton.  However, look for him to build up innings at AAA and could get some time with the big club in 2013.  He's got near the same upside as the big three, but much less of a chance to reach it. If he ends up an average mid rotation starter or he could compliment the back end of many rotations, will depend on his ability to eat innings. He has the frame and could get there pretty soon. ETA: 2013.
2012 by the numbers: 9-2, 3.20 ERA, 2.92 FIP, .322 BABIP, 117/48 K/BB ratio in 137.2 innings at AA.  2008 23rd round draft pick, 702nd overall.
7. Victor Sanchez, RHP 1/30/1995 H:6'1″ W:255 –  When I heard that Sanchez would skipping the VSL, the DSL, the AZL, and even the Appy and making his pro debut 25 minutes from my house in Everett, I was excited.  After watching and taking video of a couple of his starts, I was giddy.  Listed at 6'0″ and 255 pounds, Sanchez appears taller than that.  I'm between 5'11" and 6'0″ depending on when I've been to the chiropractor last.  When I met with him, he definitely looked taller and when I shook his hand, I felt like my hand was that of a child.  He's got massive hands.  On the mound he displays the kind of confidence and control that you would like to see in a 21-year-old, let alone a 17-year-old facing college competition.  He possesses a very good fastball in the low 90s and his off speed stuff is coming along well for someone so young. Once he develops a breaking pitch, his strikeout totals could take off. He'll be focusing on a slider this year and the changeup is already above average when paired with his ability to add and subtract velocity from his fastball.
Here's video I took of him this past season: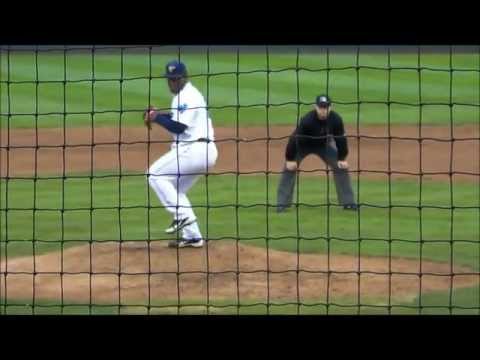 Our Instinct:  It's hard to put a ceiling on a 17-year-old.  After his pro debut in 2012, I think it's quite high.  A lot of things are going to factor into things though, particularly his weight.  While I firmly believe he's 6'1″ or better, he's still going to have to work on losing a few pounds.  Full season ball should help that.  The second issue is how aggressive the Mariners decide to be with him.  If history guides with this case, they were very cautious with Felix Hernandez and it paid off very well.  Not to mention the obscene amount of pitching talent between him and the majors, there is simply no rational for him skipping a level from this point on.  At least not for a few seasons.  The Midwest League would have been his next stop,  will remain at extended spring training. Sanchez, who is just 18, is being brought along slowly after undergoing both an appendectomy and hernia operation during the offseason. From there he could head back to Everett or onto Low-A Clinton.  His lack of physical projection could put his ceiling as a mid rotation starter, but he has high end #3 potential. ETA: 2016.
2012 by the numbers: 6-2, 3.18 ERA, 3.29 FIP, .273 BABIP, 69/27 K/BB ratio in 85 innings at Short Season-A.  2011 IFA signee, Venezuela.
8. Brad Miller, SS 10/18/1989 H:6'2″ W:185 –  Miller has been impressive with the bat at each stop in his brief pro career.  In the field it's another issue.  While he has the glove and the range to be a SS, his throwing errors are troublesome.  A position change could be in the cards.  As a left-handed hitter he posted a .157 ISoP vs Lefties, while posting a .188 ISoP vs Righties.  Miller is a gritty player and plays hard.  He manages the plate very well and has a very efficient swing.  Despite claims of his numbers being inflated by favorable hitting environments, the guy just knows how to hit.
Our Instinct:  Miller could force the Mariners into promoting him to the majors or trading him with his play.  However, with the players ahead of him, especially Nick Franklin, he will have to play very well to move his timetable along.  He really doesn't need to go to AA in 2013, but he may start there before advancing to AAA.  He's got a shot at making his major league debut in 2013, however it seems more reasonable that he will spend 1 more year in the minors.  ETA: 2014.
2012 by the numbers: .334/.410/.512, 62 XBH(15 HR), 23 SB, .391 BABIP, 105/74 K/BB ratio in 557 ab's between High-A and AA.  2011 2nd round draft pick, 62nd overall.
9. Stefen Romero, 2B/3B/OF 10/17/1988 H:6'3″ W:225 – Romero had a great ISoP of .224 at High Desert, which one might expect as the Cal league, especially High Desert, inflates numbers.  However, he went on to post an even better ISoP of .262 at AA Jackson.  He hit very well at both levels and continued hitting in the AFL.  He displays good plate discipline, has good bat speed, and a solid swing.  Defensively, he's ok, but not outstanding.  His bat is what's going to carry him, but it remains to be seen exactly where on the field that will be.
Our Instinct:  Like Miller, Romero is going to have to perform in the minors in 2013 to push his way into the majors.  As it stands, he should start again at AA, but quickly move to AAA.  If he gets a shot in the majors, it won't be until later in the summer. If he sticks at 2B, he has a high end bat for the position. If not he'll be a solid utility player who should be able to handle 2B, 3B and LF passably well. It all depends on his bat at the next level. ETA: 2014.
2012 by the numbers: .352/.391/.599, 64 XBH(23 HR), 12 SB, .380 BABIP, 72/27 K/BB ratio in 474 ab's between High-A and AA.  2010 12th round draft pick, 372nd overall.

10. Carter Capps, RHP 8/7/1990 H:6'5″ W:220 – Capps touches 99 mph with an excellent fast ball.  He has an above average slider to go along with a change-up that he throws very seldom.  At 6'5″ 220 pounds, he has very good pitcher's frame.  He throws from a 3/4 arm slot with clean arm action.  He had a pretty awesome 33.3% K rate to go with an excellent 7.6% BB rate in 2012 while still in the minors.  He made his major league on August 3rd, 2012 and didn't look back.
Our Instinct: Capps will be a part of the Mariners bullpen in 2013 and could end up as the closer before it's all said and done.  With the strong relief pitching core that the Mariners have in the minors, he could become a pretty good trade chip too. But the M's are making moves to compete and the bullpen is always an integral part to a championship caliber roster. Either way, he's going to end up a high leverage RP somewhere this year.  ETA: Now
2012 by the numbers: 2-3, 1.23 ERA, 1.47 FIP, .356 BABIP, 75/12 K/BB ratio in 51.1 innings at AA, with a brief stop at AAA before making his major league debut.  2011 3rd round draft pick, 121st overall.
11. Luiz Gohara, LHP 7/31/1996 H:6'3″ W:220 –  Gohara generated a lot of buzz in the international community prior to turning 16 on July 31st, 2012 and signing with the Mariners for $800,000.  Our own Aaron Bentley ranked him 8th on our 2012 International free agent list:
Luiz Gohara, LHP, Brazil – I would love to put Gohara higher on this list.  He's a 6'3", 215 pound lefty, which would put him in Jose Castillo territory.  He is reported to throw somewhere in the high 80s to low 90s, with reports being that his velocity is improving.  He also already has a slider that gets a future plus grade.  All that being said, he seems to compare very favorably to Castillo and Osiris Ramirez.  However, I'm not alone in being one of many people who have not laid eyes on Gohara.  Having not even seen video of him and having to rely totally on reports, it's hard to place Gohara much higher.  That is especially true when he comes from Brazil, which is not a country known for its pitching prospects.  So even though the reports get me very excited about Gohara, I have to play it safe.  Gohara won't turn 16 until July 31st, so he definitely won't be signing for a little while.
Our Instinct:  Gohara continued to generate buzz with his showing the fall instructional league.  He's a big strong kid that won't be 17 until well into the season.  He has a 3 repeatable pitches with smooth mechanics and has been compared as a "mini" C.C. Sabathia.  Everett Aqua Sox pitching coach Rich Dorman spent a lot of time with Gohara in the Instructs, comparing his ceiling to that of Victor Sanchez in the short term.  Truthfully, he may not produce the same results as Sanchez in 1st pro season, but his ceiling is possibly higher than any pitching prospect on this list, including Walker.  However, his floor is extremely low at this point and he could flame out before reaching AA.  Hopefully he makes it to Everett this season, but he's even younger than Sanchez was at this point in his career.  He could start out in the AZL, but the pairing with Dorman and the Aquasox seems very likely.  I'd love to see him in person this season, but as in the case of Sanchez, I wouldn't expect them to rush him, not even to Short Season-A.  ETA: 2017.
2012 by the numbers: Will make his professional debut in 2013.  2012 IFA signee, Brazil.

12. Edwin Diaz, RHP 3/22/1994 H:6'2″ W:165 –  There isn't a lot of pro data as of yet on the 18-year-old fireballer from Puerto Rico, as he's pitched just 19 innings so far.  He can hit 97 mph already and if he adds more weight to his growing frame, he could potentially become a very over powering pitcher. He's come along way since his days before Caguas Military Academy in PR.  He was very wild before being sculpted by Edwin Rodriguez and company.
Our Instinct: Diaz will be 19 before the season starts and I expect that he will be at extended spring training before heading up north to the NWL in June, though there is a possibility that he could open the season in Low-A.   ETA 2016.
2012 by the numbers: 2-1, 5.21 ERA, 5.15 FIP, .229 BABIP, 20/17 K/BB ratio in 19 innings at Rookie-A.  2012 3rd round draft pick, 98th overall.
13. Tyler Pike, LHP 1/26/1994 H:6'0″ W:180 –  The Mariners 2012 3rd round draft pick has a 3 pitch mix that includes a low 90's fastball and a promising curveball and changeup. He's an excellent athlete with sound mechanics and a good leg drive.  His command made it very difficult for batters to hit him in the Arizona Summer League.  While I was hoping to get video of him in the Northwest League in 2013, he's probably headed for Low-A. ETA: 2016.
14. Stephen Pryor, RHP 7/23/1989 H:6'4″ W:250 –  The Mariners 2010 5th round draft pick has a plus fastball that touches 99 mph and and an excellent cutter. He also throws in a curveball that is about average. The fastball and cutter are going to be the pitches that gives Pryor a career at the backend of a bullpen. ETA: Now.
15. Vinnie Catricala, 3B/OF 10/31/1988 H:6'3″ W:220 –  After posting a triple slash of .349/.421/.601 between High-A and AA in 2011, Catricala was promoted to AAA in 2012 and struggled. He posted a triple slash of .229/.292/.348 at Tacoma. He probably isn't as good as 2011, but he is certainly not as bad as 2012. He isn't a great defender, but should do well enough at 3B or 1B, though the bat has to show more power than it did in 2012 for him to be successful at either spot. A permanent move to the outfield isn't out of the question either. The Mariners are likely to send him down to AA before bringing him up to the AAA level in 2013. ETA: 2014.

16. Patrick Kivlehan, 3B 12/22/1989 H:6'2″ W:210 – The novelty that is Patrick Kivlehan. He won the the Big East triple crown in 2012 by hitting .392 with 14 HR's, and 50 RBI.  He also added 47 Runs, 2 Triples, 11 Doubles, and 24 SB to go with a 40/22 K/BB ratio over 189 at bats in route to being named the Big East player of the year and that was after  he took 4 years off from baseball while he played football for Rutgers.  That's right, 2012 was his 1st season of baseball for Rutgers and he won the conference player of the year and triple crown awards.  This did not go unnoticed by pro scouts either and with the 131st pick in the 4th round of the 2012 MLB draft, the Seattle Mariners called his name.
Kivlehan was excellent in his pro debut. He posted a triple slash of .301/.373/.511. He had 32 XBH, 12 of which were HR. His .210 ISoP was excellent for the Northwest League, earning him the league MVP honors.
Here is video that I took of Kivlehan in 2012: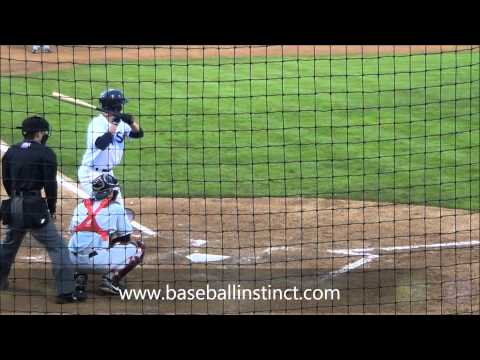 I had the opportunity to see him play more than a dozen times last season.  What kept the 22-year-old from being promoted was his approach at the plate.  He's got very quick hands and his weight transfer is excellent and he accelerates the barrel of the bat through the zone.  Where his troubles are at is in his pitch recognition.  Truly a case of being behind the curve of other hitters his age who have had literally 500 to 800 more at bats in game situations.  Some at bats he will work the count too much, missing his opportunities.  Other at bats where he's taking cuts at bad pitches. He did very well at the Fall Instructional League and should open the season at Low-A, but could move quickly to High-A. He's very raw, but I like his game a lot. ETA: 2015.
17. Gabriel Guerrero, OF 12/11/1993 H:6'3″ W:195 –  His current claim to fame is that of being the nephew of former major league slugger, Valdimir Guerrero. However, Gabriel Guerrero plans to make a name for himself. A potential high ceiling player with a lot of tools, the young Dominican posted a triple slash of .349/.393/.593 in 275 at bats between the Dominican Summer League and the Arizona Summer League in 2012. Like Vlad, Gabriel will swing at anything and everything near the plate. Pitch recognition is going to need to improve, but he could hit for a pretty decent average.  He has easy power to all fields and possess plus raw power that should manifest itself into more HR power as he advances. He's going to skip past Short Season-A right into full season Low-A in 2013. The shame here being is that I wanted to take video of him, but fortunately our own Dave Reiffer covers the MWL for us and should get a couple looks at him. ETA: 2016.
18. Joe DeCarlo, 3B 9/13/1993 H:5'10" W:205 –  The Mariners 2012 2nd round draft pick moved from high school SS to minor league 3B last season. He profiles decently with soft hands and a strong arm. At the plate DeCarlo has excellent approach and a good eye, though his rookie league stats didn't paint that picture. He jumped all over righties in his debut, posting a .890 OPS. However, lefties owned him as he posted just a .440 OPS. He's pretty raw but there's potential there. I expect to see him in Everett in 2013 and will provide more details this summer. ETA: 2016.
19. Jack Marder, C 2/21/1990 H:5'11" W:185 – Somewhat of an unsung player in the Mariners system, The 2011 16th round draft pick just keeps on hitting. He posted a triple slash of .360/.425/.583 with 10 HR and 16 SB to go with a 44/21 K/BB ratio over 278 abs' in the High-A California League. The knock here is two-pronged. #1 it was the Cal League. #2 went on the DL 3 times in 2012 with various minor injuries. This baseball rat is an average defensive catcher, who could stay behind the plate.  He's also played some at 2B and in the OF.  If continues to hit, he shouldn't have any problems finding his way into a major league lineup, even if it's as a super utility player. I love the way this kid plays, and that's all out. He sprints to 1B, regardless if its a ball put into play, a walk, or hp. Gamer. ETA: 2014.
20. Anthony Fernandez, LHP 6/8/1990 H:6'4″ W:210 –  The 2006 IFA from the Dominican Republic uses a 4 pitch mix. His fastball sits in the 89-90 range, with an occasional 92 mph offering. He's also developed a cut fastball that comes in on lefties and tails away from righties. His change up is currently below average, but could be an average pitch with some sink. His curveball doesn't have much bite to it and is a work in progress. He works from an unusual high 3/4 arm slot, but doesn't have any mechanical issues. He has the potential to be a back of the rotation arm if everything breaks right for him. ETA: 2015.
21. Leon Landry, OF 9/20/1989 H:5'11" W:185 –  Landry came over to the Mariners in 2012 from the Los Angeles Dodgers in the Brandon League deal. He posted a .341/371/.584 slash line over 449 abs' at 2 stops in the High-A California League. Despite the impressive numbers, Landry has poor plate discipline and lacks offensive tools. He looks like a fringy regular outfielder, but could make a decent reserve outfielder down the line. He should start the season at AA. ETA: 2014.
Other players to watch in 2013: Timmy Lopes, John Hicks, Steven Proscia, Chris Taylor, Dylan Unsworth, Julio Morban, Jordan Shipers, Martin Peguero, Marcus Littlewood, Taylor Ard, Guillermo Pimentel , James Jones, Isiah Yates, Gabrial Franca, Phillips Castillo, Francisco Martinez, Roenis Elias, Jabri Blash, Rich Poythress, Ji-Man Choi, Rusty Shellhorn, Leurys Vargas, Hershin Martinez, Pablo Lopez, Alexandre Roy, Carson Smith, Jabari Henry, Cavan Cohoes and Carlos Triunfel.
For a complete list of the Top 21′s visit the 2013 Top 21′s Page
Stick with Baseball Instinct and we'll keep you a step ahead of the game. Check back soon as we release our top 21 prospects for each organization. While you're here, check out our Baseball Instinct 360° – it's our top 360 prospects from 2012, and we will be updating it for 2013 soon. Also check out a friend of ours for all of your fantasy sports needs. Fantasy Rundown is updated religiously and is truly an awesome resource. Thanks for checking Baseball Instinct. We're working hard to bring you the best of the minor leagues and make the site the best experience it can be, so don't hesitate to tell us what you would like to read about. Email us now at mailbag@baseballinstinct.com. And while you're at it head over to Facebook and join the Instinct page.  You can also follow us on twitter: @BaseballInstinc.