The Braves system is one that has graduated some top talents with guys like Heyward, Delgado, Freeman and, in 2012, a major surprise in Simmons. The system has also had its share of players slide during development, which could be self inflicted, and we'll get deeper into that as we work through the Top 21.
Overall, it's a system heavy in pitching from top to bottom with very little elite level talent, but depth to spare. On the offensive side we're talking about a much slimmer choice for elite level talent. Basically none. But there are some players with excellent tools and time to translate those tools into production. Let's take a deeper look at the system now and see what we have.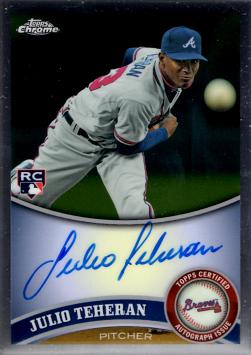 1. Julio Teheran, RHP 1/27/1991 H:6'2″ W:175 – Clearly the top choice of the system and there is little question about that despite a 2012 in which he seemingly struggled across the board in both Triple-A and the Majors. A 5.08 ERA in AAA over 131 IP and a 5.68 ERA for the Braves over 6.1 IP show as a major disappointment. Teheran's K rate dropped below 20% for the first time since 2009 to 16.8% in Triple-A and his walk rate was 7.5%. The walk rate was actually an improvement over his 2011 number of 8.1%. A very little voiced stat fact.
Another point to make is that the Braves had Teheran focus on refining his curveball, working backwards in counts and forcing him to lean on it instead of his main off-speed pitch, which is his plus changeup. Is that the reason for his regression? The high Triple-A ERA? Well that and the .318 BABIP certainly didn't help with the Show Me numbers. But he still flashed a mid 90s fastball late in the season with the best change in the system.  The curveball is advancing well and should be an average pitch at least. His slider will always be the best breaking pitch he has but it is more effective when he isn't hanging the curveball.
Our Instinct: Watching Teheran in his ever so brief work with the Braves in 2012, it was still clear how dominant he can be when he has his whole arsenal to lean on. Again, small sample, but his FIP was just 1.99 and the K rate normalized to 20.8% with just a 4.2% walk rate. Those are the numbers we expect from Teheran. I don't think Teheran will need to break camp with the Braves this year and that will allow him to head to AAA and the Braves to take the gloves off. I fully expect his ERA to normalize into the low 3's again and his K rate to make it's way back to the 20% range. Is he a workhorse Ace? Probably not unless he packs on 20-25 lbs over the next 4 years. But I still see him as a high end #2 starter even at the 175-185 lbs range for every other reason mentioned. ETA: 2013
2012 by the numbers: 7-9, 5.08 ERA, 4.83 FIP, .318 BABIP, 97/43 k/bb in 131 IP at Triple-A, with a brief 6.1 IP at Atlanta as well. 2007 IFA from Columbia.
2. J.R. Graham, RHP 1/14/1990 H:6'0″ W:185 – Graham was named the Braves top prospect in the Appy League by us when he was drafted and clocked in at #11 on the list last year after striking out 22.9% in his debut. He has a 91-93 mph sinking fastball and he can get it into the upper 90s with a 4 seamer in short stints. The sinker generates a ton of GB with a 2+/1 GO/AO rate. He also uses a slider in the mid 80s with bite which can get GBs as well. The groundball approach obviously leads to a lower K rate against more advanced hitter, but Graham was steady at 22.5% in AA after a 17.1% rate in High-A over 102.2 IP.
Graham's BABIP is normal in the .260+ range and his FIP's are in the low 3's. All solid numbers.
Our Instinct: When ranking a list like this it's important to some who the #1 vs. #2 and down is. I think the reports are most important, but in this case Graham is currently not the top pitcher in this organization based on talent. He's a year older than Teheran at a lower level with less experience. But Graham does have the start to be a successful big league starter near the middle of a rotation. If he can refine a changeup, he could be a solid 3-4 starter because of his above-average-to-plus fastball despite a smaller than SP average frame. 100+ innings in Double-A and then either a jump to the Braves pen or some AAA seasoning. ETA: 2014
2012 by the numbers: 12-2, 2.80 ERA, 3.19 FIP, .269 BABIP, 110/34 k/bb in 148 IP over two levels, High-A and Double-A. Drafted in the 4th round of the 2011 draft, 146th overall.
3. Lucas Sims, RHP 5/10/1994 H:6'2″ W:200 – Sims was a top High School arm heading into the 2012 Draft and the Braves went with the top pitcher closest to home. That was Sims and here's what we had to say heading into the draft:
30. Lucas Sims RHP Brookwood HS, Snellville, Ga. – Sims has grown this year to 6'3″ and added some weight, getting to 190 lbs. He has a low 90s fastball and an already above average curveball which works well based on his arm angle and speed. He doesn't throw a changeup yet and will need full development of the pitch.
Our Instinct – Sims has unorthodox mechanics and a high level stress factor in his arm action. His leg lift is similar to that of LSU's Kevin Gausman, with a leg lift and mechanical drop that triggers his arm action. While he's producing some premium velocity and the curveball works very well out the arm angle, I see Sims falling out of the SP ranks and ending up in the bullpen in time because of the delivery. If he's taken and broken down, the delivery could be made fluid. But that's a lot of work with someone who will need to be a first round pick in order to turn pro in 2012. We like who he could be, less so for the player he currently is. If he ends up in college, don't expect his mechanics to be corrected. He may be a 2nd round pick of the team that signs a player well below the the slot of their 1st round pick and has the extra allotment of funds to entice him away from Clemson.
Our Instinct: Well the Braves limited his innings but he flashed the expected dominance with 39 K's in just 34 IP. It wasn't a large sample size, so the K rate and walk rate aren't much to break down. But the possible issue of repeating the mechanics has been confirmed. The Braves should begin the redesign as soon as the winter and if they can smooth the mechanics out, Sims has a chance to be a frontline starter. He has the highest upside of anyone in the system. But floor to ceiling is a huge distance and he's nowhere near MLB ready. ETA: 2017
2012 by the numbers: 2-4, 3.71 ERA, 3.76 FIP, 39/13 k/bb in 34 IP over two Rookie ball levels. 2012 1st round draft pick, #21 overall.
4. Christian Bethancourt, C 9/2/1991 H:6'2″ W:215 – Some points need to be made when the conversation of Bethancourt and his prospect status arise. Bethancourt spent 2012 as a 20 year old catcher at Double-A. Exactly one level higher than he should have been. He struggled maturing as a hitter. There is very little question as to why.
The question is why the Braves saw fit to move a 20 year old up a level when he was still learning to take possible elite level defensive tools and turn himself into an elite level pro catcher and hadn't  mastered High-A.
He had a solid development season in 2011, when he hit a pure .303 at Low-A with a .127 IsoP. The Braves promoted Bethancourt to High-A, where he took a step back, but was solid anyway. His AVG stood solid at .271 though his K rate jumped and walk rate nearly disappeared.
Following that up with a .306 with a .250 IsoP powered by 5 HR in the AFL might have been a curse for Bethancourt. His need for at least a half season in High-A was ignored and he was obviously fast tracked when ticketed for Double-A in 2012, where he struggled. If his struggles surprised anyone, you obviously aren't paying attention to his development milestones.
Our Instinct: The 2012 .243/.275/.291 line with a .049 IsoP is the worst season he has ever produced. Hindsight? Well not really, here is his 2012 PI:
As a 20 year old scheduled for a repeat of High-A Lynchburg in 2012, he's a step ahead of where most catchers would be at this stage of development. There are certainly things that he needs to work on, but he has the mentality to refine those parts of his game if given the time. The organization has moved him level to level and have no need to rush him now.
On the offensive side of the game, he needs to learn how to work deeper counts, take more walks and that should allow him to use the power that should soon be showing in more doubles and HR.
Defensively it's just a matter of time and repetition. 2014 will be the earliest he's ready to take on the full time job, but 2015 is a better bet with 2014 giving him some looks at the major league club.
There are some silver linings in the clouds of the 2012 season though. His K rate was just 15.6%. His walk rate, while dismal, was better than he showed in High-A. Another factor missed by many is that his .243 AVG wasn't all about him not hitting the advanced pitchers. His BABIP was just .281. Given time, that should normalize near his career norms in the .320 range which would drive is AVG up to the .280 range. Not so bad. Now, will he be given time to make adjustments and mature as a hitter? I don't know.
So Bethancourt's floor to ceiling range remains mansion-esque. If they don't give him time to mature he's going end up a back up defense first catcher. But he can be so much more. There is power to be had. I've seen BP power translate. Possibly a 10+ HR type with a .270+ AVG and elite defense behind the plate. ETA: 2014
2012 by the numbers: .243/.275/.291, 8 XBH (2 HR), 8 SB, .281 BABIP, 45/11 k/bb in 268 AB at Double-A. 2008 IFA signee from Panama.
5. Joey Terdoslavich, 3B 9/9/1988 H:6'0″ W:200 – After what was basically a breakout season at High-A in 2011 and a monster AFL that fall, Terdoslavich skipped right over Double-A and started 2012 at Triple-A. Enter a .180 AVG with a pitiful .083 IsoP in over 200 AB. Skipping a level does not work unless a hitter has elite level contact skills. Seems to be a recurring theme here.
While there is no denying that Terdoslavich struggled mightily in Triple-A, there is some light at the end of the tunnel. He kept his walk rate high at around 8%+ and his BABIP was a dreadful .220. So he was very unlucky while being over matched. Not a good combination.
With that he found himself demoted to Double-A and he caught some breaks. His BABIP jumped to .378, a massive .158 points and it led to a .316 AVG with 34 XBH in just 294 AB. Successful and what was expected of him. At least from us.
Our Instinct: Terdoslavich isn't a star level talent, but he does have a major league bat and his upside could be a .280+ hitter with 20+ HR annually. He takes more than enough walks to keep his underlying stats at the next level. If the Braves reach out for Justin Upton, the Dbacks would be crazy not to try and slide this kid out from under the Braves umbrella. His stock is down for some, but it could rise quickly again in 2013. ETA: 2014
2012 by the numbers: .262/.325/.394, 42 XBH (9 HR), 7 SB, .323 BABIP, 112/46 K/bb in 492 AB between Double-A and Triple-A. 2010 6th round draft pick, 194th overall.
6. Evan Gattis, OF/C 8/18/1986 H:6'4″ W:230 – Hopefully everyone knows the story of Gattis. Because I'm not going into it despite it being a great story. One thing I will say is that its a testament to his talent that after 4 years away from baseball he is a successful player now. But he is 26 years old and now hitting his prime. He has a near plus arm and caught 39% of base-stealers, but he's unrefined at C and will be never be an above average defender behind the plate.
He does have enough athleticism to handle LF and 1B with some backup work at C. The dexterity will make his bat that much more valuable. The bat itself is a near plus power with the ability to hit for average. He has a short right-handed swing that produces loft and spin. I don't see him being a 30+ HR type, but 20 HR annually with a near .300 AVG is very valuable.
Our Instinct: With his age and advanced bat he should see Atlanta some time in 2013 and his bat should allow him to stick long term even if his short term outlook is as a Utility bat first type. All of his peripheral stats support his production all the way to Double-A. So his minor league production is no fluke. This is a major league bat but remember that there is little upside to his current production. He's hitting his stride and 27 tends to be near the Prime of careers.  ETA: 2013
2012 by the numbers: .305/.389/.607, 42 XBH (18 HR), 2 SB, .308 BABIP, 43/31 k/bb in 272 AB between High-A and Double-A. 2010 23rd round draft pick, 704th overall.
7. Mauricio Cabrera, RHP 9/22/1993 H:6'2″ W:180 – Cabrera is a young power right-hander out of the DR. He has yet to see full season ball, but has a 3 pitch mix headlined by a low 90s fastball that he gears up to as high as 97 mph in stints. At the upper range it has plus cutter action. He pairs that with a potential plus slider and a changeup that he has a solid feel for.
Cabrera still hasn't come close to 100 IP in a season, so he has a long way to go before he's ready for an MLB season, but in 2012 he bumped his K rate up to 19.8% which is solid but not spectacular, especially considering his stuff. His K rate came down from 2011 to 9.5% which is step in the right direction but shows that his command is still a work in progress. His ERA of 2.97 was also a touch lucky with his FIP at 3.55, so until he refines his command he may struggle from time to time.
Our Instinct: This will be Cabrera's first full season. He's age appropriate for the level and has some of the best stuff in the system. At this point he has the upside of a #2 starter but his fastball and slider combination will work well in short stints as a power RP. His K rate should be much higher against lower level hitters, so he's going to need to refine his changeup and uptick his DOM while refining his overall command. There's a ton to work on and it could take 4 full seasons for him to remain a starter. He's young enough to do that, though the odds of him reaching his ceiling aren't as high as others on this list. ETA: 2016
2012 by the numbers: 2-2, 2.97 ERA, 3.55 FIP, 48/23 k/bb in 57.2 IP at Rookie-A. 2010 IFA signee, Dominican Republic.
8. Alex Wood, LHP 1/12/1991 H:6'4″ W:215 – The Georgia lefty went in the 2nd round and is another home state product for the Braves. Wood works with a low 90s fastball that he commands well at that range. He can run the velocity to the mid 90s but it comes with a little less touch. His changeup is his second best pitch and should be at least an average pitch.
His numbers look good from his debut. Out-pitching lower level hitters to the tune of a 25% K rate and 6.9% walk rate. But his slider isn't at a high enough level right now. It needs time to develop if he's going to remain in the rotation as a solid #4-5.
Our Instinct: Wood has the stuff to be a starter, but right now we're talking about a back end starter. He'll eat innings. If he can refine the slider into an above average offering he'll reach his mid rotation starter upside. Without a plus offering, even his bullpen role is going to be limited and he may eventually end up a lefty specialist. ETA: 2014
2012 by the numbers: 4-3, 2.22 ERA, 2.38 FIP, 52/14 k/bb in 52.2 IP at Low-A. 2012 2nd round draft pick, 85th overall.
9. Tommy La Stella, 2B 1/31/1989 H:5'11" W:185 – La Stella is the hot Braves name this offseason. He was just a few spots lower than this on the 2012 list. So he's not a noobie to Baseball Instinct and his 2012 production gave us no reasons to disregard him based on his age.
In 2012, La Stella continued to pound pitches near the strikezone with an impossibly low 6.7% K rate. He also kept the walk rate well above his K rate at a 10%+ level. His power was down some, but still above average for a 2B at .158 IsoP and his .302 AVG was supported by a .305 BABIP.
Our Instinct: He can hit. At a .300+ clip? Probably not at the upper levels. But he has an elite level contact ability, an excellent eye and above average power for a 2B. He's a passable 2B defensively and I don't see a reason why he can't hold down the position. A .280+ hitter with 10 HR, 10 SB ability and above league average OBP is a strong possibility here, but time is short and 2013 is a huge season. If he rakes again in Double-A he's a huge "new" name come 2014. ETA: 2014
2012 by the numbers: .299/.389/.466, 34 XBH (6 HR), 13 SB, .305 BABIP, 25/40 k/bb in 311 AB at High-A. 2011 8th round draft pick, 266th overall.
10. Sean Gilmartin, LHP 5/8/1990 H:6'2″ W:190 – Gilmartin is the most polished pitcher in the system and has moved quickly since being drafted out of Florida State in 2011. He's a finesse pitcher though and doesn't come with a true power arsenal. His fastball can reach the low 90s though its his command and ability to mix his fastball with a low 80s slider and his lone plus offering which is his changeup that makes him effective at an MLB level.
A lefty can live on low 90s velocity and at times can excel when the changeup is advanced enough and the command is there. Gilmartin is one of those types.
Our Instinct: Nothing has changed with our breakdown of Gilmartin as a prospect since before he was drafted. He's a potential mid rotation starter with a #4-5 spot being most likely. The only thing that will change his upside projection would be an uptick in velocity, but there is nothing saying that's in the picture because he already has smooth mechanics and at almost 23 the physical projection has peaked. He could see some time with the Braves this year, but with Beachy coming back, Teheran knocking, Delgado needing a place in the rotation, the question is where does Gilmartin fit? Triple-A to start the season is a solid bet. ETA: 2014
2012 by the numbers: 6-10, 3.84 ERA, 3.77 FIP, 111/39 k/bb in 157 IP between Double-A and Triple-A. 2011 1st round draft pick, 28th overall.
11. Jose Peraza, SS 4/30/1994 H:5'11" W:167 – Pereza is the next in line of Braves elite potential defensive SS. He's already projecting as a high end defender with an excellent arm. With the age comes some recklessness with throws, trying to do too much. But that's pretty normal to see in a young SS.
With the bat, we have to remember that he's just 19 years old. In 2012, he hit near .296, but the .281 AVG he put up in Danville is probably near his ceiling unless he develops above average plate discipline. A skill not yet there. His K rate in Danville was just 14% so I think the downside to the AVG is pretty solid as well and his speed should allow him to steal some infield hits and swipe 25+ bases a year.
Our Instinct: He's not close yet and Low-A will be a test to see how legit the hit tool is. There's very little power out of that frame and there may not be a ton of growth left either. Scouts project average power, but I don't see it. Potential elite level SS, so the Braves will give him plenty of time to develop. ETA: 2016 
2012 by the numbers: .296/.350/.374, 11 XBH (1 HR), 25 SB, .331 BABIP, 24/13 k/bb in 206 AB at 2 stops in Rookie-A. 2010 IFA signee from Venezuela.
12. Edward Salcedo, 3B 7/30/1991 H:6'3″ W:195 – Salcedo is here because of a power and speed tool combination for a 3B. He came up as a SS so he has the chops to handle 3B, from the range to the arm. He could eventually be a plus defender if he can mature into it. Physically he's not far off.
His bat and offensive ability make him a high ceiling, though low floor, prospect. The 21 year old tore up High-A on the stat line with 26 Doubles, 17 HR and 23 SB. It shows his upside. But a .240 AVG and 25.4% K rate show the dangers in his hitter profile and the reason he's not in the top 5 on this list. There is some room for growth and maturity, but he seems like a player that will hit for power and steal some bases, but his K rate will always be above 20% and if he can't bring the walk rate up from the 6.5% it was in 2012, he won't get on base enough to be a middle of the order hitter.
Our Instinct: Salcedo is very talented. Though he's already 21, he needs to be given a full season of success at Double-A and possibly more until he matures as a hitter. He could end up a plus defender with 20+ HR power and 10+ SB annual seasons or upper level pitchers could expose him to the point that he can't utilize his power at the upper levels enough to carve out a career as a regular. ETA: 2015
2012 by the numbers: .240/.295/.412, 45 XBH (17 HR), 23 SB, .295 BABIP, 130/33 k/bb in 268 AB at High-A. 2010 IFA signee, Dominican Republic.
13. Nick Ahmed, SS 3/15/1990 H: 6'3″ W:205
14. Luis Merejo, LHP 10/8/1994 H:6'0″ W:175
15. William Beckwith, 1B 8/19/1990 H:6'2″ W:220
16. Kyle Kubitza, 3B 7/15/1990 H:6'3″ W:190
17. Aaron Northcraft, RHP 5/28/1990 H:6'4″ W:225
18. Cody Martin, RHP 9/4/1989 H:6'2″ W:210
19. Yeralf Torres RHP H:6'1″ W:165  – A quick look at what Aaron Bentley had to say about the Braves 2012 IFA signee in the Baseball Instinct Top 21 IFA's of 2012:
20.  Yeralf Torres, RHP, Venezuela
 One thing you learn if you follow the IFA market enough is that the Braves are pretty good at picking pitchers out of Latin America.  I already liked Torres a lot but when I heard the Braves were in on him, he definitely moved up my list.  He's a 6'1", 165 pound pitcher, who is clearly going to fill out some.  His delivery is gorgeous.  He definitely understands how to drive toward the plate, which is why, even with his lack of strength, Torres' fastball already sits in the low 90s.  It also has nice tailing action away from a left-handed hitter.  He has a curveball and changeup and while the curveball is said to be ahead of the change, he doesn't have much feel for the curve just yet.
20. Andry Ubiera, RHP 5/22/1993 H:6'0″ W:170
21. Zeke Spruill, RHP 9/11/1989 H:6'5″ W:190
For a complete list of the Top 21's visit the 2013 Top 21's Page
Stick with Baseball Instinct and we'll keep you a step ahead of the game. Check back soon as we release our top 21 prospects for each organization. While you're here, check out our Baseball Instinct 360° – it's our top 360 prospects from 2012, and we will be updating it for 2013 soon. Also check out a friend of ours for all of your fantasy sports needs. Fantasy Rundown is updated religiously and is truly an awesome resource. Thanks for checking Baseball Instinct. We're working hard to bring you the best of the minor leagues and make the site the best experience it can be, so don't hesitate to tell us what you would like to read about. Email us now at mailbag@baseballinstinct.com. And while you're at it head over to Facebook and join the Instinct page.  You can also follow us on twitter: @BaseballInstinc.