Chicago. The longest current run in the history of baseball without a World Series pay-dirt. Enter Theo Epstein as President of baseball operations, Jed Hoyer as GM and the VP of player development and scouting, Jason McLeod. The band was back together and the boys that built the Red Sox return to glory set off on a mission to take the Cubs and end the pain and suffering of one of the best fan bases in the game.
So they began to build from the ground up. Buying Cuban Jorge Soler for a ton of money, drafting a top dollar prospect in Florida prepster Albert Almora and importing Hanshin Tigers closer Kyuji Fujikawa from Japan in December for a two-year deal at $9.5 million.
They graduated top prospect, Anthony Rizzo who looks locked in as the Cubs 1B of the future, but the system is already starting to show signs of a future. Let's kick it off with the #1.
1. Javier Baez, SS 12/1/1992 H:6'2″ W:205 – Before the trade for Rizzo last offseason, Baez was the Cubs top prospect. Despite having just 18 professional AB. That said a lot for his talent. In his first full season he showed the power and speed combination that makes him an elite level prospect. He tore up A ball with a .263 IsoP and then moving to Advanced A ball in the pitcher friendly FSL he still kept the IsoP above .200. He also stole 24 bases on the year and handled SS better than anticipated.
His K rate is a touch high and that may always be the case, but with his bat speed and power it's a muted negative. One negative that could cause him problems is the low walk rate. He will need to boost that rate as he moves up the ladder or advanced pitchers will begin to mute some of what makes him elite. His Power potential.
Our Instinct: Baez should remain at SS and start the season at High-A again. A full season at the level would be a solid season of development for him and with his k/bb rate issues, time is what's need to mature as a hitter. If he's able to keep his IsoP above .200 in the FSL, then we're talking a confirmation of elite level power for a SS. I still think in time that he'll shift off of SS. There are better defensive SS in the system and his bat will probably be ready before Starlin Castro is out of the way. But a 30+ HR 3B or RF with 20+ SB ability is still an elite level talent. ETA: 2015
2012 by the numbers:  .294/.346/.534, 35 XBH (16 HR) and 24 SB, .335 BABIP, 69/14 k/bb in 293 AB between low-A and high-A. #9 overall in the 2011 draft.
2. Jorge Soler, OF 2/25/1992 H:6'3″ W:205 – Soler is the richest kid on this list but it's his talent out of Cuba that put him right at the top of it, not his wallet. Soler is an obvious power frame when you see him. He has pure power despite less than elite bat speed. His swing is long but he's also able to get inside of pitches and drive the ball to all fields. He already has HR power which is game ready, but its not plus power, currently in the .170+ IsoP range. A good number but not yet a finished product.
His low 12.8% K rate and 8.1% walk rate show his contact ability and a sign of an advanced approach at the plate. He's only seen the low minors at this point so how well that approach holds up as he climbs the system will define how usable his game power will remain.
Defensively he has an above average arm and speed enough to cover ground. He'll be a RF when all is said and done and has the arm for it and the power frame that often defines the position.
Our Instinct: He already shows an ability to hit for AVG with 15-20 HR power, but if his power develops further it will determine if he's a solid average RF or an All-Star caliber player with 30+ HR power. He already has an advanced frame at 205 lbs so there is some room for physical projection, but not a lot. He'll probably spend some time in the Midwest League, but catching up to Baez in the FSL seems logical as long as he excels in the MWL early and often. ETA: 2015
2012 by the numbers: .301/.369/.466, 12 XBH (5 HR) and 12 SB, .318 BABIP, 19/12 K/BB in 133 AB through Short Season and Low-A. Signed as a Free Agent out of Cuba.
3. Albert Almora, OF 4/16/1994 H:6'1″ W:170 – The Cubs top 2012 draft pick, Almora, was our #8 overall talent in the country. The Cubs took him at #6 and paid over slot, but got the advanced prep bat that the new regime was looking for. Here was the Draft Preview for Almora:
8. Albert Almora OF Mater Academy, Hialeah Gardens, Fla. – A Miami commit, Almora has one of the purest swings from the right side in the draft class. His defense is CF is outstanding and his arm will play there as he matures. Almora has solid average tools across the board and should add weight to his 6'2″ frame in time to add some average power.
Our Instinct – Almora is the easiest of the HS position crop to project with a solid overall game. His swing is conducive to contact and he already has the ability to work counts. As he adds power he should develop into an all around above average hitter with plus defense in CF despite not being a plus runner.
It's tough to really take anything out of the short 136 AB stint he made after signing. He loaded up on doubles, hit a couple of HR and kept his K's in check. His walk rate was non-existent, but that's not a flaw in his skill set. So we expect that to turn quickly.
Our Instinct: Almora is an advanced bat. For a teenager. He's on target to be an All-Star level CF defender and he has the upside with the bat to be a .300 hitter with double digit HR power. How solid his frames becomes will determine his power potential. That's the missing ingredient to the skill set. Above average power. He's young enough where that is still possible. ETA: 2016
2012 by the numbers: .331/.340/.478,  15 XBH (2 HR) and 6 SB, .350 BABIP, 13/2 K/BB over 136 AB in the AZL and NWL. 2012 1st round selection, 6th overall.
4. Dan Vogelbach, 1B 12/17/1992 H:6'0″ W:250 – Vogelbach moves up from #10 in 2012 to #4 in 2013 on our Cubs list. Here's the take from last years preseason:
Our Instinct – Vogelbach is relegated to 1B/DH out of High School. So with that, we know that he's going to need to have a special bat to be a major league regular. Luckily he has just that ability, with plus plus power potential and the powder-keg frame to go with it. The Cubs are hoping that off season conditioning will get his weight into the 230′s without him losing any of the power. As John said, Vogelbach could have game changing power by the time he makes it to the majors.
He crushed it in 2012, blasting 17 HR and 21 doubles for a .323 IsoP. A low K rate at 16% and a high walk rate at 12.5%. He hit .324 with a .343 BABIP, so it was a legit .300+ AVG. He just raked across the board. He's going to get fast-tracked this year and should see High-A by midseason if not sooner.
With his size, he's going to find it tough just to stick at 1B, but he's been up to the task so far.
Our Instinct: Vogelbach is a true elite power prospect with possibly the best power in all of the minor leagues. He's going to hit for AVG and power and the only question is can he stick at 1B or will he need to move to the AL to DH. He's already 21, so the clock is ticking on his youth which at this point is just as important as his power. 30+ HR power with high AVG and OBP. Tough to ask for more potential even from a 1B prospect. ETA: 2014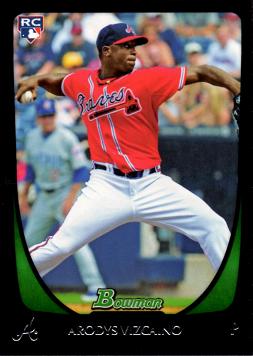 5. Arodys Vizcaino, RHP 11/13/1990 H:6'0″ W:190 – The prospect that took the #78 spot in our 2011 Top 100 after being traded from the Yankees to the Braves:
78. Arodys Vizcaino SP ATL – One of the Yankees top pitching prospects traded to the Braves for Javier Vazquez. A trade the Yankees will probably come to regret. Vizcaino had to deal with an elbow injury but did not need Tommy John surgery to correct it. He's back in 2011 and will need to prove that he's healthy. But a plus fastball and plus curveball give him huge upside. It's scary when a partially torn ligament isn't repaired though. A setback of that magnitude would be terrible at this point in his development.
Well, a partially torn elbow ligament is in fact scary when not repaired. Luckily, Vizcaino was ushered out of Atlanta and is young enough to bounce back and mature from the TJ surgery. With a plus fastball in the mid 90s and a plus to plus plus curveball, he has two pitches for success in the rotation or bullpen. Now he'll need to time to rebuild innings and refine a changeup.
Our Instinct: The Cubs didn't trade for Vizcaino to rush him up and into a bullpen role. That is a deep Plan B. They will give Vizcaino all the time he needs to refine his craft and possibly even start him back in Double-A. He has the two pitches to be a front line starter, but the changeup is key and he doesn't have a frame for big 200+ inning seasons. But height isn't the only factor to a workhorse. So I see Vizcaino and a solid 2-3 starter with above average K potential which will make him Fantasy worthy often. ETA: 2014
2012 by the numbers: Missed the season recovering from Tommy John surgery.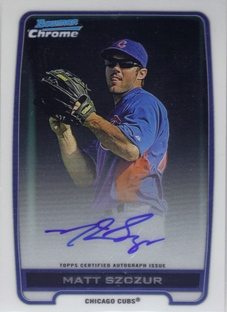 6. Matt Szczur, OF 7/20/1989 H:6'1″ W:195 – Szczur had been assigned to Double-A in the spring of 2012, but he ended up repeating High-A when Junior Lake was hurt in Spring Training and the Smokies needed to add infield depth. The assignment to Double-A concerned me some when I published his Prospect Instinct in March:
Our Instinct
I projected Szczur heading back to the FSL to start the 2012 season with the hope that the Cubs would allow him to develop enough at the lower levels before really pressing onto the fast track, but he's already been reassigned to Double-A. I think he's up for the challenge, but expect some struggles as he adjusts.
He still needs to refine his tools into skills. His speed can be elite in the 40 SB range if he's given enough time, but chances are that he's being rushed and living on sheer ability will limit his effectiveness in the basepaths.
He's going to continue to develop more power and as long as his approach with the bat remains the same he should hit for average. If he's given the time to learn how to work pitchers into counts where he can utilize the raw power he's developing he has 20 HR upside. But more than likely will settle somewhere closer to cracking double digits with a lot of speed induced extra bases.
He may now be on track to make his debut in 2013 some time which will make Brett Jackson's window in CF a small one.
It's tough to say that the assignment to High-A wasn't good for Szczur. He was highly successful in developing his approach with a 13.4% walk rate. Elite level. His K rate was solid at 14.2% and he hit .295 with a .344 BABIP to support the success. He also tore up the bases with 38 steals and added 4 more in Double A.
Our Instinct: He should repeat Double-A now and build on the 2012 success. Continue to refine his approach and he may prove to be a true leadoff hitting, elite defensive CF. The power is falling on the back end as I suggested it might and he still has the frame to add double digit HR power with that 40+ SB ability being his elite offensive tool. ETA: 2014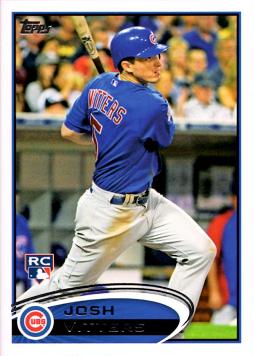 7.  Josh Vitters. 3B 8/27/1989 H:6'2″ W:200 – Vitters has been in the Cubs system since 2007 when he was drafted 3rd overall and its easy to dismiss him based on 6 years of development time without a huge boost to name value. But he was an elite talent coming out of High School based on elite bat speed and projected power. Well that's all starting to round into shape with his 2012 campaign in the books. As a 23 year old in Triple-A, he hit .304 with 51 XBH including 17 HR. A career best number with a career best .210 IsoP in a full season.
He still has an above average arm and handles the hot corner with enough to make it there long term. He kept his K rate low at 17% and boosted his walk rate to 6.6%, his best showing at the upper levels.
Our Instinct: We've had Vitters in the Top 10s since he was drafted and he was way up on the 2007 draft list for us as well. He showed that our faith in his bat going into last season was warranted and we see him as at least the short term answer for the Cubs at the hot corner. At 6'2″ 200 lbs there is more power waiting to develop there as well and he could put up .280 season with loads of doubles and 15+ HRs. He won't have an easy time sticking there long term with a lot of in house pressure from guys like Candelario, Lake and Villanueva. But he's looking at his chance to prove himself in 2013. ETA: 2013
8. Gioskar Amaya, 2B 12/13/1992 H:5'11" W:175 – A 2009 IFA signee, Amaya is 3 years into his career and 2012 was the best to date. After being a light hitting MI the first two years of his career he boosted his IsoP to .203 and 27 XBH in just 270 AB. Tack on 15 SB and a big jump in walk rate to 10.2% and there is reason to believe that the breakout was legit. He did have a slightly elevated BABIP, so the .299 AVG still needs to be validated.
In the field he handles all of the infield positions and is a solid fit for 2B. His diversity could lead to a Martin Prado career path defensively and if he can validate the 2012 season with a strong showing in Kane County by keeping the power numbers even close, he'll be an upper level prospect.
Our Instinct: Amaya should be moving to the FSL in sometime over the next year. That will be his biggest proving ground. He doesn't have plus power by any means and that league can negate average power and cause middling power prospects to struggle. If he can continue to slash and build up singles and doubles, he'll be a 30 SB threat with potential double digit HR power. I don't see him being a star middle infielder but he has the glove to find ABs. ETA: 2015
9. Junior Lake, SS 3/27/1990 H:6'2″ W:215 –  Lake missed some time to start the 2012 season which may prove to be some key development time. He finished the year with 405 Double-A AB, where he continued to show the promising power and speed combination that he has consistently shown in previous seasons. His IsoP bumped up a little to .153 with 26 doubles and 10 HR and he stole 21 bases.
His K rate is still high and possibly the only thing holding him back from being an upper level prospect across the industry. He has elite level tools but not the skills to get the most out of them. At least not yet.
Defensively he has the arm for anywhere on the field and is good enough with the glove to handle SS or 3B at a high level.
Our Instinct: This is going to be Lake's age 23 season. He's spent parts of two seasons at Double-A now and Triple-A seems to be the logical next landing spot in 2013. So his approach at the plate and K rate, which still needs time to develop might be pushed too quickly. A bright spot was that his walk rate nearly doubled over 2011 and that tends to lead to either a jump in power and a drop in K rate or one of the two. So I think there may have been something to click on the skill side which could lead to a bump in production in the near future on his tools side. He's an exciting player with great tools. But still an anomaly defensively. He has all the tools and there is no clear path to the majors. A full season at Triple-A would be best to refine his approach and if that happens I think he boosts his power. But not enough to be a 3B or power hitting RF. So 2B would be where his value would be premium. ETA: 2014
10. Duane Underwood, RHP 7/20/1994 H:6'2″ W:205 – Underwood and Maples are a 1 and 1a of the young talent in the pitching side of the Cubs system. Two highly talented prep righties with huge upside and so much development that the average fan may never hear their name. Ever. Here is the pre-draft take on Underwood:
46. Duane Underwood RHP Pope HS, Marietta, Ga. – 6'2″ 205 lbs, Underwood has a smooth delivery that produces low to mid 90s fastballs with a mid 70s curveball. That's his primary mix, so the changeup, while solid isn't often used. Premium velocity/Curveball combo. His fastball works low to mid 90s and touches 98.
Our Instinct – Underwood is more of a project than other High School pitchers but he has a high upside and if he can bring the changeup along to average with the movement, because he already controls the pitch well. If he can uptick his command he has higher than mid rotation upside. Keep in mind that he won't turn 18 until after the draft. There is a lot to like and a great amount of tools to mold into a starting pitcher here.
Underwood made his debut in the AZL and teamed with Maples. Underwood flashed some dominance but the command wasn't there yet. He will probably start the 2013 season in extended spring training before heading back to the AZL for some more work.
Our Instinct: He has the stuff and needs a  fair amount of time to be molded into a finished product. But I think he has the upside of a frontline starter. That's a lofty and high ceiling. Warning that there is significant downside with this type of project. But the Cubs could have gotten another rotation fixture of the future. ETA: 2017
11. Dillon Maples, RHP 5/9/1992 H:6'2″ W:195 – Maples spent most of the 2012 in extended spring training working on the mechanical issues we pointed out heading into the 2012 season when we had him ranked #6 on the Cubs Top 10. There is very little data to go on statistically, though with such a young pitcher the stats wouldn't mean a lot anyway. In 10 innings he struck out 12 in Arizona Summer League. That's really all we need to know. The dominance was there in his debut. It came along with command issues which we warned would be there.
He still flashed the low to mid 90s fastball and a power curveball that he needs to refine the command on. The changeup was worked on in Extended but not a prevalent offering yet. He still needs a lot of time to develop and it could be 5-6 years before Maples really hits his stride as a starter.
Our Instinct: With that type of a time frame there is a lot that can happen. I'll admit that I'm going on instinct here with Maples. But I still see an elite level tool set here and time and development can make him a house hold major league name with frontline potential. ETA: 2017
12. Jeimer Candelario, 3B 11/24/1993 H:6'1″ W:180 – Candelario came in at #5 last year on the Top 10. A lofty ranking and admittedly incorrect at the time. His DSL performance was excellent, but it was in fact that, a DSL performance. Candelario still owns the tools that he did heading into 2012 and his performance was still good. With 14 doubles and 6 HR over 278 AB. But his walk rate normalized to a 8.5% rate and his K rate moved up as well to 17.6%. Neither rate is a negative for a 19 year old. But no where near the levels he showed in 2011 in the DSL.
He'll play the entire 2013 season at age 19 and will need to continue to develop his approach at the plate in order to tap into the above average power he has in the bat. How well he develops defensively will also have an impact on his prospect status for next season. He's currently a 3B but is already getting looks at 1B. He should have enough arm to handle 3B if the power truly develops though.
Our Instinct: His ranking is based on tools at this point and less skill set. He's a long way from Chicago and his power profile fits better as a premium defender than a 1B even if he is a switch hitter. He hits much better from the right side though his power comes from the left side. Bringing the two together into a complete package is at least 4 years away. ETA: 2016
13. Pierce Johnson, RHP 5/10/1991 H:6'3″ W:190 – Johnson was a notch below Underwood on the draft Preview in 2012:
47. Pierce Johnson RHP Missouri State – The Missouri State Friday night starter is one of the NCAA leaders in strikeouts with 11.5 per 9 innings. His frame is 6'3″ and 180 lbs with little left for projection. But his fastball sits low 90s with a slurve and a cutter in the mid 80s.
Our Instinct – Johnson doesn't have a typical inning eaters frame and his fastball isn't elite level. He has 2 average pitches which border on above average. But he's also a proven friday night starter. So he could go just outside the 1st round and live up to that billing. I think he's more of a back end of the rotation type so he falls some on my draft board.
I'm sticking with that outlook and think if he makes it as a SP it will be a solid back end type. His upside may lie in the bullpen.
14. Christian Villanueva, 3B 6/19/1991 H:5'11" W:160 – Excellent defensive 3B. Not a power frame though. His IsoP jumped after his trade to the Cubs but it was a short stint. He'll probably repeat High-A to start the season. He looks like a future major leaguer, but elite isn't an association that this skill set comes with.
15. Arismendy Alcantara, SS 10/29/1991 H:5'10" W:160 – I got to see a lot of Alcantara before he got hurt and he's a real ball player. The numbers support his status. The power in the FSL is impressive for a smaller framed MI, so I'm watching closely for an expected jump in IsoP this coming year. There are some question marks ahead of him in the system with louder tools but I think Alcantara has an excellent chance to eventually play in the Majors.
16. Brett Jackson, OF 8/2/1988 H:6'2″ W:210 – Jackson is knocking on the door in Chicago and is high on so many lists. I made the mistake last year of thinking he would overcome his swing and miss tendencies and they just got worse. He struck out 217 times between Triple-A and Chicago. I don't care how good his power/speed combo is. How many 200+ strikeout players make it in the major leagues? He doesn't have that major thump needed for that profile. Will he get a shot in the Majors? Yes. I just don't see a high level of success for him anymore.
17.  Marco Hernandez, SS 9/6/1992 H:6'0″ W:170 – He's a defense first MI, but has an off chance of developing enough offensively to have a solid career. A-ball was too much for him to handle, but when he dropped  back to Low-A he excelled again. He should be back in A-Ball to start 2013 and if he can boost the walk rate he will continue to climb the ladder. Solid tools, but nothing loud to this point.
18. Juan Carlos Paniagua, RHP 4/4/1990 H:6'1″ W:175 – Paniagua is going to be almost 23 when the season starts and he has just 39 innings under his belt. Not a lot of development for such a raw talent at an advanced age. He has the mid 90s fastball that people love but really not a huge idea of what to do with it. With so little data I have to wonder if all of his delays in starting his career now relegate his future to a bullpen role despite his upside. The Cubs aren't going to give up that easy and rightfully so. He could be a Cubs Top 10 at the seasons end or lost in obscurity.
19. Paul Blackburn, RHP 12/4/1993 H:6'2″ W:185 – Another Top 75 pre-draft that the Cubs snagged:
51. Paul Blackburn RHP Heritage HS, Brentwood, Calif. – A tall righty with major projection in his frame. He's just 170 lbs and despite the lack of size generates low 90s fastballs touching 94. There is more velocity there and his mechanics are clean and repeatable. He also throws a curveball and changeup which are game ready and could be above average pitches with a chance at being plus.
Our Instinct – His fastball will reach plus as he matures, his changeup will be pitch in his arsenal that is most determining to his future success. There is a wide range of future outcomes, but with the chance at 3 plus pitches, clean mechanics and loads of projection he's an easy arm to like high in the 2nd round.
His upside is lower than Underwood. His development is behind Johnson. But he's more polished than Underwood and has a better chance at reaching his mid rotation ceiling. Still a long way off.
20. Jeffrey Baez, OF 10/30/1993 H:6'0″ W:180 – An unknown lost in the Baez hype is Jeffrey Baez. He's still only 19, just cracking his way out of the DSL, but the tools are there for a special player. He raked DSL this year, boosting everything year over year. Better K rate, better walk rate and continuing IsoP growth. He closed out 2012 with a .284 AVG 10 doubles, 4 Triples and 3 HR with 29 SB over 190 DSL and AZL AB. He's a sleeper.
21. Tim Saunders, SS 5/17/1990 H:6'0″ W:180 – Saunders, the D3baseball.com Mideast Region and Ohio Athletic Conference Player of the Year, led the Pioneers with a .441 batting average, 94 base hits, seven triples, five home runs, 80 runs scored and 41 stolen bases. He was drafted in the 32nd round. Worked his way through 3 levels and raked the entire way. Closing out the season with a .381 AVG 13 doubles and 5 HR in just 194 AB. He also stole 17 bases. His BABIP was a number I've never seen through that many AB though. Get this… .466. The kid can hit though and has tools. Keep an eye on him.
Other players to watch in 2013:  Ben Wells, Barrett Loux, Marcelo Carreno, Starling Peralta, Trey Martin, Trey McNutt, Rob Whitenack, Dan Langfield, Ronnie Torreyes, Tony Zych, Reggie Golden, Ryan McNeil, Steve Bruno, Jasvir Rakkar, Pedro Araujo, Alexander Santana, Daury Torrez, Kevin Encarnacion, Shamil Ubiera, Jose Paulino, Carlos A. Rodriguez, Jenner Emeterio, Roney Alcala, Roberto Caro, Justin Marra, Justin Bour, Logan Watkins, Pin-Chieh Chen, John Andreoli, Matt Loosen, Luis Acosta
For a complete list of the Top 21′s visit the 2013 Top 21′s Page
Stick with Baseball Instinct and we'll keep you a step ahead of the game. Check back soon as we release our top 21 prospects for each organization. While you're here, check out our Baseball Instinct 360° – it's our top 360 prospects from 2012, and we will be updating it for 2013 soon. Also check out a friend of ours for all of your fantasy sports needs. Fantasy Rundown is updated religiously and is truly an awesome resource. Thanks for checking Baseball Instinct. We're working hard to bring you the best of the minor leagues and make the site the best experience it can be, so don't hesitate to tell us what you would like to read about. Email us now at mailbag@baseballinstinct.com. And while you're at it head over to Facebook and join the Instinct page.  You can also follow us on twitter: @BaseballInstinc.