Miami is a team in flux. After an offseason of taking on massive amounts of contract obligations they have now blown up the major league team, shipped those contracts elsewhere and will have a tough time getting enough fans to the stadium in the Middle of Nowhere, FL.
But with all of the selling came an influx of minor league talent. Take homegrown talents like Yelich and Fernandez and add in newly acquired Nicolino, Marisnick and Brantly and the system is starting to look like a future contender.
Let's take a look at the New Look Miami Marlins farm system, starting with #1.
1. Christian Yelich, OF 12/5/1991 H:6'4″ W:190 – A season that flies a little under the radar. Yelich was #1 on the Marlins list a year ago and holds off Fernandez one more time. After a breakout 2011 in Low-A, Yelich was promoted to the FSL with questions about his power potential and future position. Had those questions remained at the conclusion of the season he wouldn't have held onto this top spot by a shoestring. But he put those questions to bed.
In his 2012 campaign he finished with a .187 IsoP with 29 doubles, 5 triples, 12 HR and 20 SB. Tack on an albeit slightly elevated .321 AVG and you have  breakout campaign in a difficult hitters league in a difficult hitters park. His BABIP was slightly elevated but regression would still pin Yelich as the potential .300 hitter we're projecting. His swing is one of the most picture perfect in the game and lends itself to a future of an all fields approach.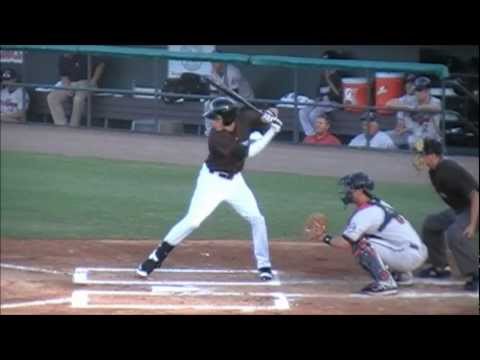 Our Instinct: Yelich handled CF well and looks comfortable ranging left to right. But even if an elite CF comes along and pushes him to LF it won't matter. He has a bat that can produce .300+ AVG as a major leaguer, speed to steal 15+ bases a year and his power is there and in 2013 it should become a more glam HR power. He's going to be a near 20/20 OF early on with possible 30 HR power as he reaches his prime in 6-7 years. ETA: 2014
2. Jose Fernandez, RHP 7/31/1992 H:6'3″ W:220 – Fernandez is 1a to Yelich and gives the Marlins a second elite level prospect at the top of the system. Fernandez has a great back story and you should read about it. My take away is that he has the character to continue his current fast track path and continue to succeed against more advanced and older competition.

Fernandez brings a hard fastball in the mid 90s working 94-96 regularly and touching 98 at times. His slider is his 2nd best pitch with hard bite and the same arm speed as his fastball. It's low to mid 80s and locks up hitters. He also throws a curve and changeup, both of which are average offerings that he is still learning to fully command. His command issues are based on excellent movement more than a lack of feel.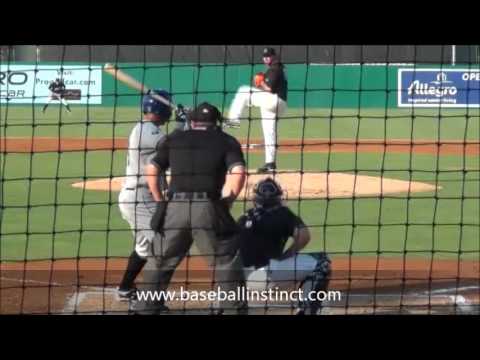 Our Instinct: Fernandez has the frame of an innings eating frontline starter. A pitch mix that is rare for any pitcher and a mechanically sound delivery for him to hold up over long seasons. Expectations of sub 2.00 ERA's like he pulled off this year would be lofty, but he's a strikeout per inning type and with his projection to be a 200+ IP starter with a near 30% K rate he's going to put up big numbers. He threw 130 innings last year, so he's not far off from making his major league debut. He'll start in Double-A in 2013 and could be in Miami by the end of the season. ETA: 2013

3. Andrew Heaney, LHP 6/5/1991 H:6'3″ W:180 – Heaney was selected 9th overall in 2012 by the Marlins and despite being a college starter, he didn't come cheap. What the Marlins did get was a lefty with strikeout ability that is not far from major league ready. We had Heaney at #21 overall in our Draft Preview for 2012:
21. Andrew Heaney LHP Oklahoma State – Heaney is a smaller lefty at 6'2″ 175 lbs and as a college pitcher there probably isn't much more growth there. But his high 80s fastball has become a solid low 90s mph pitch and his slider has become his best secondary pitch. He also commands an average changeup well and despite not having elite stuff he gets strikeouts.
Our Instinct – Because he's able to get the most out his stuff and has a very deceptive ability to change arm angles, he gets a lot of swings and misses. He's very tough on lefties and if he can't hold up as a back-end starter he could be a situational lefty. He's probably not far off from being major league ready.
Heaney's fastball is near plus for a lefty and he did touch 97 late last summer after his pro debut. As we mentioned though, his fastball is likely to sit low 90s and he pairs it with what is a near plus slider. Those two pitches should be enough for him to remain a starter.
Our Instinct: He'll start 2013 in the FSL and team with a talented group including Nicolino, Conley, Urena and Brice. Heaney might be the first one to exit the FSL though. His stuff is advanced enough that short stint in Florida and then a move up to Double-A to close out 2013 would keep him on pace for a 2014 debut in Miami. As a starter he'll be a solid mid-rotation option or an excellent 4-5. He's going to continue to be  punch out lefty and already has proven command. He'll continue to move fast. ETA: 2014
4. Marcell Ozuna, OF 11/12/1990 H:6'2″ W:190 – Ozuna has legitimate plus power. The ball comes off the bat hard and you can hear clear difference in his contact, even over Yelich. Ozuna put his name on the map in 2010 with 22 HR and then in 2011 Ozuna broke out in a big way in A-ball with 23 HR and a .216 IsoP, against more advanced pitching. 

In 2012, Ozuna hit the FSL and here is what George had to say preseason about the assignment:
I'm not concerned about the supposed power outage here, what concerns me more is the improvement in plate discipline.  Having said that, the number of walks isn't where it needs to be yet and the FSL will be a perfect challenge for him.  Stay away from breaking balls in the dirt my man!  If he handles Hi-A well, he could be a premium prospect, offering the Marlins a power hitting outfielder by 2014.
The 21 year old hit .266 with 27 doubles, 24 HR and 95 RBI while posting a .211 IsoP. His K rate, while high, remained just over 21% and his walk rate remained over 8%. There was no regression to his stat line and he was even a touch unlucky again with a .301 BABIP.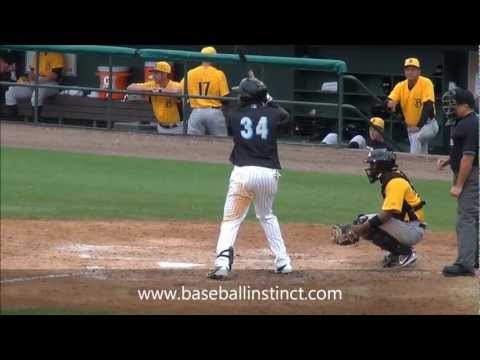 Our Instinct: It's perfectly acceptable to project another jump in power for Ozuna in Double-A. He has 30 HR potential as soon as this year. Is he going to be a 130+ strikeout power hitter? Yes, that seems likely. But how many successful major leaguers struck out 130+ times in 2012? 43 would be the answer. Ozuna has a power arm for RF, he gets to a lot of balls and makes plays in RF that are a CF range. So he's going to be more than enough to handle a corner spot and he'll have the power to make up for a lack of elite hit tools. A full season in Double-A seems likely. ETA: 2014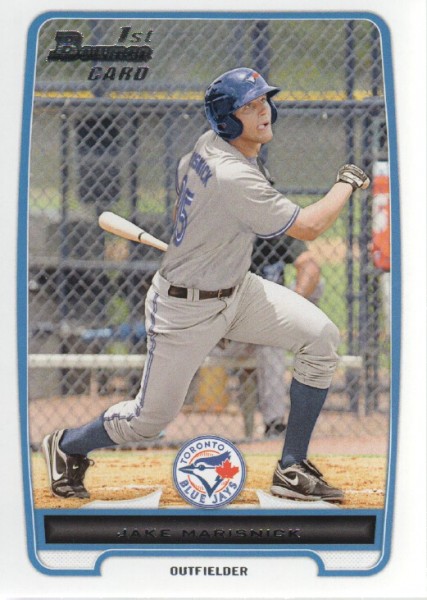 5. Jake Marisnick, OF 3/30/1991 H:6'4″ W:200 – We've been high on Marisnick's tool set for a long time, brandishing a spot in out Top 100 for the past few seasons. He's still an elite talent. Here is the 2011 take on him:

74. Jake Marisnick OF TOR – True 5 tool outfielder has shown flashes of brilliance early in his career but is still a way off of reaching his potential. If he can become a true hitter by becoming a student than he has the tools to turn in 30/30 seasons could even handle CF although a move to RF is probable based on his size.
Marisnick spent the 2012 season in the Blue Jays organization, starting the season in the FSL and working his way to Double-A by mid season. His FSL numbers were good, with a .263 AVG that was held down a little by a  BABIP of .309. His IsoP jumped to .188, the highest mark of his career and his walk rate improved. All good signs. But a dominating performance to kick his prospect profile onto the fast track. But the Jays decided to move him to Double-A anyway and his production tailed off in every metric.
Our Instinct: Marisnick could use another half of a season in the FSL before moving back to Double-A, but it seems like a less obvious move than just having him restart in Double-A where he left off. But he's a CF and Yelich will be manning CF for Double-A in 2013, so there is the off chance that it actually plays out this way. If Marisnick is given more time to refine his approach at the plate he still has 30/30 upside, but with the additional refinement it may take to get him there, the clock may run out. I see him more as a 20/20 OF at this point, but across the board tools still make him a very valuable major league commodity. ETA: 2015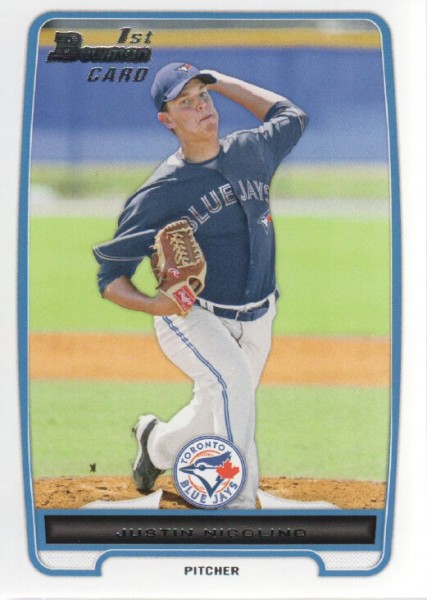 6. Justin Nicolino, LHP 11/22/1991 H:6'3″ W:195 – Another get from the Jays in the Mega Deal of the offseason 2013. Nicolino has been creeping his way through the Jays system and finally racked up 124 innings last year, putting him on track for a full season workload in 2013. Nicolino was #6 on our Blue Jays top list in 2012. His season went relatively as expected. He's an advanced control pitcher, but has better stuff than a typical control type.
Nicolino's fastball works in the 89-91 range and he can get 93 on the gun occasionally. But its a plus changeup that makes him the most effective. His changeup works well out of the arm slot and separates in velocity from the fastball by 10 mph+. His curve is his 3rd pitch and is currently a distant 3rd, but is nearing average and will be better as his command of the pitch matures.
He was able to keep his K rate near the mid 20% range and actually bettered his walk rate to 4.2% in A ball last year. His ERA is a by product of young hitters and his advanced feel, but a 2.46 ERA supported by a 2.54 FIP is still going to stand out and point to future success.
Our Instinct: Nicolino isn't a sub-3.00 ERA starter, but with his feel and solid frame he should be able to build his innings to the 160+ range in 2013 and then be a mid rotation starter with solid peripheral averages across the board.  Mid 3.00 ERAs shouldn't be too far off his capabilities range and while his K rate may settle in closer tot he 20% range, the current variance between his k/bb ratio shows even some regression as he climbs the ladder should leave him in a comfortable range as a starter. He'll start 2013 in the FSL, but he could see Double-A sometime after July. ETA: 2015
7. Mason Hope, RHP 6/27/1992 H:6'3″ W:190 - For some reason, Hope, is being disregarded as a Marlins top prospect. That is a clear oversight because Hope has had plenty of success in his two seasons with the Marlins. Last year he put up a 2.90 ERA supported by a 3.20 FIP and a solid 17.6% K rate. His AVG against was just .266 but the BABIP was normal at .327, so the advanced arsenal was clearly at work.
Hope flashes a low 90s fastball with a plus curveball that could be the best in the system and is at times. Meaning it simply lacks full consistency at this point. His changeup is still developing but should be an average pitch within a year. He's been overlooked since before the draft and continues to be overlooked. But the young righty has the stuff to be a mid rotation starter when the changeup progresses. We still think there is additional velocity and we could see an uptick in 2013. He still needs fill out his frame and upticking the tempo on his delivery should lead to hsi fastball sitting more consistently 93-94 range.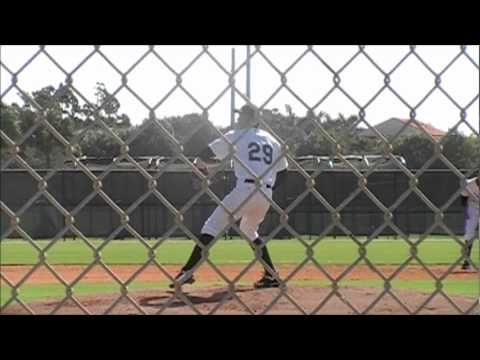 Our Instinct: If Hope does in fact uptick his velocity as we project, that fastball paired with what could be a devastating curveball give him the pitch mix of a #2 starter as long as his changeup does develop into at least an average pitch. Without the additional velocity and a near average changeup, he still projects as a top mid rotation starter. He's only up to 71.1 IP in a season (last year), so I wouldn't expect him to jump to High-A. But he will get a full season assignment to Greensboro and his target IP will be in the 110-120 range. That will put him on target for an FSL assignment as a 21 year old in 2014. That is unless he dominates the Sally League and finds himself in Jupiter in the 2nd half. Expect the first scenario to play out. But if he makes the jump, he won't be a lesser known any longer. ETA: 2016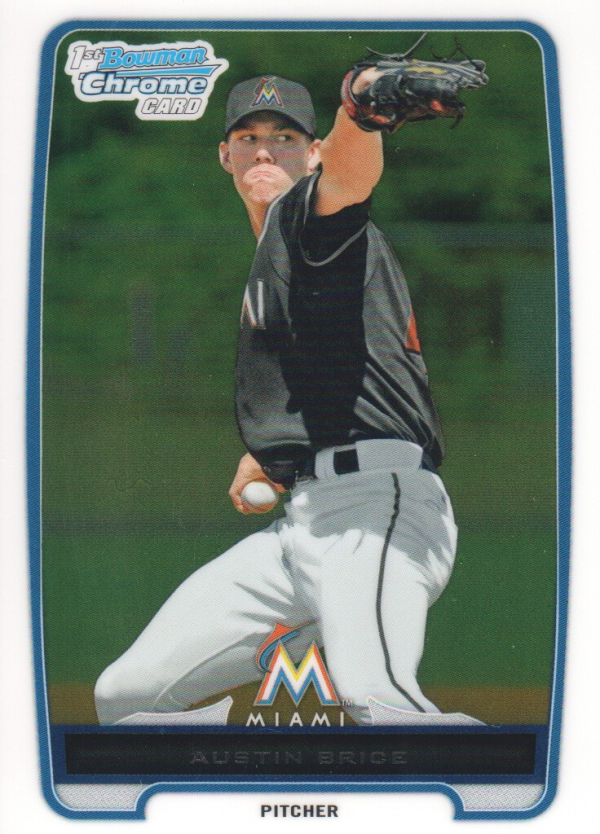 8. Austin Brice, RHP 6/19/1992 H:6'4″ W:205 – Brice is a big 6'4″ with room to continue to fill out. He already flashes a low to mid 90s fastball and although he was at the same level Nicolino last season he is still a step behind in development. Where Nicolino has refinement, Brice has raw ability. He led Greensboro in K's last year tallying 122 in 109.2 innings, good for a 25.3% K rate. But it came along with a 14.1% walk rate. The walk rate should continue its move in the right direction, its mainly a product of him not trusting his fastball enough.
While his curve and changeup are far from refined, his command is better than the numbers suggest. His curve is already a potential strikeout pitch and his changeup will continue to become more effective when he pounds the strikezone with fastballs instead trying to be fine and then having hitters sit on his secondary offerings.
Our Instinct: With his size, there is probably more velocity waiting in the wings. His delivery is inconsistent but when he's on he flashes premium velocity. 2013 should be the year the gloves come off and he should be on target for 140 innings and working deeper into starts. This time in the FSL, where he'll spend the entire season.There is still a wide range of outcomes for Brice at this point in his development. He has #2 upside with a mid rotation starter comfort zone in projection but there is still a lot of development needed in the prospect profile. We consider him a breakout prospect candidate for 2013. ETA: 2016

9. Adam Conley, LHP 5/24/1990 H:6'3″ W:185 - The 2011 2nd round pick dominated A ball in 2012 before moving to the more age and experience appropriate FSL in High-A Jupiter. His work at Jupiter didn't produce the same stellar results, but he still kept his K rate above 20% and his walk rate, while not optimal, stayed steady at 8.2% there. He did see his ERA balloon from 2.78 in Greensboro to 4.44 in Jupiter. But a .364 BABIP and 2.40 FIP show some reason to believe he was better than the standard numbers suggest.
Conley has some impressive stuff, but for his age he is still unrefined. His fastball works in the 92-95 range and is a plus offering right now on both velocity and movement. He pairs it with a changeup with movement to battle right-handers and it looks like it will remain his best secondary.
The breaking ball is the only thing that keeps Conley from having a clearer path to potential major league success in the future. Conley's slider is another pitch with a lot of movement, this time lateral, but it isn't by design and there is little command of the offering. When he tries to command it in the zone it gets tight and loses depth. He has work to do on the slider if he is going to have the 3 pitch mix needed to remain a starter.
Our Instinct: I don't see Conley as a candidate for a fallback to the bullpen as a high leverage RP. His slider is too far behind to be truly effective as a high K rate RP, but some refinement of the pitch and tightening of the break would be enough to make it average and give him the plus fastball and two average pitches in the changeup and slider to remain a  rotation candidate. I only see mid rotation as his upside, though a solid 4-5 starter would be the more likely scenario. He has a major league arm but the downside is there for him to fall into a lefty specialist role or into obscurity if he isn't given more time to refine the slider and changeup. He's going to start back in the FSL and should pull into the 160 IP range this season putting him on target for a MLB showing next season sometime. So the clock is ticking. ETA 2014
10. Jose Urena, RHP 9/12/1991 H:6'3″ W:175 - Urena is an exciting prospect with an explosive fastball but little else on the elite level at this time. The fastball clocks mid 90s consistently with upper 90s upside. But for a lower level pitcher with such electric stuff, his K rate is on the lower than expected side at around 17%. He has enough control – his walk rate was just 5.1% – so the fact that he isn't missing more bats would either mean he isn't fooling hitters or his fastball generates a lot of weak contact and ground balls. Well a 45.1% ground ball rate says that its not really a ground ball inducing offering.
He does generate his fair share of weak contact though. The fastball tends to be heavy, though he doesn't have a solid secondary to keep hitters off the fastball. His slider at times has good movement, but Urena's mechanics aren't optimal for a lateral break. His curveball is less utilized but is probably his best bet to remain a starter long term. Neither pitch is advanced enough for his current pace through the system.
His changeup is the one secondary that shows clear path to development. He already understands matching his arm speed, but he throws the pitch with a little too much, showing a lack of feel for the velocity. Something that he should begin to pick up on in 2013.
Our Instinct: Urena is a high ceiling, #2 starter potential and low floor, potential right-handed RP. He'll continue his development in the FSL this year in what is proving to be a prospect laden rotation for the Jupiter Hammerheads. His fastball screams upside, but he's a complete package where the projection is clear. He's not a teenager either, so 2013 is going to be a vital step in his development and if it goes south he'll be relegated to a bullpen role by 2014. Expect a full season in the FSL and a full season in Double-A next year before the path is clear. ETA: 2015
11. J.T. Realmuto, C 3/18/1991 H:6'1″ W:190 – Realmuto is a converted HS SS and was one of the best hitters in High School baseball history. So the history is there with the bat and supported by stellar 2011 campaign in the Sally League where he hit .287 with a .167 IsoP. 

His 2012 campaign in the FSL had him struggle on the surface though. His AVG dropped to .255 and his IsoP to just .089. I say on the surface because the underlying peripherals tell a bit of a different story. His AVG was dragged down by a BABIP of just .279 while his K rate was cut from 20.5% in 2011 to just 12.8% last year. This happened while he actually upped his walk rate from 6.8% to 7.4%.
He once again stole double digit bases and due to being a former middle infielder, he's much more agile than a common catching prospect and projects to be a base-stealing threat. We're  not talking major totals, but 8-10 SB annually could be there.
Realmuto is still refining his catch and throw skills, but is already considered the best catcher at his level. Sub 1.8 second POP times are elite and he threw out 36% of would be's in 2012.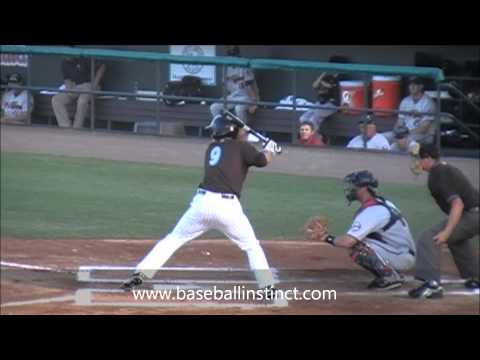 Our Instinct: Between the longest season of his career, grinding it out as a catcher and some poor luck, Realmuto's 2012 season isn't indicative of what he capable of offensively. I fully expect him to handle the grind more effectively as he moves along each year. His BABIP should easily revert back to the .330 range which would boost his AVG to the .280 range where he projects comfortably in the future.
His power is still a question, but double digit HR and SB isn't out of the question. Combine that with above average or better defense and you have a valuable commodity in Realmuto. He may start back in the FSL in 2013 and if his peripherals trend up as expected he'll see time in Double-A around mid season. A full season at Double-A would put him on target for Miami in about 2 years. ETA: 2013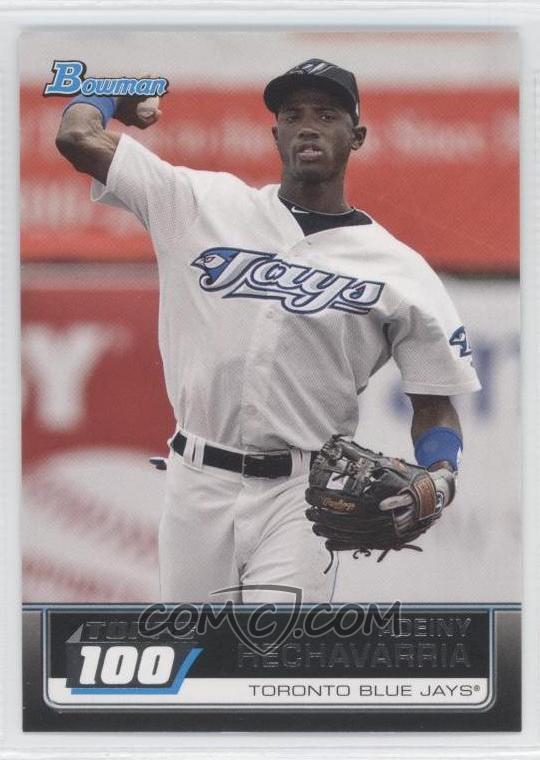 12. Adeiny Hechavarria, SS 4/15/1989 H:5'11" W:180 – Hechavarria was another player acquired in the big offseason trade with the Blue Jays. He came to the US via Cuba and signed to a monster $10mm deal. He's this high on the list based on his baseball value, not his future fantasy value. It's going to be his glove that makes him the SS of the here and now for Marlins. Hechavarria has the potential to be a Gold Glove SS right out of the gate this year.
His bat on the other hand is a question-mark and may relegate him to the 8-hole in the lineup. He has below average power and just about average speed on the basepaths with limited base-stealing ability.
I don't see his K rate being as bad as it was in his debut with Toronto last year, but 20%+ is probably a good indicator and unless he can stabilize his walk rate to a higher level, he's not going to get pitchers to give him good pitches to hit and will need to rely on a less than average contact ability. In 2011 and 2012, he benefited from an excellent hitting environment in Las Vegas and highly elevated BABIP that simply won't be repeated at the highest level.
Our Instinct: When his BABIP normalizes, Hech's AVG will probably settle in around .250-.260 with a handful of HR and handful of SB, but not much game changing ability on the offensive side of the game. His glove will carve out a career for him though and he'll hold down the SS position for the Marlins until someone from the lower levels is able to bring a complete game to the table for the big club. ETA: 2013
13. Rob Brantly, C 7/14/1989 H:6'2″ W:205 – Brantly was a get from the Tigers for Anibal Sanchez last year. He's a solid defender with a solid bat. He flashes some really nice numbers in his short debut with the Marlins last year, but we need to temper expectations for him in 2013. Before coming to the Marlins, he never flashed an IsoP over .150 or a walk rate north of 7%. So expectations for him to settle back in are on target. A solid defender, with some doubles gap power and solid .275+ AVG are probably what we'll see in 2013. Valuable, but not elite. ETA: 2013
14. Avery Romero, 3B 5/11/1993 H:5'11" W:195 – The High School SS out of Florida has excellent bat speed and ability to use the entire field. At a young age its not often that you see the all fields approach, especially from a  prospect that projects out for power. Romero won't be able to stick at SS long term, so he's not the heir apparent to Hechavarria. But a move to 3B or 2B is a clear path for his skill set. He has the arm for 3B and the range for 2B. How much power he develops will determine if he's a true 3B though. Based on his age, he was one of the oldest HS draftees last year, he's going to see some quick advancement as long as he doesn't struggle. Once he reaches High-A we will have a better idea of his future projections. ETA: 2017
15. Brent Keys, OF 7/14/1990 H:6'1″ W:210 - Keys is a complete OF. He's athletic, can handle CF, and has the arm to handle a corner. He hasn't been able to stay healthy, so his development is a step behind even much younger prospects. But when he's healthy he hits. Last year was a breakout campaign where he hit .335, his 2nd stop in two years where he's done so, and he hit 21 doubles, 3 triples and 5 HR while stealing 18 bases in 370 AB. He struck out just 7.1% of the time and his BABIP was .352, so some regression is sure to occur, but he may still be a .300 hitter since he hits both lefties and righties well. He's able to put up numbers across the board and if his hamstring issues are behind him, this season could be his breakout to the prospect world. ETA: 2015
16. Alfredo Silverio, OF 5/6/1987 H:6'0″ W:205 – Silverio miss all of the 2012 season after coming over from the Dodgers in the Rule 5 draft after the Dodgers didn't protect him. He was in a serious car accident last winter and 2013 will be his Marlins debut. If he's healthy, he's a prospect who's hit for AVG at every level and has power too. His 2011 season earned him a Futures Game nod when he hit .306 with 76 XBH. His health is still a major concern though. But the upside is there for him to be a factor at the major league level as soon as this year. He could be higher on this list, possibly inside the top 10 based on talent, but he's still raw at the plate a full year out during a critical development period could hamper his upside. ETA: 2013

17.  Derek Dietrich, 2B 7/18/1989 H:6'1″ W:200 – Dietrich was received in a trade with the Rays. He's a bat first SS and with that, a move to 2B is already in motion. He has the arm to handle 2B or 3B, similar to Romero, and has already proven that he has some power in the bat. He flashed a .185 IsoP in the FSL and continued to show power when he was promoted to Double-A. He strikes out too often though and he's already going to be 24 this season and isn't far from either proving he's a major league 2B or being relegated to a utility role. There is a chance that his power spikes as he starts the 2013 season in Double-A playing 2B. But time is running thin for a full time gig in Dietrich's case. ETA: 2014
18. Jesus Solorzano, OF 8/8/1990 H:6'0″ W:190 - Solorzano, the 330° prospect on our 2012 360°, slides on our list this year because his plate discipline hasn't come along yet. He stuck out 49 times in 210 AB last year and walked just 17 times. On the positive side he continued to show that he can put up XBH with an IsoP of .205. Once you start to crack the .200+ level with IsoP, you start talking about elite power potential. But Solorzano is a mature kid and already 23. So the power is probably maxed out. He's a Power and Speed prospect, capable of .280 AVG with double digit HR and SB seasons. But the clock is ticking and he has yet to reach High-A. He may finally skip a level and start 2013 in the FSL. One way or another, if he succeeds in the majors, it will be as a "late blooming" prospect. ETA: 2015 
19. Kolby Copeland, OF 2/5/1994 H:6'0″ W:190 – Copeland is a physical athlete that was a two sport star in HS. But despite his athleticism, his tools aren't elite. He's likely to be relegated to a corner OF spot in the future and doesn't have the plus arm for RF. So his bat will have to carry him. He may be the one lower level prospect that is capable of becoming an everyday LF with this prospect profile. He is one of the youngest players in the system and already made his New York-Penn debut, so the chances are good that he starts there again in 2013 but makes his way to Greensboro before he turns 20. Projecting out a LF this early isn't optimal, but something about his approach and swing plane makes me think the hit tool is real. ETA: 2017
20. Zack Cox, 3B 5/9/1989 H:6'0″ W:215 – Cox has been a top prospect since being drafted by the Cardinals. But concerns over his athleticism are becoming very real and dampening his potential. He was one of the top bats coming out of college for the 2010 draft and proved his bat to be real in his first full season. But since then he has struggled to produce the same hard contact and his power has never come along. Now there is concern over him being able to even stick at 3B long term. He hasn't hit more than 10 HR in a season and his K rate has gotten worse as he progresses. The Marlins are looking for a 3B of the future, but unless he can turn his contact ability around, Cox may end up a platoon corner IF. ETA: 2014
21. Charlie Lowell, LHP 10/25/1990 H:6'4″ W:235 – A big lefty with strikeout stuff, Lowell, flies under the radar most often. He's going to head back to the FSL to start 2013 and the assignment could be just what he needs. He'll be able to pound the zone with his fastball without worrying about HR rate. If he can turn the corner on his 12.4% walk rate from last year, he has the stuff to be a true breakout player in 2013. He has the pitch mix to be a 4-5 starter and the frame to eat innings. If  the command doesn't come around he'll still be able to carve out a career as a lefty-specialist since lefties have a particularly tough time against him. ETA: 2015
Other players to watch in 2013:  Noah Perio, Mark Canha, Chad James, Andy Beltre, A.J. Ramos, Chris Hatcher, Raudel Lazo, Jake Esch, Jose Ceda, Danny Black, Austin Barnes, Kyle Jensen, Tom Koehler, Jorgan Cavanerio, Kevin Mattison, Ausitn Dean, Josh Hodges, Kyle Skipworth, Rigoberto Santamaria, Grant Dayton, Brad Hand, Wildert Pujols, Brian Flynn, Braulino Lara
For a complete list of the Top 21′s visit the 2013 Top 21′s Page
Stick with Baseball Instinct and we'll keep you a step ahead of the game. Check back soon as we release our top 21 prospects for each organization. While you're here, check out our Baseball Instinct 360° – it's our top 360 prospects from 2012, and we will be updating it for 2013 soon. Also check out a friend of ours for all of your fantasy sports needs. Fantasy Rundown is updated religiously and is truly an awesome resource. Thanks for checking Baseball Instinct. We're working hard to bring you the best of the minor leagues and make the site the best experience it can be, so don't hesitate to tell us what you would like to read about. Email us now at mailbag@baseballinstinct.com. And while you're at it head over to Facebook and join the Instinct page.  You can also follow us on twitter: @BaseballInstinc.