The San Diego Padres are clearly one of the deepest organizations in baseball. This system had a lot of talent in it before the 2012 draft and international free agent signing period and they just drove it home with both. It's been a tough go in the N.L. West for the Padres as of late, but there is plenty to be optimistic about. The pitching depth is excellent and the hitting is pretty solid as well.  All in all, I really like what they've done here.  The Padres go strong after college players, yet have found away to get high school players into the mix and what they should be proud of is the fact they have talent at almost every position.  This is a farm system well worth keeping an eye on.
1. Max Fried, LHP 1/18/1994 H:6'4″ W:185 –  Fried signed for exactly slot money at $3 million in 2012.  He was the high school teammate of fellow 1st rounder, Lucas Giolito. An injury to Giolito caused him to slide further in the round. Fried possesses a low 90's fastball with a fair amount of dip to it and can dial it up to 95 mph, though works more effectively in the 91-92 mph range. His curveball is close to being a plus pitch and his change up isn't bad either.  Fried proved to be far better than the competition while at Harvard-Westlake last season. In 12 starts, he compiled an 8-2 record with a 2.02 ERA. Fried was dominant on the mound with 105 strikeouts in 66 innings of work.
Fried's size and stuff already had him on the radar before he tag teamed with Giolito, but his dominant season at Harvard-Westlake was the icing on the cake for his #6 overall ranking in our 2012 Draft Preview:
6. Max Fried LHP Harvard-Westlake HS, Studio City, Calif. – The lefty Co-Ace of the Harvard-Westlake staff is still healthy while his Co, Giolito is out for the year. Fried is 6'4″ and room to fill out his frame from the current 175 lbs. He doesn't have premium velocity yet, but works 89-90 and can run it to 92 with a high 3/4 arm slot unlike most left-handers. The arm slot allows for arm-side run and bodes well for him in the future. It's Fried's curveball that makes him standout among the talented HS crop of pitchers this year.
Our Instinct – Fried is also a UCLA hopeful like Giolito, but unlike Giolito, Fried is healthy with little left to prove of his ability to pitch professionally. UCLA has a way of drawing their top recruits away from pro ball, but Fried figures to go high within the first round and is even less likely to attend UCLA than Giolito is. Once Fried fills out and refines his changeup he has #2 upside. Adding a cutter to his fastball mix would allow him to use multiple direction movement with his fastball and allow less need for his little used changeup to become an above average offering and still hit his ceiling.
Our Instinct:  While it's too early to anoint Fried as an elite pitching prospect, I feel comfortable saying that he has #2 upside and the Padres did very well in drafting him. He's adding velocity, the curve is a plus offering, if not now, in the near future and his changeup just needs refinement. I'm in hopes that he will be at Short Season-A Everett in 2013 so that I can get a closer look at him, again. He may not need a lot of time in the minors. ETA: 2015
2012 by the numbers: 0-1, 3.57 ERA, 3.03 FIP, .278 BABIP, 17/6 K/BB ratio in 17.2 innings at Rookie-A.  2012 1st round draft pick, 7th overall.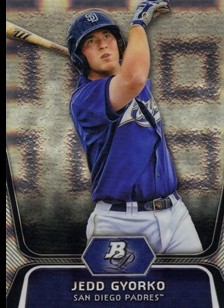 2. Jedd Gyorko, 2B/3B 9/23/1988 H:5'10" W:195 –  From our 2012 Baseball Instinct 360°:
140°. Jedd Gyorko, 3B, Padres, 9/23/1988 – The biggest question with Gyorko is how much power does his bat have. Since he lacks premium defensive value and is below average in speed and base running, his bat (and more particularly) his power needs to carry him. In 2011, Gyorko has 74 rbi's and 18 hr's in 340 ab's, but the California league is notorious for inflating power numbers. When Gyorko was promoted to AA his numbers regressed to 40 rbi and 7 hr in 236 abs. He is expected start at AA in 2012 and he will have to prove whether his bat has the power needed to succeed at Double AA level. Come to think of it, he will have to prove that at every level he goes, just like he has always done. ETA 2013.
And Gyorko delivered with a .547 SLG% and 30 HR between AA and AAA.  However, the road at 3B at the major league level is blocked by Chase Headley, so Gyorko will go into spring camp with every opportunity to take the 2B job away from Logan Forsythe and Alexi Amarista.  The Padres front office has to be hoping that he can prevail as they could use the added boost from his bat.
Our Instinct:  It will be interesting to see if the Padres want to start the clock on Gyorko in April.  His bat is major league ready, though I wouldn't get overly excited about the prospects of him hitting 30 HR playing at Petco, fences coming in notwithstanding.  Having said that, he has tremendous gap power and should be able to hit for a decent average and drive in runs.  If he hit's 15-20 HR and 30-40 doubles, the Padres will take that from their 2B position. If Gyorko does slot in at 2B, we're talking about one of the lower ranked middle infields in the NL. We think his bat will carry though and he's exceeded even our lofty expectations of him over the past 3 years.  ETA: 2013
2012 by the numbers: .311/.373/.547, 58 XBH(30 HR), 5 SB, .334 BABIP, 95/51 K/BB ratio in 499 ab's between AA and AAA.  2010 2nd round draft pick, 59th overall.
3. Austin Hedges, C 8/18/1992 H:6'1″ W:190 –  Thought of as a defense first catcher – outstanding defense as it turns out, Hedges has also delivered with the bat in 2012 in the Midwest League.  Hedges is an athletic catcher with good plate discipline and pitch recognition, who generates good power (.176 ISoP) from his hips and gets through the zone quickly.  His power does come with a higher than optimal k/bb ratio of 3 K to every 1 bb. But his K rate was just 16.6% last year and the walk rate should improve as he matures as a hitter. While he hit just .279 last season, his .312 BABIP says that there could be more there which supports a future .275+ hitter with that power skill.
He has more speed than you would expect from a typical catcher, though that doesn't project as a big part of his game in the future, but speaks to his athleticism.
Defensively, you would be hard pressed to find a better catcher at any level.  He sports a plus arm, elite pop times near 1.85 seconds with above average receiving and blocking skills as a teen at Low-A.  As for that plus arm, combine it with his tremendous catch and release skills and he causes many a would-be base stealer's to tuck into the fetal position after being called out at 2nd. He has the ability to shut a run game down. A skill without a true stat, but a skill that all teams look for.
Our Instinct: Trying to predict the future of catchers is tricky business.  Quite a few shift off the position, in Hedges case though it's pretty easy to see that he should stick at catcher.  While the Padres won't rush their young prized backstop, he will likely force the issue sooner rather than later. But with catching options at the big league level they have time. Hedges isn't quite an elite prospect yet, a quality season at High-A will change all of that.  He's a guy worth stashing for you fantasy dynasty league types. ETA: 2015
2012 by the numbers: .279/.334/.451, 38 XBH(10 HR), 14 SB, .317 BABIP, 62/23 K/BB ratio in 337 ab's at Low-A.  2011 2nd round draft pick, 82nd overall.
4. Matt Wisler, RHP 9/12/1992 H:6'3″ W:175 – Wisler was ripped away from a commitment to Ohio State when money could still talk.  He throws his fastball in the low 90's, but there were reports that he hit 97 mph at one point during the Midwest League season.  There's no doubt that there's still some projection in his frame and that his fastball could uptick as he fills out.  A curveball in the mid 70s, which he is still mastering the command on, but showed clear maturation as the year progressed and changeup in the low 80s are also in his repertoire. All of which he throws for strikes.  He has nice and easy arm action with a clean delivery that allows him to command the lower half of the zone in dominating fashion. He allowed just 1 HR in 114 innings in 2012.
Our Instinct:  Wisler was very impressive in his full season at Low-A . He struck out a batter per inning, good for a 24.5% K rate and his fastball could be plus in time, so he's continues to hold good upside. If the curveball command continues to develop he projects out to be a solid #3 with some additional ceiling.  High-A California League will be a good test for Wisler in 2013. His groundball tendencies could allow him to thrive in the CAL, where many pitchers struggle. If that happens he'll end up on the fast track to Double-A and hit top Prospect lists everywhere.  ETA: 2015
2012 by the numbers: 5-4, 2.53 ERA, 2.07 FIP, .311 BABIP, 113/28 K/BB ratio in 114 innings at Low-A.  2011 7th round draft pick, 233rd overall.
5. Casey Kelly, RHP 10/4/1989 H:6'3″ W:195 – Yet another Padres pitching injury and another elbow problem to boot.  Kelly made it about a week into the 2012 season before hitting the DL until August.  Before and after the injury he pitched quite well in the minors, allowing for him to make his major league debut.  He posted a 2-3 record with a 6.21 ERA and had a 26/10 K/BB ratio over 29 innings with the Padres.  The former Red Sox 1st round pick is a terrific athlete who made the transition from shortstop to starting pitcher pretty effortlessly.  He throw's from a 3/4 arm slot, and at 6'3″ he throws on a nice downhill plane which leads to a lot of ground ball outs.  He works most effectively with his fastball sitting around 90-92 mph, though he can touch 95.  His curveball has some bite to it with a nice late break, while his change up is average at best, but developing.
Our Instinct:  Elbow issues are always troubling and they often don't just go away. Having said that, he displayed the kind of command and composure on the mound after the injury to warrant optimism.  Kelly fits the profile as a #4 or #5 starter in the majors.  He will be given a shot at winning a spot in the rotation this spring and figures to be a big part of the Padres in 2013 if he is truly healthy.  ETA: Now
2012 by the numbers: 0-2, 3.35 ERA, 1.50 FIP, .372 BABIP, 39/3K/BB ratio in 37.2 innings between Rookie-A, AA and AAA.  2008 1st round draft pick, 30th overall (Red Sox).
6. Robbie Erlin, LHP 10/8/1990 H:5'11" W:190 –  Erlin came over from Texas in the 2011 trade for Mike Adams.  Another Padres pitcher that missed time due to injury in 2012, Erlin was shelved for 3 months with Elbow problems.  Despite being a bit undersized, Erlin has very good command of his 3 pitch arsenal that features a low 90's fastball, a curveball with nice late bite to it, and an above average change that makes his fastball look a little faster than it is.  He had an excellent showing in the AFL, going 2-1 with a 3.38 ERA and 31/6 K/BB ratio over 23.2 innings.
His historic high K rates and low walk rates bode well for future success. But he's not a front of the rotation type because he lacks a premium fastball. But he has learned to offer a little more, beginning to mix in a cutter and two-seam fastball in 2012, giving him a couple more weapons to utilize.
Our Instinct:  He doesn't have the high octane stuff to live up in the strike zone, so he's going to have to keep it down.  Petco will be forgiving to an extent, but it's never been miserable on right handed hitters either.  He's got the upside of a #3 starter though because of his advanced feel and extended pitch mix.  The Padres potential rotation was looking a little crowded and the recent signing of Freddy Garcia doesn't help Erlin's chances this spring.  That's not a bad thing though.  With the missed time in 2012, he needs to head to AAA for some more seasoning.  He should see time with the big club at some point in 2013, but it should be next season before he gets a real shot. ETA: 2014
2012 by the numbers: 3-3, 2.82 ERA, 2.64 FIP, .370 BABIP, 80/16 K/BB ratio in 52.1 innings at AA and 8.1 rehab innings at Rookie-A.  2009 3rd round draft pick, 93rd overall (Rangers).
7. Walker Weickel, RHP 11/14/1993 H:6'6″ W:195 – We saw Weickel at the 2011 Perfect Game WWBA Championships in Jupiter, Florida back in October, 2011.  The lanky big kid throws 92-93 mph from a 3/4 arm slot, that at times looks like a high arm slot. His arm action is a little violent at times, but nothing alarming.  He was inside the top 25 for our 2012 Draft Preview:
22. Walker Weickel RHP Olympia HS, Orlando – At 6'6″ and 220 lbs, Weickel is a big kid and takes to mound with calm and presence. His stuff, while excellent doesn't translate to his size yet. At least not all the time. He works his fastball in the 92-93 range but at times can push it to the mid 90s. He pairs it with a 12-6 curve and a solid changeup.
Our Instinct – He's made strides over the past year and is already refining his secondaries. He'll probably add additional weight to his lower half and tightening his mechanics should add some velocity and get him into the mid 90s regularly. A Miami recruit, he's going to need to go this high in the draft to sign and has the talent to where he shouldn't fall out of the 1st round.
But he did fall out of the 1st round, all the way to the Padres at the #55 pick. It did take 1st round money though to get him signed away from Miami.
Our Instinct:  Given his limited professional exposure, it's too early to slap a potential-ace label on Weickel.  He does though, look the part of a decent #2 or a very good #3, with a floor of a set up.  It's hard to see the light at the end of the tunnel for guys right out of high school, but one way or another that light is looking like it will be at Petco down the road.  ETA: 2016
2012 by the numbers: 1-3, 4.50 ERA, 2.77 FIP, .368 BABIP, 12/6 K/BB ratio in 14 innings at Rookie-A.  2012 1st round draft pick, 55th overall.
8. Rymer Liriano, OF 6/20/1991 H:6'0″ W:210 –  One of the younger players at each level he travels, Liriano has held up well at each of those stops.  He has tremendous raw power in his strong frame, the body of a seasoned major leaguer, not a 21 year old minor leaguer.  That raw power didn't translate into over the fence power at 2 stops in 2012, though the bat speed was certainly there. His IsoP has never approached .200 in a full season and despite the raw skills, one has to wonder why that is. A high BABIP of .374 in High-A fueled his .298 AVG and when it reverted to .331 in Double-A his AVG dipped to .251.
He's still impressive to watch and you can only imagine in your mind what his power would look like if the skills develop.  His hit tool is average at best though.  He has plenty of speed that translates well on the bases and in the field, though at this point he isn't a base-stealer.
Our Instinct: With a strong and accurate arm he shouldn't have much trouble playing any of the outfield positions, but is likely to settle in nicely in right field.  I'm encouraged by his showing in the Arizona Fall League.  Some people will dismiss the AFL as not meaning a lot.  This is certainly true for a player like Mike Trout last year who was an elite prospect and ran out of gas by the time the AFL rolled around.  However, in Liriano's case, it can be a telling sign for a player in the maturation process.  His .505 SLG% and .186 ISoP builds upon his case to have been a break out player in 2013. But that 2013 breakout will need to wait until 2014. Liriano had Tommy John surgery recently and is likely to most of if not all of the regular season. The missed year will be a burden on the raw prospects development and will move his ETA out another season. He's still young though and has time to catch up to his tools. ETA: 2015
2012 by the numbers: .280/.350/.417, 44 XBH(8 HR), 32 SB, .361 BABIP, 119/41 K/BB ratio in 465 ab's between High-A and AA.  2007 IFA signee, Dominican Republic.
9. Joe Ross, RHP 5/21/1993 H:6'3″ W:185 –  Ross throws 91-93 and bumps mid 90's stuff with a plus slider and a developing changeup that he doesn't have a full feel for subtracting velocity from yet.  His 2012 season was marred with injury and command issues.  Ross is lanky kid with room to grow which could translate into a couple more ticks on the fastball, making it a definite premium.  Ross throws from the 3/4 arm slot, with a clean delivery, albeit inconsistent, and smooth mechanics.  He eats up right-handed batters with a 27.3% K rate, while posting a 19.5% against lefties. That is a clear indication of a unrefined CU. After returning from a month on the DL with a shoulder strain, Ross displayed a little better command in the NWL, ending his season with a 5 inning, 1 hit, 2 BB, 7 K, 0 ER effort vs Spokane.
Our Instinct:  Consistency is key here.  Ross doesn't get as far over his pitches from the 3/4 slot as we would like to see.  This could be the key to his command troubles and certainly may be costing him a couple mph on a very good fastball.  He's got #2 upside to be sure, but his development is still in its initial stages. He threw just 27 innings last year so the Padres are looking for him to bump that up significantly and get him back on track.  ETA: 2015
2012 by the numbers: 0-4, 4.28 ERA, 3.07 FIP, .326 BABIP, 56/22 K/BB ratio in 54.2 innings between Short Season-A and Low-A.  2011 1st round draft pick, 25th overall.
10. Jace Peterson, SS 5/9/1990 H:6'0″ W:200 – Peterson comes from a football background, though he's not raw for a former college football player. Getting a late jump on baseball though, he did spend the entire 2012 season working on his craft in the Low-A Midwest League.  He exudes confidence at the plate, as well as on base.  He's a very aggressive base runner, who doesn't have plus speed, but has enough to go with the confidence to steal 51 bases last season.
His plate discipline is elite and that combined with his base-stealing acumen makes him a very valuable commodity.
Defensively he's an average defender with enough arm to stick at SS and his athletic ability will help him range in the majors.
Our Instinct:  Peterson hasn't displayed much power yet.  He's an all-fields hitter that can turn singles into doubles.  His power should develop a little more, and a trip to the High-A California League should help the power development a lot.  There isn't much in the way of him in the system at SS, so if he can have a solid season at High-A, he could reach the AA before the season is over. He doesn't have an elite hit tool, but with his ability to take walks and put the ball in play he may end up at the top of a lineup.  Whether  he can become a major league SS or merely a utility infielder remains to be seen.  ETA 2015
2012 by the numbers: .286/.378/.392, 34 XBH(2 HR), 51 SB, .320 BABIP, 63/62 K/BB ratio in 444 ab's at Low-A.  2011 1st round draft pick, 58th overall.
Here's video of Peterson that Dave Reiffer took last summer: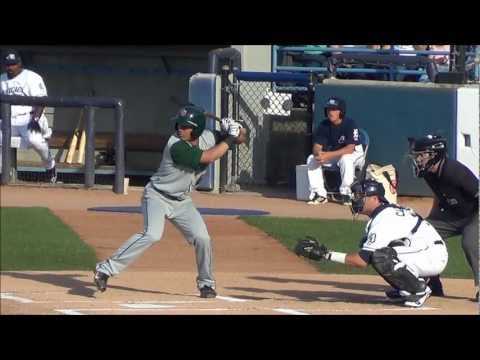 11. James Darnell, 3B/OF 1/19/1987 H:6'2″ W:195 –  A shoulder injury cost Darnell most of his 2012 season, however as with 2011, he did make a brief appearance in the majors in 2012.  Darnell has little to prove in the minors and his bat is ready for the majors. The question becomes can he adjust to the outfield well enough to have a major league career with Chase Headley standing in his way at 3b?
Our Instinct:  He's going to get a shot to make the club out of spring training.  It's unlikely that he's going to break into the starting positions held down by Will Venable, Carlos Quentin, and Cameron Maybin though.  He could break camp as an extra outfielder, though he probably really needs a half a season of steady AB at AAA.  ETA 2013
2012 by the numbers: .267/.365/.500, 13 XBH(7 HR), 1 SB, .286 BABIP, 25/16 K/BB ratio in 116 ab's at AAA.  2008 2nd round draft pick, 69th overall.
12. Keyvius Sampson, RHP 1/6/1991 H:6'0″ W:185 – Sampson did not endure the jump from Low-A to AA, bypassing the High-A Cal League as well as the Padres would have hoped.  As I said last spring in my Keyvius Sampson prospect instinct article, his 2011 ERA was a bit of a mirage:
His 3.21 FIP tells me that the real 2.90 ERA was a product of something other than his performance only. The .268 BABIP Against is that something other. He will see that BABIP Against rise above the .300 mark as soon as this year and when that happens his ERA will spike.
All of this was true.  His BABIP jumped to to .300+ and his ERA ballooned.  However, this time around his FIP tells us his ERA was much higher than it should have been.  What I didn't see happening is Sampson skipping the CAL and going right into the Texas League.  While it's true the CAL is a hitter's paradise, the Texas league offers more advanced hitters and without better breaking stuff, Sampson was going to get clobbered, and did.
Our Instinct:  So what do the Padres do now with Sampson?  Expose him to AAA?  I think he needs another shot at AA.  This season should be a good test for a guy with a mid-90's fastball and an above average change up.  The curveball is going to make or break Sampson.  If it doesn't come around this season, a likely move to the bullpen will be in his future.  ETA: 2014
2012 by the numbers: 8-11, 5.00 ERA, 3.77 FIP, .304 BABIP, 122/57 K/BB ratio in 122.1 innings at AA.  2009 4th round draft pick, 114th overall.
13. Travis Jankowski, OF 6/15/1991 H:6'2″ W:190 – After an excellent run in the College World Series, where he made a name for himself, Jankowski was selected with the 44th pick by the Padres and 2012.  He hit .280/.314/.366 while stealing 17 bases in 246 at bats, with almost all of them coming in the Midwest League where he regained form and went on a tear more in line with his college production.  He's an exciting player who will take his game to the High-A CAL League and while he doesn't have plus power I wouldn't be surprised if he began to hit for some decent power in the CAL. He doesn't have the arm for RF, but if he continues his development path as a hitter, CF or LF is a fine landing spot. I expect him to be inside the Top 10 next season.  ETA: 2015

14. Zach Eflin, RHP 4/8/1994 H:6'4″ W:200 – When we saw Eflin at the WWBA championships in Jupiter, FL in 2011, his fastball sat in the 90-93 mph range.  It had an uptick to the mid 90's during the spring, making his draft stock rise.  In his pro debut, he was back in that low 90's range.  From our draft preview:
Despite a large frame, Elfin doesn't use it to his advantage to its full extent. His landing point is short and he clearly brings the ball through with mostly arm. That's an issue short-term because it affects his command and long-term because it can lead to shoulder issues. He's cleaned it up some this spring and when he's loose and going in the game he can extend the stride which is when he's at his most effective. Easily corrected, the mechanical issue shouldn't stop a team looking for upside to take Elfin inside the 1st round.
He's going to need some time to develop, but he could turn out to be a good one.  ETA: 2016
15. Adys Portillo, RHP 12/21/1991 H:6'2″ W:185 – The hard throwing Venezuelan struggled in his full season debut in 2011.  But a return to the Midwest League in 2012 would prove quite different.  He went 6-6 with a 1.87 ERA and a 81/45 K/BB ratio in 91.2 innings before getting a promotion all the way to AA, where he would struggle like he has at each stop.  His command has improved, but still needs some work as he throws too many pitches to each batter.  He has an above average fastball that can hit 100 mph but he works more in the 93-95 range.  His curveball and changeup are still developing, but they are looking like decent out pitches.
His numbers indicate a dominant starter, but his walk rate remains high and he was incredibly lucky in the MWL with a .213 BABIP. The Padres should send him to High-A, but will probably send him back to AA where he ended the season. I expect him to struggle in Double-A and if he does he may find himself in the bullpen. We think he's going to find success, but the more likely spot will be as a RP. Though the upside of a mid rotation starter with elite heat remains, but the percentage is a small one. ETA 2014
16. Cory Spangenberg, 2B 3/16/1991 H:6'0″ W:185 – He certainly didn't tear up the CAL league in 2012.  His K rate stayed consistent, but he stopped taking walks and his LD% fell off a cliff. The 10th overall pick in the 2011 draft is an above average defender and has good range.  He plays with a lot of energy and sometimes that translates into being overly aggressive at the plate.  He's got decent gap power and plus speed on his side.  He should have no problem reaching the majors.  However with Headley at 3B and Gyorko potentially locking into 2B, where does he play?  A super utility role can't be ruled out. Repeating the CAL might make sense, but probably not in the cards. ETA 2014
17. Fernando Perez, 3B 9/13/1993 H:6'2″ W:190 – Perez was a a JuCo draftee in 2012, but if you look at his age you realize this was just a High School senior in Junior College. Tearing up the wood bat league. Tom Belmont admittedly whiffed on Perez in our pre-draft, where Perez fell just outside the top 75. But based on that we still would have had him rated higher than any other major league team that drafted in 2012. Perez went 102nd overall in the 3rd round.
Perez has an advanced feel at the plate for such a youngster and with time looks like he'll develop above average power to go along with an above average hit tool. He's still young played through a wrist injury after being drafted last year. It required surgery this off season but he should be back for short season ball. I wouldn't expect his power to blossom until 2014. ETA: 2017
18. Carlos Belen, 3B 2/28/1996 H:6'1″ W:213 – Aaron Bentley discussed Belen in his 2012 International Free Agents article:
Carlos Belen, 3B, Dominican Republic –If the Urias ranking didn't tip you off, my ranking of Carlos Belen really shows how I feel much differently about the evaluation of IFAs than other people.  Belen's big red flag is that he may not be able to stay at third base.  He's slow and doesn't have great footwork.  He's currently 6'2", 190, and his defensive ceiling is an average third baseman.  And to that, I say:  so what?  Because I think he has a special bat.  He already has a good approach and hits well in games.  That is an important thing to look at with these players because so many scouting reports are based on batting practice hitting.  But Belen has hit in games.  He will likely hit for average and his hitting mechanics tell me he will generate serious power as he develops.  If that's true and he's an average defensive third baseman, he's a star.  If he has to move to the outfield, he has a plus arm that will fit in RF and his bat will play in a corner OF spot.
The Padres went on to sign Belen for $1 million on the 1st day of the signing period, showing how much they like what they see in him. ETA: 2017
19. Brad Boxberger, RHP 5/27/1988 H:6'2″ W:200 – Boxberger has future closer written all over him.  He possesses a low 90's fastball that he gets to 95 in short stints and a changeup with nice fade that he mat rely on too often. A nice mid 80's slider is his best out pitch when he pounds the zone with his fastball, and he has a 71-76 mpg curveball with nice bite that he rarely uses.  It's unlikely that he will sport a sub 3.00 ERA again in 2013, but as his command improves he will become an asset to the Padres bullpen. This will be his last appearance on any prospect list.  ETA: Now
20. Donn Roach, RHP 12/14/1989 H:6'1″ W:200 – Roach went 11-2 with a 1.88 ERA and a 78/22 K/BB ratio over 105.1 innings.  The ERA is a bit of an illusion and unsustainable as his BABIP was a fairly lucky .278 and his FIP was 2.59.  Still very good considering that most of his pitching came with 2 different teams in the CAL League, after a trade sent him from the Angels to the Padres in a deal for Ernesto Frieri.  He possesses a mid 90's sinker that would make a bass fisherman jealous, to go with a tumbling splitter (looks like a forkball to me) that reminds me of something that Hideo Nomo used to throw. His curveball is going to be key.  It hasn't been used much, but could be a decent 3rd pitch.  It's going to be the difference between Roach being a mid rotation guy or a late innings bullpen groundball specialist.  ETA 2014
21. Jeremy Baltz, OF 9/17/1990 H:6'3″ W:205 – I got to see Baltz in 2012 when the Eugene Emeralds came to town to play the Everetty Aquasox.  Baltz is good hitter with some power which I believe will turn into plus power as he climbs the ladder.  He's an excellent base runner, but posses average speed.  He's got good instincts at the plate, on the bases, and in the field.  His arm is decent, but he doesn't have the speed or the range to be more than a corner.  He's a gamer that plays with a lot of intensity.  Ideally, he will someday make a good 4th outfielder in the majors, but I wouldn't be surprised if he carves out a career as a regular corner outfielder.  There's a good chance the Padres leap-frog him over Low-A and right into the High-A CAL League.  ETA: 2015
Jeremy Baltz video from last summer: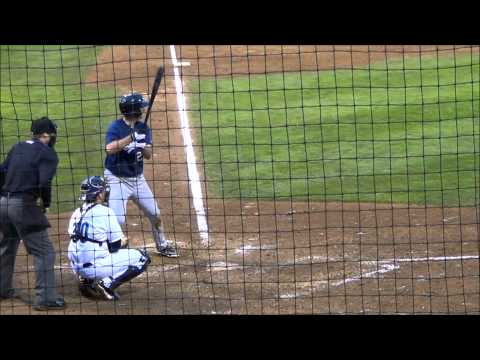 Other players to watch in 2013: Joe Wieland, Yeison Asencio, Mike Kelly, Edinson Rincon, Johnny Barbato, Reymond Fuentes, Jaff Decker, Matt Andreise, Jose Urena, Mallex Smith, Roman Madrid, Brian Adams, Franmil Reyes, Rodney Daal,  Cody Hebner, Frank Garces, Rico Noel, Burch Smith, Jonathan Galvez, Kevin Quackenbush, Matt Stites, Matt Lollis, and Miles Mikolas.
For a complete list of the Top 21′s visit the 2013 Top 21′s Page
Stick with Baseball Instinct and we'll keep you a step ahead of the game. Check back soon as we release our top 21 prospects for each organization. While you're here, check out our Baseball Instinct 360° – it's our top 360 prospects from 2012, and we will be updating it for 2013 soon. Also check out a friend of ours for all of your fantasy sports needs. Fantasy Rundown is updated religiously and is truly an awesome resource. Thanks for checking Baseball Instinct. We're working hard to bring you the best of the minor leagues and make the site the best experience it can be, so don't hesitate to tell us what you would like to read about. Email us now at mailbag@baseballinstinct.com. And while you're at it head over to Facebook and join the Instinct page.  You can also follow us on twitter: @BaseballInstinc.