The Milwaukee Brewers lack elite talent in their farm system. However, after emptying the system out via promotions and trades over the past few years, they did a pretty decent job filling it back up. The Brew crew should be able to assemble a pretty formidable rotation at the major league level, having a lot of talent to work with. On the hitting side, there's a lot of potential. Especially in the form of 2012 draft picks Victor Roache, Clint Coulter, and Mitch Haniger.
Roache will be interesting to watch as he comes back from a broken wrist that required surgery. He represents the strongest chance of an elite type talent the Brewers currently have if the injury doesn't sap his power.
Lets take a look at this system.

1. Wily Peralta, RHP 5/8/1989 H:6'1″ W:240 – Wily Peralta has spent 7 seasons in the Brewers minor league system and now is ready to compete as a major league starter. He did log 29 effective innings at the big league level in 2012, but now shouldn't realistically need anymore work in the minors.
Peralta is a big boy in the mold of Bartolo Colon. He uses a mid 90's fastball that can he can dial up to the upper 90's on occasion. Peralta also uses a mid 80's slider and a low 80's change up. With the slider a little more advanced than the changeup. However, the CU is an average pitch that Peralta needs to use more. Peralta is an excellent ground ball pitcher keeping the ball down in the zone and induced 51.4% at the minor league level in 2012 and then 55.2% in his major league debut.
Our Instinct: Peralta lacks polish at this point. All 3 of his pitches could be a little sharper and his command needs a little work.  All said, he still has a likely career as a #3 inning eating starter at the major league level. The bullpen is still a possibility, but things would have to go pretty badly for that to happen.  He will open the season as the Brewers #4 starter and should be considered a possible NL Rookie of the year candidate. ETA: Now.
2012 by the numbers: 7-11, 4.66 ERA, 3.79 FIP, .353 BABIP, 143/78 K/BB ratio in 146.2 innings at AAA. 2005 IFA, Dominican Republic.

2. Tyler Thornburg, RHP  9/29/1988 H:5'11″ W:190 – Obviously when you're under 6'0″ tall you lose out on the downward plane attack on the plate. However, what Thornburg lacks in stature he tends to make up with his arm and ability. Thornburg uses a 4 pitch arsenal featuring a 90-94 mph fastball, a deceptive change up, a hard curve with nice late action, and also throws in a cutter that grades out as average as well.  All 4 pitches produce swing and misses.
Thornburg has good control, excellent command, and a real feel for his pitches. I'm not a big fan of all the torque he puts on his body during his delivery or his aggressive stride. However, it isn't that uncommon for shorter pitchers.
Our Instinct: Thornburg has the pitches to be a #3 or #4 in the majors.  He's going to spend some time at AAA with the addition of Kyle Lohse to the major league rotation. There's always injury risks and performance risks with the rest of the guys in front of him, so his chances of becoming part of the major league rotation are decent for 2013.
He did a decent job as a starter in his major league debut in 2012, but did an even better job in the bullpen for the Brewers. He is still a favorite to make it as a starter, but a fall back to the bullpen can't be ruled out either. ETA: 2013.
2012 by the numbers: 10-4, 3.20 ERA, 3.09 FIP, .293 BABIP, 113/37 K/BB ratio in 112.2 innings between AA and AAA. 2010 3rd round draft pick, 96th overall.

3. Victor Roache, OF 9/17/1991 H:6'1″ W:225 – The Georgia Southern outfield stand out broke his left wrist and missed most of his junior season, resulting in him tumbling to the end of the 1st round in the 2012 mlb draft where the Brewers got a potential steal.  Tom Belmont talked about him in our 2012 draft preview and then again in our draft coverage:
28. Milwaukee Brewers – Victor Roache OF Georgia Southern – Georgia Southern star is 6'1″ and 225 lbs of rock solid OF. Despite the power sapping new BBCOR bats in 2011, Roache hit 30 HR, the most since 2003. He uses a wide stance and excellent bat speed to help generate the power already supplied inside his frame. He's average defensively and won't be a liability in RF with his arm as a pro. He broke his wrist and needed 6 screws to put it back together. So there are questions as to if he can rebound.
A power hitting prospect of this magnitude is normally highly sought after. He will however need time to develop his approach at the plate to get the most out of his power in the future. 30+ HR types are few and far between. Plus power with a chance for a near average hitting ability. But again, with the wrist issues and the power profile, this is a gamble.
The Pick – The elite power bat in the draft from the college ranks. A broken wrist has sapped his outlook, but the Brewers make a great pick. If he's healthy… wow. An elite power bat to match up with Ryan Braun again.
Our Instinct: There is no question that Roache is the best position player in the Brewers farm system despite not yet making his pro debut. The Brewers will likely ease him into things this season and if all goes well he should be at some level of full season ball before the end of the season. Despite the injury, he shouldn't need a lot of time in the minors. ETA: 2015.
2012 by the numbers: Did not debut in 2012 because of a wrist injury. 2012 1st round draft pick, 28th overall.

4. John Hellweg, RHP 10/29/1988 H:6'9″ W:205 – John Hellweg, Ariel Pena, and Jean Segura were traded to the Brewers from the Los Angeles Angels in 2012 for Zack Greinke. The massively tall righty features a nice 3 pitch repertoire that features a mid 90's fastball that he can dial up to 98 mph. His breaking pitch is an above average curveball with hard bite, and a work in progress change up.
Hellweg 's FB and CB give him the potential to be a #2 or #3 at the major league level if he can develop his change up.  However, if he can't throw strikes, it wont matter what pitches are in his arsenal. The 11.8% BB rate in the Texas league was high, but the 17% BB rate in the Southern League was just ugly.
Our Instinct: Hellweg is most effective when he gets his weight over his stride and lands towards the plate.  The problem is that he is drifting too far towards first base and his command is suffering. If he can get things figured out, he could see time in Milwaukee later in the season. He's still likely at least a year away.  He should spend most of the season at AAA, though starting at AA would probably not be a bad idea. ETA: 2014.
2012 by the numbers: 7-11, 3.29 ERA, 4.31 FIP, .290 BABIP, 105/75 K/BB ratio in 139.2 innings between the AA Texas League and the AA Southern League. 2008 16th round draft pick, 499th overall.

5. Hunter Morris, 1B 10/7/1988 H:6'2″ W:225 – Despite injuries to Corey Hart and Matt Gamel, Morris couldn't do enough this spring to land the starting 1B job in Milwaukee.  The Brewers will instead go with Alex Gonzalez. Morris had an outstanding 2012 AA campaign that saw him hit 28 HR and post a .260 ISoP.
At the plate Morris is extremely strong and that helps him drive the ball out of the park, however his power potential is limited because he doesn't possess very good bat speed. His hit tool is average at best and he won't be able to hit .300 at the major league level.
Defensively, he should be an adequate enough defender at 1B.
Our Instinct: If all things break right for Morris this season, he could see some time at the major league level this season.  He could hit in the .260-.270 range, but he's going to have to develop some discipline at the plate. He's a little too aggressive and major league pitchers will have little trouble getting him out if that doesn't change. Morris is a below average base runner, but if he can hit for a lot of power that won't matter. He's going to start out at AAA and has work to do. ETA: 2014.
2012 by the numbers: .303/.357/.563, 74 XBH(28 HR), 2 SB, .344 BABIP, 117/40 K/BB ratio in 522 abs' at AA. 2010 4th round draft pick, 129th overall.

6. Jimmy Nelson, RHP 6/5/1989 H:6'6″ W:245 – Jimmy Nelson throws an above average sinking fastball that sits in the 92-93 mph range and can crank it up to the 97 mph range at times. He also has an average slider that shows above average potential and a work in progress change up that could be at least an average offering.
Nelson relies on the fastball a bit too much, however it's gotten him results as a ground ball pitcher, 55.7% in 2012. After pitching effectively in the Florida State League, Nelson was promoted to the Southern League where his command went on vacation. His BB climbed from 7.6% in the FSL to 17.7% in the Southern.
Our Instinct: Nelson is an opposing figure on the mound.  He has good control allowing him to throw strikes, but his command is limited and his ability to work the plate suffers.  He's got 2 legit swing and miss pitches and if his off speed offering can develop into an average pitch, he should be able to turn into a nice #3 or #4 inning eating work horse. He should spend most of the 2013 season at AA and see some time at AAA. ETA: 2014.
2012 by the numbers: 7-11, 3.29 ERA, 4.31 FIP, .290 BABIP, 105/75 K/BB ratio in 139.2 innings between High-A and AA. 2010 2nd round draft pick, 64th overall.
7. Taylor Jungmann, RHP 12/18/1989 H:6'6″ W:210 – Another tall pitcher in the Brewers system, Jungmann got made his 2012 pro debut in the Florida State League. I wrote about Jungmann in my Prospect Instinct article last spring. Here's what I had to say about his stuff:
Four-Seam Fastball –  Jungmann has good command of this pitch and likes to throw it virtually in any count.  This is a mid 90′s offering that has some movement and could gain a little more velocity.  He throws this pitch when he's got to throw a strike.
Two-Seam Fastball –  This low to mid 90′s pitch has some nice tailing movement.  Righties struggle with this pitch, and when he works the inner part of the plate with it he' pretty tough to catch up with.
Curve – Jungmann's curve is a tough pitch for hitters to square up on. He runs this pitch in from 78-82 mph.  When he's on, the low side of the velocity produce a true 2-plane curve, however most of the time it generally runs in as a power slurve if you will.
Change-up – This a pitch still being developed.  When he throws it effectively, it has a nice late fade and which falls off the table as if it was a breaking pitch.
Tom Belmont got a chance to see him in the Florida State League on several occasions and took this video of him: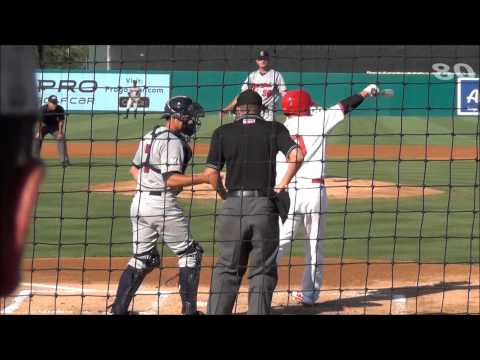 Our Instinct: Jungmann relied on a lot of ground balls (52.4%) and didn't miss many bats (15.1% K rate) in his pro debut. He worked in the 93-94 mph range. Many fear that he won't miss enough at bats to succeed at the next level, however I think it's too soon in his pro career for that type of reaction. He spent most of the season working on his off speed and breaking stuff and should be fine. He's never going to be a big time K guy, but should be able to carve out a career as a #4 starter, possibly a little more.  He should spend most of 2013 at AA and won't need too much longer in the minors. ETA 2014.
2012 by the numbers: 11-6, 3.53 ERA, 3.62 FIP, .310 BABIP, 99/46 K/BB ratio in 153 innings at High-A. 2011 1st round draft pick, 12th overall.

8. Clint Coulter, C 7/30/1993 H:6'4″ W:210 – Clint Coulter was the ying pick to the yang selection of Victor Roache. Coulter, a high school catcher was selected with the 27th pick and Roache, a college outfielder was selected with the 28th pick. Both, considerable power prospects. Coulter has above average tools that flash plus potential. He makes impressive contact to all fields. He's a gap hitter right now, but as he develops he should add some more loft to his swing and clear more fences.
Defensively, He has a strong arm and calls a solid game.  He still working on his foot work, blocking, and framing skills. He's got excellent work ethics, good make up and looks like a pretty solid leader. If things don't work out behind the plate, he could make the transition to outfield.
Our Instinct: The bat should play at the major league level regardless of his position. Ideally, it would be behind the plate offering premium value, but he should be just fine anywhere. He was a little old for a high school bat so it's good news that he made his pro debut right after signing. He should spend most of the season at Low-A in 2013. ETA: 2016.
2012 by the numbers: .302/.439/.444, 11 XBH(5 HR), 3 SB, .365 BABIP, 40/37 K/BB ratio in 169 abs' at Rookie-A. 2012 1st round draft pick, 27th overall.

9. Jed Bradley, LHP 6/12/1990 H:6'4″ W:225 – Bradley had an excellent debut in the Arizona Fall League's futures game in 2011 on his way to an impressive spring in 2012.  His 2012 pro debut in the Florida State League got off to an excellent start as he posted a 2.79 ERA and 2.99 FIP to go along with an impressive 23.9% K rate and a 5.1% BB rate. But then the wheels started to fall off the bus and eventually the Brewers shut him down with a strained pitching arm and fatigue in early August. His velocity that had sat in the 94-95 mph range was barely touching 90 at times.
Bradley has a 4 pitch arsenal. His mid 90's fastball has nice sink to it and his slider is an above average breaking pitch that flashes potential.  He also mixes in curveball and a change up that could be average to above average offerings. Mechanically, prior to his problem he had a clean, smooth delivery with repeatable arm action.
Tom Belmont took video of him in June: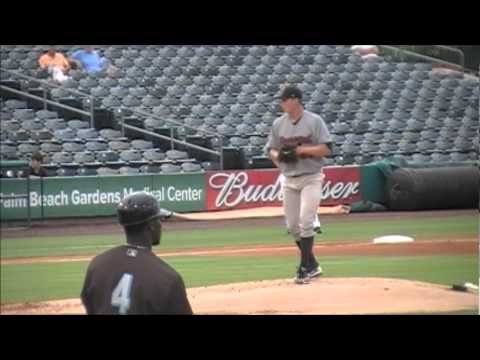 Our Instinct: Something was clearly wrong from May until August when the Brewers pulled the plug on Bradley's season. At his best he has the potential of being a #2 starter and should have a high floor as a #3.  However, let's see how he does this season. Bradley has been given a clean bill of health and will open the season back at High-A, if things go well there isn't any reason he shouldn't progress quickly to AA. ETA: 2015.
2012 by the numbers: 5-10, 5.53 ERA, 4.53 FIP, .340 BABIP, 60/43 K/BB ratio in 107.1 innings at High-A. 2011 1st round draft pick, 15th overall.

10. Mitch Haniger, OF 12/23/1990 H:6'2″ W:180 – Haniger was our 72nd draft prospect going into the 2012 draft, however the Brewers didn't hurt themselves by taking him 38th overall. Tom Belmont touched him and others in our 2012 draft preview article:
72. Mitch Haniger OF Cal Poly – The OF has plus power and a plus arm suited for RF as a pro. While he isn't going to hit for .300+ AVG he does have a good approach and knows how to use his power by working into good hitters counts. He plays CF for Cal Poly, but is only average there and his arm should make him at least AVG in RF. Haniger will need to hit for the premium power that he projects to in order to make it as a major league regular. But he should move quickly once signed as there isn't a lot of development to reach his ceiling as an average OF regular.
Our Instinct: Tom was right in his assessment of Haniger. It looks like this will be season he starts his shift to right field, especially after a knee injury cut short his 2012 pro debut.  There's too much swing and miss in his game for him to hit for a great average. His arm and his power potential should play well in RF. But It's going to take a little time. ETA: 2015.
2012 by the numbers: .286/.379/.429, 5 XBH(1 HR), 1 SB, .361 BABIP, 13/7 K/BB ratio in 49 abs' at Low-A. 2012 1st round draft pick, 38th overall.

11. Scooter Gennett, 2B 5/1/1990 H:5'10″ W:155 – The left handed hitting infielder has a good hit tool. It is fundamentally sound and polished for such a young age. Gennett begins his swing with a stance wider than his shoulders at the plate. He brings front leg back as the pitcher begins to deliver the ball. This creates good timing for Gennett and also transfers his weight back in preparation to strike at the ball. Bringing that weight back allows him to uncoil with good hip rotation and allows for decent pop in the bat. The key to his high contact rates come from his ability to use his hands to cover the entire strike zone. It is hard to find many holes in his swing and that should translate at the next level. Power will never be a factor in his game.
Gennett doesn't strike out much, but he certainly doesn't take many walks either. He's a good base runner, but isn't a real threat to steal many bases. He needs to continue improving against left handed pitchers. He hit .311 vs righties, but just .260 vs southpaws.
Defensively, He should be average at the keystone, but that's about it. His arm and range should play there just fine.
Our Instinct: Gennett is likely to spend most if not all of 2013 at AAA, barring an injury to Rickie Weeks, which is always a possibility. Long term he may be better suited in a utility role and will find it difficult to unseat Weeks who is under contract until 2014, with a 2015 club option. ETA: 2014.
2012 by the numbers: .293/.330/.385, 37 XBH(5 HR), 11 SB, .293 BABIP, 71/28 K/BB ratio in 533 abs' at AA. 2009 16th round draft pick, 496th overall.

12. Ariel Pena, RHP 5/20/1989 H:6'3″ W:190 – Ariel Pena came over with Jean Segura and John Hellweg in the Zack Greinke trade with the Angels. Like Hellweg, Pena saw his command and control all but evaporate when he shifted from the AA Texas League to the AA Southern League. He also struggled in the Dominican Winter League this past winter. Pena throws a 94-95 mph fastball that his decent sink to it, an above average curball, and instead of a changeup, Pena employs a splitter as his off speed offering.
Our Instinct: Pena has good stuff, but has always struggled with his command.  He really struggled to throw strikes after being traded to the Brewers so hopefully there's some bounce back in him.  He served up 19 HR in 2012 and can leave his fastball up in the zone.  When he keeps it down, its a plus offering. I'd like to see him get another shot at AA and he should split between there and AAA in 2013. He's got middle of the rotation upside, but could end up being a decent high leverage bullpen arm. ETA:2014.
2012 by the numbers: 6-8, 3.93 ERA, 4.58 FIP, .302 BABIP, 140/65 K/BB ratio in 146.2 innings between the AA Texas League and the AA Southern League. 2007 IFA, Dominican Republic.
13. Hiram Burgos, RHP 8/4/1987 H:5'11″ W:210 – Hiram Burgos went 10-4, with a 1.95 ERA, a 2.91 FIP with a 153/49 K/BB in 171 innings over 3 levels, finishing the season at AAA in 2012. His stuff is pretty average.  He has an 89-91 mph fastball that has slight sink to it, a slow curve that makes his FB play up a little, and a change up that has a decent bottoming out effect. Again, nothing here is above average. What serves Burgos well though is his pinpoint control and excellent command of his pitches. He's going to get a shot at the major league level at some point this season and could turn out to be a decent back of the rotation guy, a bullpen arm, or nothing at all. That range of possibilities with a guy that has kind of come out of nowhere this late is a reality. ETA: 2013.
14. Josh Prince, OF 1/26/1988 H:6'0″ W:180 – The 2009 3rd round pick has some athleticism to him to go with a tremendous approach at the plate. He has excellent plate discipline underlined by the 17.7% K rate and 12.5% BB rate for the 2012 season at AA. He has advanced pitch recognition and knows how to work the count. His hit tool is going to be average at best, where he will probably hit in the .270 range during his career. He doesn't offer much in the way of HR power, but doesn't a decent job with his gap power, He could be a very good doubles hitter. Prince has above average speed and uses it to get from the batters box to 1B quickly. He will steal a good number of bases too. Defensively, he made the transition from the infield to the outfield well. Good arm strength, good reads, good routes, and excellent speed. Prince was good in the Arizona Fall League and should get a look at several spots on the field this season at AAA. Long term, Prince could end up being a decent outfielder, at minimum with his versatility he should have no problem finding a bench job in the near future. ETA: 2014.
Our Video of Josh Prince from 2011 in the FSL: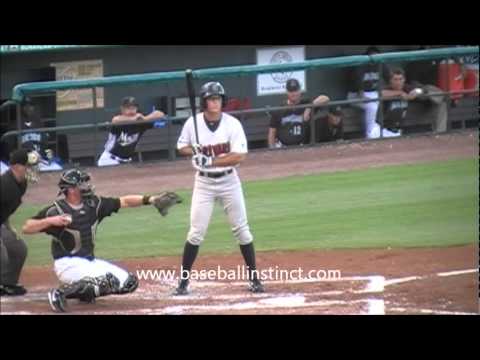 15. Tyrone Taylor, OF 1/22/1994 H:6'0″ W:185 – The Brewers 2012 2nd round draft pick had a brief, but solid debut at 2 levels of Rookie-A ball in 2012. He posted a triple slash of .387/.434/.667 to go with an 11/6 K/BB ratio in 75 at bats. He's still very raw, but has several potential above average to plus tools.  He was also a football standout in high school and is just now getting into concentrating exclusively on baseball. Taylor shows excellent bat speed and hand/eye coordination. He's got power potential and is speedy. Defensively, he is very raw in the outfield too. He's got the speed and arm for center field, but  could be better suited for a corner spot. He's a bit of a project, but has a high ceiling as a power/speed guy that can hit for a decent average. He should spend most of 2013 in Low-A, but it can't be ruled out that he will stick around extended spring training for awhile. ETA: 2016.
16. Khris Davis, OF 12/21/1987 H:5'11″ W:200 - Davis had his otherwise break out 2012 campaign limited by a calf strain.  He missed a good chunk of May and June. He posted a gaudy triple slash of .350/.451/.654 between AA and AAA, with some rehab at Rookie-A. Despite only getting 260 at bats, Davis smacked 21 doubles and launched 15 HR. Davis has a balanced approach at the plate. He's not afraid to go after pitches, but also knows how to take a walk. His bat should carry him to the next level, but his defense is suspect and that might limit his ability to become an everyday outfielder. If things don't work out with the Brewers, he might become a decent DH in the AL. He hit .260 with 6 HR this spring and claimed a spot on the Brewers opening day roster. ETA: Now.
17. Damien Magnifico, RHP 5/24/1991 H:6'1″ W:185 – Originally drafted by the New York Mets in the 2009 draft, the righty from Texas went on to pitch at Oklahoma and became the Brewers 2012 5th round draft pick. After a long college season, Magnifico got into a little work in the Pioneer League. He went 0-3 with a 5.82 ERA and a 25/15 K/BB ratio over 21.2 innings. He's got a plus plus fastball that sits in the upper 90's and can touch triple digits. That was pretty much the only trick in his bag during the 2012 college and debut season. During the fall instructional league he worked on a power slider that has been talked up as a potential plus offering. I guess we will have wait and see. He's got the potential to be a power closer down the road. ETA: 2015.
18. Zachary Quintana, RHP 4/15/1994 H:5'11″ W:180 - The Brewers 2012 3rd round draft pick has a nice smooth and effortless motion with his pitches. He has low 90's fastball with very good movement. He can hit 94 mph at times and it flashes plus potential. He also displays a hard breaking 11-5 mid to upper 80's curveball that also looks like future strikeout pitch. He's getting a good feel for his changeup that follows the same line as his fastball, that should develop into an average offering. With arm slot path, the change of pace could make the fastball play up even more. Command was a little bit of an issue in his pro debut, so I expect he will spend some time at extended spring training and then head off to the Brewers hybrid Rookie-A/Short Season-A team in the Pioneer League. ETA: 2016.
19. Drew Gagnon, RHP 6/26/1990 H:6'4″ W:195 - The 2011 3rd round draft pick was a little rough in his 2011 pro debut, posting a 8.05 ERA over 19 innings. However, his 2012 season got off to a much better start. He went 6-1 with a 2.83 ERA to go with a 65/19 K/BB ratio over 82.2 innings at Low-A. In doing so, he earned a promotion to the High-A Florida State League. He possess a low 90's fastball, a curveball with average potential, and a very deceptive changeup that looks like a future plus offering. He's never going to strikeout a ton of batters, but with excellent control and good command he could be a potential #3 starter with a fall back as a #4 or #5. He wont need much longer in the minors. ETA: 2014.
20. Jorge Lopez, RHP 2/10/1993 H:6'4″ W:165 - Jorge Lopez was Milwaukee's 2011 second round pick signed out of Caguas Military Academy High School in Puerto Rico. He's got middle of the rotation upside with a low 90's fastball that can get up to 94 mph at times, a hard curveball that flashes plus potential, and a change up that needs to be used more. So far though, his pro experience has been minimal and inconsistent. He made his 2011 debut in the AZL and then was brought back there in 2012 and was shaky. Surprisingly, the Brewers opted to send him to the Dominican Summer League to finish out the season.  He's going to start the 2013 season in Low-A and hopefully get things rolling. ETA: 2016.
21. Logan Schafer, OF 9/8/1986 H:6'1″ W:180 – The 3rd round pick from the 2008 draft, Schafer has clawed his way to the majors, collecting a few big league at bats since 2011. While Schafer has a little power, it shows up more in the form of gap power. He's a tough player that likes to get dirty and has excellent instincts for the game. He should hit for a decent average and plays all 3 outfield positions very well. He should make an average outfielder at the major league level, but for now he's excited to have made the opening day roster as a backup. ETA: Now.
Other players to watch in 2013: Jose Pena, Adam Giacalone, Chris McFarland, Mark Rogers, Orlando Arcia, David Goforth, Caleb Gindl, Cameron Garfield, Nick Bucci, Taylor Green, Yosmer Leal, Cody Scarpetta, Angel Ortega, Chad Pierce, Kyle Heckathorn and Nick Ramirez.
For a complete list of the Top 21′s visit the 2013 Top 21′s Page
Stick with Baseball Instinct and we'll keep you a step ahead of the game. Check back soon as we release our top 21 prospects for each organization. While you're here, check out our Baseball Instinct 360° – it's our top 360 prospects from 2012, and we will be updating it for 2013 soon. Also check out a friend of ours for all of your fantasy sport's needs. Fantasy Rundown is updated religiously and is truly an awesome resource. Thanks for checking Baseball Instinct. We're working hard to bring you the best of the minor leagues and make the site the best experience it can be, so don't hesitate to tell us what you would like to read about. Email us now at mailbag@baseballinstinct.com. And while you're at it head over to Facebook and join the Instinct page.  You can also follow us on twitter: @BaseballInstinc.