Prospect Instinct | Scouting Report
Corey Black, RHP Chicago Cubs
8/4/1991
H: 5'11" W:175
Corey Black was drafted by the New York Yankees in  2012 as a 4th rounder out of Faulkner in the NAIA. He had originally committed to San Diego State but issues with the coaching staff prompted him to transfer before the season and it seems to have paid off for him. He dominated the NAIA and the Yankees signed him for an under slot $215,000.
Black's debut was less than dominant, but clearly showed flashes of an excellent arm. He tallied 8.5 K per 9 over 53 innings at 3 levels. His solid debut and plus stuff prompted his inclusion in the New York Yankees Top 21 this preseason where Black came in at #15 on the list:
15. Corey Black, RHP 8/4/1991 H:5'11″ W:175 – Black, drafted last year, has already seen Low-A action and his plus plus fastball reaches triple digits and works well in the 94-96 range with hard sink. He pairs it with a  solid changeup and two breaking balls that still need refinement. A curve and a hard breaking slider. His mechanics were high level power coming out of the draft, but as a starter the Yankees are working on smoothing him out, since he has velocity to spare.
He's another lower level arm that could move quickly if his mechanics are brought in line. He would be well suited to start out in Low-A and eventually move to Tampa in the FSL around midseason, though he has the pure stuff to make the jump to High-A now. ETA: 2016
Since that list, Black was included in the trade that sent Alfonso Soriano back to the Yankees. The Cubs are sure to be happy about getting out from under some of the money owed to Soriano, but also have themselves a major league quality arm with plus stuff. So let's take a deeper look into Corey Black the pitcher.
The Stuff
Corey Black has the makings of a major league arsenal, highlighted by a plus to double plus fastball. There were preseason reports of him hitting 100 mph in short stints in his 2012 debut. After seeing him work in the low to mid 90s as a SP and taking his frame and athleticism into account, I can see that as a possible true report. In two recent outings he was working in the 92-94 range and touching 95 at times. The fastball is plus based on velocity and I feel like the extra velocity hiding in there could be a difference maker for him.
His control is solid but his command and hitting spots is still a work in progress as he tends to yank pitches when trying to pinpoint the corners instead of letting the velocity fly. His walk rate of 11.8% this year is much higher than it was in 2012, though his K rate remains strong at 23%.
Black also has 2 breaking balls – a tight slider and much improved curveball – the slider seems to be his best breaking pitch with tight bite against righties and little difference between his slider and fastball release points and arm speed. He does tend to yank the pitch though and there isn't enough bite on it when he does to fool hitters. The pitch sits in the mid to upper 80s.
The curveball actually has solid 11-5 break in the upper 70s  and when mixed into the game properly was able to lock up hitters and should only continue to improve with experience.
There is a changeup, but the pitch is far behind his other offerings and doesn't at this point seem to be a pitch that will venture into average territory. Though given enough time and patience the raw groundwork for the pitch is there.
The Mechanics by Aaron Bentley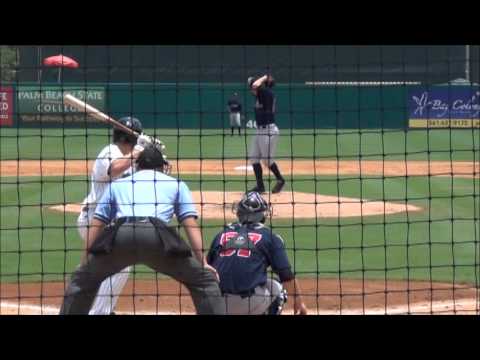 Tom mentioned a couple of times that Black has a tendency to yank his pitches.  And that is one of the main things that stands out when you look at Black's mechanics.  Pitchers yank pitches for all sorts of reasons – generally, they are trying to be too fine – but how Black particularly yanks his pitches is noteworthy.  If you watch him pitch, you'll notice that his tempo appears very solid for about 75% of his delivery.  He stays very steady at first and clearly understands how to use his hips to create torque.  But when his arm action comes into play, Black simply rushes his arm toward the plate.  He gets his arm up on time and has plenty of room to get the ball to the plate in line with his mechanics. Instead, he rips his arm up and slings the ball toward the plate, apparently trying to throw as hard as he possibly can at all times.
That arm action is exactly why he yanks pitches.  It's why he has a tough time commanding his fastball and why his breaking pitches tend to flatten out.  Luckily, these yanked pitches end up low and outside to a right handed hitter so they don't lead to him getting pummeled.  They just lead to him getting himself in bad pitch counts and putting runners on base.  When that happens, the problems just get worse because Black clearly tries to aim his pitches and throw them as hard as possible as if he could get a strike out on every pitch.  Regardless of his role, if Black is going to succeed, this mechanical flaw needs to be addressed.
Other than that, Black's mechanics are generally solid.  He does throw across his body and stops slightly his momentum toward the plate when his plant foot hits the ground.  Since he doesn't have a velocity issue, those small flaws are only noteworthy inasmuch as they could lead to injury issues in the future.  A good pitching coach will just get Black to calm down on the mound and deliver the ball more smoothly, with purpose and confidence.
Our Instinct
Black is at this point is on an unknown trajectory with the Cubs. He is going to stay in the FSL at this time and it seems to make sense that the Cubs will keep him in the rotation at Daytona. His 3.27 FIP says that he has been better than his defense has allowed his ERA to show. He is getting enough K's as well.
For the future, I think the odds are that Black finds his way into a bullpen role. His fastball is his lone plus pitch and with short stints he could unlock one of the best fastballs in the game. That uptick into the 97-98 mph range would separate his FB/SL but a full 10+ mph and give his curveball a full 20+ mph separation. Also, if he's able to let loose for an inning at a time, I think his internal need to be pinpoint accurate will dissipate and he'll be able to pound the strikezone with additional sink and just let the natural movement on the fastball keep the hitters from squaring it up.
Is there a chance that he remains a SP. Yes, and he has the stuff to possibly be successful in the role. But as a back of the bullpen type, he has a much higher upside. He's almost 22 at this point and would seem to have 3-4 years of development left to become a mid rotation starter. But as a RP he could find himself in Chicago within 2 years.
Stick with Baseball Instinct and we'll keep you a step ahead of the game. Check back soon as we release our top 21 prospects for each organization. While you're here, check out our Baseball Instinct 360° – it's our in-season top 360 prospects, and we will be updating it throughout the season. Also check out a friend of ours for all of your fantasy sports needs. Fantasy Rundown is updated religiously and is truly an awesome resource. Thanks for checking Baseball Instinct. We're working hard to bring you the best of the minor leagues and make the site the best experience it can be, so don't hesitate to tell us what you would like to read about. Email us now at mailbag@baseballinstinct.com. And while you're at it head over to Facebook and join the Instinct page.  You can also follow us on twitter: @BaseballInstinc.