Prospect Instinct | Scouting Report
C.J. Edwards, RHP Chicago Cubs
9/3/1991
H: 6'2″ W: 155
The Texas Rangers selected Edwards deep into the 2011 draft. 48th round deep. Edwards was a JuCo recruit, who's JuCo coach prompted the Rangers to take a chance on the young righty. Coming out of High School, Edwards worked mostly in the high 80's but had a frame that projected well and such a raw skill set that the Rangers agreed that there was upside.
The lack of seasoning was remedied when the Rangers sent him straight to Instructs to beginning working on becoming more than a thrower.
The following season in Extended Spring Training, physical growth and mechanical tweaks allowed Edwards unlock premium velocity and his fastball spiked into the low to mid 90s.
The spike in velocity allowed him to breeze through the AZL striking out almost 12 per 9 over 20 innings before getting a bump up to the Spokane team in the North West League. He continued his dominance there striking out 60 over 47 IP.
His 2013 has been nothing short of dominant as well. In the first 93.1 innings of the season with the Hickory Crawdads of the Sally League, Edwards struck out a whopping 122 batters and walked just 34.
He was sent to the Chicago cubs in a blockbuster deal that sent Matt Garza to the contending Texas Rangers team.
Now with the Cubs, Edwards got the bump the High-A where he's with the Daytona Cubs of the FSL. Check the video below for his first start with the Cubs where he struck out the first 7 batters he faced.
Let's take a look at why Edwards placed in our Preseason 360° and at 17 for the Rangers Top 21.
The Stuff
Edwards works with a pretty deep pitch mix for a power pitcher at the lower levels. His fastball is an elite offering in short stints, working in the mid 90s although he's not strong enough at this point to hold that velocity deep into starts and he tails off in to the low 90s and even high 80s. So let's talk about the fastball as two different animals.
The premium early inning fastball has hard movement with cutting action that is a true elite double plus pitch. It works in the mid 90s and batters don't have much of a chance of squaring up the pitch because its both deceptive and has true power to it.
The mid innings fastball settles into the 88-92 range and although he keeps the ball down and can work the corners, it won;t hold up against higher level competition.
His curveball is a true 12-6 and he's able to drop it in for strikes but he does tip the pitch at times.
He  also has a hard slider/cutter which is more natural movement than a deliberate offering. But the natural tail on the fastball is excellent, bordering on un-hittable when his fastball is also at peak velocity.
The fourth offering is a solid changeup, which has made strides this season as he's learned to use his long fingers to manipulate the ball and get tailing action. It has good separation from the premium fastball, but will blend too close if he's working in the high 80s. It's a pitch that will be determined as usable only if he finds a way to work the mid 90s fastball deeper into starts.
The Mechanics by Aaron Bentley
Edwards has very solid mechanics.  He starts with a nice, purposeful tempo without much wasted movement.  Though Edwards is very, very slight, his mechanics squeeze out every ounce of power in his body.  That's why he's able to work in the mid 90s at all without being an above-average injury risk.  He accomplishes this with three crucial aspects of his delivery.  First, the way he coils his plant leg into his body forces his hips back, creating torque as his hips go back toward the plate.  Second, after successfully getting as tall as possible before driving toward the plate, Edwards dips his back shoulder to allow his legs to create more momentum.  Lastly, he does a good job of extending his plant leg and using it to propel his momentum toward the plate.  Only the last aspect could use some work.  Sometimes he drives his momentum directly into the ground instead of more toward the plate.  Improvement there would take some pressure off of Edwards' arm but his mechanics don't otherwise scream out injury risk so it's not a huge concern.  Overall, there is a lot to like about Edwards mechanically.  For that reason, only increased strength is going to be able to propel him to his upside.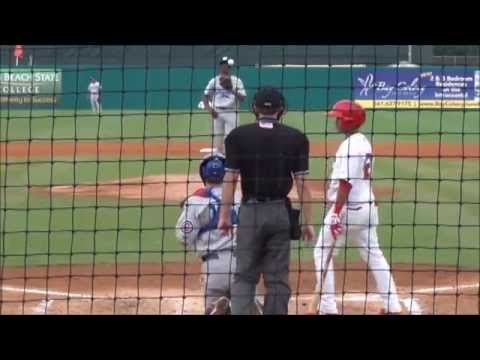 Our Instinct
In C.J. Edwards the Chicago Cubs got some serious upside and a physical project. Edwards will need to add some significant weight to his frame. Possibly 30+ pounds to add enough strength to last as a SP. His frame is thin, all legs and arms at this point and he's pushing close to 22 years old now. So pure physical growth is probably behind him and we're looking at a slight framed SP who will need to bust his tail in the gym and eat like a horse. If he can add weight to his overall frame and add serious leg strength we could actually see an uptick into consistent upper 90s velocity. But that will take a lot of work.
That work and weight will be the difference to him remaining a starter or becoming a dominant 1 innings short stint RP. He has the premium stuff to be a Major League pitcher. There's already to doubt about that.
But physical development will be the only way to know what his future actually holds. As a "part" of the Garza deal, Edwards has the upside potential to eventually be the key to this deal for the Cubs.
Stick with Baseball Instinct and we'll keep you a step ahead of the game. Check back soon as we release our top 21 prospects for each organization. While you're here, check out our Baseball Instinct 360° – it's our in-season top 360 prospects, and we will be updating it throughout the season. Also check out a friend of ours for all of your fantasy sports needs. Fantasy Rundown is updated religiously and is truly an awesome resource. Thanks for checking Baseball Instinct. We're working hard to bring you the best of the minor leagues and make the site the best experience it can be, so don't hesitate to tell us what you would like to read about. Email us now at mailbag@baseballinstinct.com. And while you're at it head over to Facebook and join the Instinct page.  You can also follow us on twitter: @BaseballInstinc.