Prospect Instinct | Scouting Report
Lucas Giolito, RHP Washington Nationals
H: 6'6″ W: 225
7/14/1994
Lucas Giolito was selected in the 1st round of the 2012 draft by the Washington Nationals with the 16th overall pick. Heading into the 2012 draft season, Giolito was considered one of, if not the best High School right hander in recent draft history.  He had the size, pure stuff and dominating performances needed to become the first number one pick out of High School as a pitcher.
An elbow injury caused him to drop to the Nationals at #16 and he did in fact need to have the elbow reconstructed, but that didn't drop his future stock. He remained #1 on the Baseball Instinct 2012 Draft Board and clocked in at #2 on the Washington Nationals 2013 Top 21 Prospects List:

2. Lucas Giolito, RHP 7/14/1994 H:6'6″ W:225 – Despite an elbow injury back in March of 2012, Lucas Giolito was our #1 2012 prospect heading into the draft. Here's what Tom Belmont had to say about Giolito prior to draft day:
Lucas Giolito RHP Harvard-Westlake HS, Studio City, Calif. – Giolito sprained his elbow early in the season making his draft position a question mark. But he has a big frame at 6'6″ and 230 lbs, with a fastball that works 93-96 and touched 100 before he got hurt. His secondaries are both average and project to be above or better with his curve a probable plus offering. Mechanically it's obvious his coaches were just riding his talent and not trying to correct him. But there are issues that are in need of correction, including tempo and timing. He's a UCLA commit and if he falls in the draft there's a good chance he honors that commitment.
Before spraining his elbow early this season, Giolito was my #1 draft pick and although he won't go #1 overall in this draft due to the uncertainty of the injury I'm going on record as stating he is still my top HS talent choice and I wouldn't hesitate to draft him inside the 1st round with or without the need for Tommy John surgery. He's a player that if he comes back healthy, can be molded into a front of the rotation Ace. Reports are coming back clean on his elbow, but there is no 100% certainty that he won't require surgery. I would venture that surgery based on his age and upside. Like Bundy was in 2011, Giolito is our #1 selection.
Our Instinct: As it would turn out, Giolito would go on to need TJ in August.  The good news, there's such a high success rate with this surgery, and the younger the player is the better.  Giolito won't be 19 until mid-July and is already throwing. He's not going to pitch this season, but he should be more than ready for the fall instructional league.  He's without a doubt front line material, and one can only dream of the potential rotation the Nats could have in a few years. ETA: 2016.
The season is at a close now and Giolito did take the mound, under a year removed from the surgery.His strikeout numbers are there at around a K per inning and his walk rate is solid since he's been able to challenge GCL hitters with his pure stuff and not need to be fine. So let's take a look at the pitch arsenal and mechanics to get a good idea about what we see that makes Giolito a top pitching prospect.
The Stuff
Giolito at his best has a high 90s fastball and had reportedly touched 100 mph in High School, although I never witnessed it myself and never trusted the source of the reports. After the surgery, he's now sitting 92-94 and maxing out around 96. He looks solid physically but clearly isn't all the way back from the TJ yet.
His curveball which was plus in High School and projected out as a future double plus is currently average at best. But the feel for the breaking ball takes much longer to regain than the velocity after surgery. The curveball sits in the low 80s with good break, but not much command at this time.
His 3rd pitch is the changeup and he's using it. But as with the curveball it will take time to regain the feel for the pitch. Remember, he's only about a year removed at this point.
The Mechanics by Aaron Bentley
Lucas Gioloto's mechanics have to be considered not only within the context of a guy just coming back from Tommy John surgery but also within the context of a guy who the Nationals are just now getting to work with him mechanically.  At this point, his mechanics show the awkwardness that can come within both of those contexts.
Gioloto still has the very slow tempo to the beginning of his delivery that he had at Westlake High School.  Regular readers know I'm not a fan of that type of tempo but it's of course not a deal breaker.  Gioloto has always gathered well at his tallest point.  Since coming back from TJ, his gather is a little inconsistent and he tends to start his fall slightly early but I would imagine that is something that will work itself out.  Gioloto is much better now than he was in high school at creating torque with his hips and using his plant leg to create momentum toward the plate.  If you saw him in high school, this part of his delivery looks like it belongs to a completely different pitcher.
However, Gioloto has not ironed out these improvements yet, which has created a lot of inconsistency.  The most inconsistent aspect is when he gets his plant foot down.  He often seems to let the plant foot just hang in the air when it should be planting to drive his arm toward the plate.  Instead, his arm is left to do all the work.  That is obviously concerning for a guy coming off Tommy John.  Gioloto also has some consistency issues with his tempo in the second half of his delivery.  He sometimes really speeds up as he starts to drive toward the plate, which again causes him to not get his foot down in time with his arm action and puts unnecessary stress on his arm.
On the bright side, Gioloto has a very smooth arm action and repeats his arm slot and release point with great consistency.  However, to be successful and stay injury free, he will have to get more consistent with his plant and drive to take advantage of the strength in his very long legs.  Of course, Gioloto is a very young guy who is just a year removed from Tommy John.  There's no reason to believe he won't put it all together but those are the mechanical issues to watch to monitor his progress.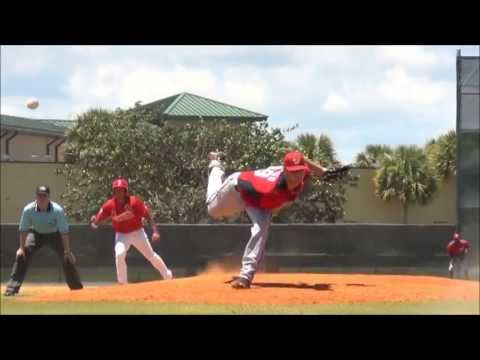 Our Instinct
Despite other venues offering comments like this:
Everything I'm hearing about Giolito is good: he looks fully recovered from Tommy John, has his stuff back, and has shown good command once he got past the initial rehab hump. 
The FACT here, is that Giolito's stuff is not back. It's actually closer to 70% back overall than it is to actually being back. You would need to get out there to see the player to get a feel for that though. So no hard feelings on inconsistency based on reports.
Giolito is on target in his comeback. There is no doubt about that.
It would be tough, at this point, for us to bump him up from where he already ranks on our list, because we've been confident since the Spring that his stuff would return.
Expect him to start the 2014 season with Hagerstown and for his fastball to jump into the mid 90s with much more regularity and his curveball to become a dominant out pitch by July. Once he's able to snap it off in the zone, you'll begin to see him bury it when ahead in the count leading to a boost in K%.
Mechanically, as Aaron noted, he has work to do that will allow him to just become more refined and with more use of his legs he has that upper 90s velocity locked away in there. If the Nationals are able to help him unlock it, Giolito has pure Ace potential. But there is work to be done for that upside to be reached.
Based on potential he is still one of the highest upside pitchers in all of minor league baseball.
Stick with Baseball Instinct and we'll keep you a step ahead of the game. Check back soon as we release our top 21 prospects for each organization. While you're here, check out our Baseball Instinct 360° – it's our in-season top 360 prospects, and we will be updating it throughout the season. Also check out a friend of ours for all of your fantasy sports needs. Fantasy Rundown is updated religiously and is truly an awesome resource. Thanks for checking Baseball Instinct. We're working hard to bring you the best of the minor leagues and make the site the best experience it can be, so don't hesitate to tell us what you would like to read about. Email us now at mailbag@baseballinstinct.com. And while you're at it head over to Facebook and join the Instinct page.  You can also follow us on twitter: @BaseballInstinc.