Prospect Video
Dazmon Cameron, OF Eagles Landing Christian Academy
McDonough, GA

1/15/1997
H: 6'0″ W: 185
Dazmon Cameron is the son of long time MLB OF Mike Cameron and shows all of the tools that his father flashed during his professional career. Daz is a sub 6.7 in the 60 yard dash and his bat speed is already elite for his age group, though he is on the older side for the 2015 class. This is actually his 3rd WWBA and he's proving to be the best of his 2015 class and holding onto the ranking based on tools across the board that make the total OF package.
Cameron has a short balanced approach as a right handed hitter at the plate lacing gap to gap and showing the bat speed that could translate into plus power in the future. His frame is still just filling out but he's added 30+ lbs since his first WWBA in 2011. The is more room on his frame to pack on weight as well, but you can see his frame coming into form already.
With the bloodlines and see it now ability, he looks to be a CF with an above average arm or better and should be able to hold onto the CF spot at least early in his career if not for a decade or more.
Here's the video: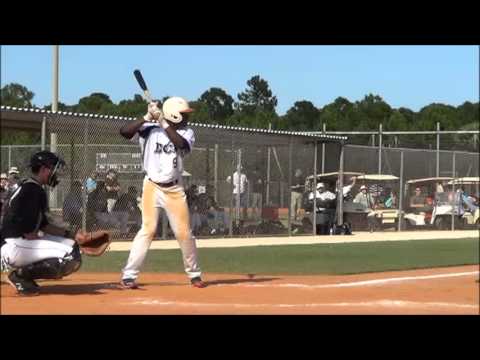 Stick with Baseball Instinct and we'll keep you a step ahead of the game. Check back soon as we release our top 21 prospects for each organization. While you're here, check out our Baseball Instinct 360° – it's our in-season top 360 prospects, and we will be updating it throughout the season. Also check out a friend of ours for all of your fantasy sports needs. Fantasy Rundown is updated religiously and is truly an awesome resource. Thanks for checking Baseball Instinct. We're working hard to bring you the best of the minor leagues and make the site the best experience it can be, so don't hesitate to tell us what you would like to read about. Email us now at mailbag@baseballinstinct.com. And while you're at it head over to Facebook and join the Instinct page.  You can also follow us on twitter: @BaseballInstinc.