The 2013 season is over and we are taking a look back at the preseason Top 21′s. We're looking at what was said preseason and what the point of view is now with the season at a close and entering the heart of the winter.
We'll be following up with our 2014 Top 21's and this is to give us a head start on breaking down each system, looking for the prospects of 2014 and beyond.
The Pirates made that playoff run in 2013 and the #1 prospect was a huge reason.
Let's take a look back at the Pirates starting with current rotation mainstay Gerrit Cole.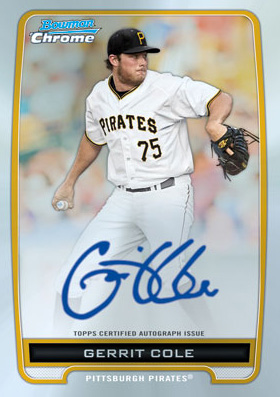 1. Gerrit Cole, RHP 9/8/1990 H:6'4″ W:220 – Cole is a big righty, selected with the 28th pick of the 2008 draft by the Yankees. But he bypassed signing and stuck to his commitment to the UCLA Bruins where he had a headlining career. That career had him taken with the first overall pick by the Pirates in 2011. Cole has a deep arsenal of plus to plus plus pitches starring a high 90s fastball that touches 100+ often. He pairs the fastball with a plus slider in the low 90s. It's actually his best pitch because when its on, it's unhittable, especially for right-handers.
The most important pitch for him to develop a better feel for will be his changeup. Right now its above average, but he doesn't a feel for the velocity meter on it and sometimes it comes in too hot and becomes hittable. There is a 4th pitch, which is his curveball. The curve is a good pitch based on movement but not on feel. You see a trend here.
The upside here is because Cole's raw stuff is elite. Possibly the best in all of the minor leagues and right up there with guys like Felix and Kershaw. But where they have feel and dominance, Cole sometimes finds himself in trouble with base hits that shouldn't be happening. I think a lot of it has to do with tempo and his command of the zone. His FIPs have been drastically better than his ERA especially in AAA where he posted a 4.50 ERA and just a 1.17 FIP.
Our Instinct: I'm a little more convinced about Cole after seeing him in person in the FSL. But he's still 1-a to Taillon's 1-b in this organization. I think Cole will put up much better numbers in the majors with an elite defense behind him. He'll be a better pitcher when he can stop trying to strike batters out and just let his pitches happen. He has the stuff of a true ace, the size to eat innings and I don't see much stopping him from being an elite level talent. If he finds the command to match the stuff he's one of the best starters in baseball. If he doesn't he'll be a top level #2 starter. He should see a little more AAA seasoning, but if the Pirates get off to another fast start he'll find his rotation spot waiting.ETA: 2013
2013 in Review: Once he reached Pittsburgh, it's as if someone finally got into Cole's ear and helped him realize that he can just pound the zone with his stuff and find success. His stuff was never in question, not even when he was in High School. It's always been his tendency to try and get too fine and then losing the zone and then losing his location. His K rate jumped to 21.3% and his walk rate finally dropped to 6% when he reached the majors. That doesn't usually happen. So in my opinion it's for real and a switch was finally flipped in his pitching psyche.
2. Jameson Taillon, RHP 11/18/1991 H:6'6″ W: 225 – Taillon is a year+ younger than Cole and is on the same track to somewhere near the front of the Pirates rotation in the near future. Taillon was the Pirates top selection in the 2010 draft out of The Woodlands in Texas. He was #2 on our draft preview that year behind only Bryce Harper and the Pirates actually had him ranked ahead of Harper:
2. Jameson Taillon RHP The Woodlands HS, Texas – Taillon is the premier arm in the draft and if the Nationals decide to pass on paying the biggest bonus in draft history then Taillon will be the first HS pitcher ever selected with the #1 overall pick. And he'll be worthy of the honor. He's a 6'6 225 lb beast with the a mid 90s fastball and the best curveball in the entire draft class without question. It already has plus depth and tilt.
Our viewpoint on Taillon hasn't changed. He's still flashing a mid 90s fastball with hard boring action and runs the four seamer into the upper 90s deep into starts. His two seamer has sink and as he learns to trust his stuff more he's going to have the fastball mix to get strikeouts when needed and groundballs when needed. That might be what propels him above Cole in the future. Taillon's curveball is still a plus pitch with hard late break in the 12-6 range. When he's on top of the pitch it drops off the table and coming from the same arm slot as the fastballs it is difficult to pick up out of his hand.
The one remaining piece of the of the puzzle for Taillon is refining his changeup. He uses the pitch in games and its an average offering, but its not on the same level as Cole at this point. If  Taillon can bring the changeup to above average he has Ace potential and would project for a higher level of long term success than even Cole. But as it stands now, Taillon would slot in behind Cole.
Our Instinct: Taillon still has a full year of development ahead of him before he'll be fully ready to take on major league batting orders 2-3 times through. But he's not far off. He has dominant stuff, is very intelligent and has no character makeup issues. It will only be a matter of time and maturity before he's locked into top half of the Pirates rotation. He has the stuff to become an Ace in time and it's possible that the Pirates could have two very talented righties atop the rotation for a long time. ETA: 2014
2013 in Review: Taillon had an excellent season, progressing through AA to AAA with an overall 3.73 ERA and 143 Ks' through 147.1 innings. He still needs to trust his stuff more to bring that walk rate down though. He looks to be on target for a 2014 debut.
3. Alen Hanson, SS 7/14/1992 H:5'11″ W:150 – While Hanson's 2012 campaign is considered a breakout, he began making noise in 2011 in the GCL where he had 22 XBH and 25 SB in 198 AB. The young middle infielder continued that production in Low-A last year with an even better line. He hit .309 with 33 doubles, 13 triples and 16 HR to along with 35 SB in 489 AB. While he's still just 150+ lbs, Hanson put up a .223 IsoP number which is tied into his rise in LD% of 17.1%.
His average was driven bya  high BABIP of .364 though and there could be some regression in 2013 in both AVG and Power, especially during the summer months in the Florida heat when he hits the FSL this year. He has the tools offensively with plus speed and average pop, but he brings some clear intangibles to the game as a high energy player with leadership skills already emerging.
Defensively Hanson has the range to handle any position, his first step quickness is up there with any other middle infielder, but his arm is average and though it works at SS now, it might force a move to 2B if a better defensive SS develops in the system.
Our Instinct: Hanson will make his FSL debut in High-A this year remaining at SS for the foreseeable future. Expect the numbers to dip slightly due to league factors. But Hanson the is the systems top middle infield prospect with a chance to be a top of the order table-setter. He's still learning to fully utilize his speed and his first step quickness should eventually lead to a better SB% and 35-40+ steals potential. 2013 will tell us a lot about his hit tool and if he's truly a .300 hitter or if he'll need to rely on walks to boost his OBP. He could be good for .285/15 HR/35 SB seasons as he moves on. Still another 2+ years away. ETA: 2015
2013 in Review: When a 20 year old SS hits .274 with 27 doubles, 13 triples and 8 HR while stealing 30 bags, going to from High-A to AA, you have to consider it an excellent season. His AVG has a little more upside as he utilizes his speed more and he's going to stick in the MI spot and probably at SS. The debate was Hanson or Polanco. You can't go wrong with either really.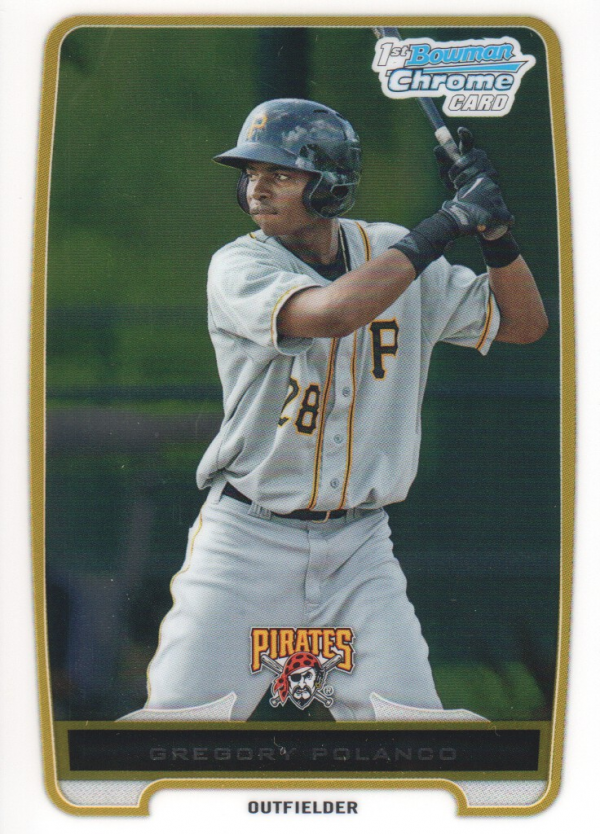 4. Gregory Polanco, OF 9/14/1991 H: 6'4″ W:170 – Polanco had the biggest surprise breakout of the Pirates system. Normally that doesn't warrant a jump to the top of the system but in this case its pretty undeniable. With a .325 AVG and 48 XBH including 16 HR with 40 SB in 437 AB, we're talking a full fledged breakout. His AVG against lefties is actually better than righties in his career which is an odd split. Expect his success against righties to get better and he has a legitimate shot at being a true .300 hitter. His swing does get long at times and he doesn't yet use the entire field, becoming pull happy. But he still hit .325 and he'll be just 21 this year in High-A.  If he can keep the K rate down and get passed the more difficult power league of the FSL he could really blossom into a power hitter in Double-A next season.
At 6'4″ he may have a tough time sticking in CF if his frame continues to fill out from its current 170 lbs. But right now he has plus speed and the 40 SB are proof of that. With a strong arm he'll slot into RF if he needs to move off of CF and I think that is something that will happen by next season. For now he'll stick in CF.
Our Instinct: Polanco will move to the FSL with Hanson and they will be two of the hottest prospects in the league. If Polanco can solve righties he will become and elite level prospect this time next year. His upside if that of a CF with .300 potential and possible 30/30 output. But even if he settles into the more likely role of a corner OF spot and is able to hit .290 with 20+ HR and 20+ SB we're still talking about a highly valuable commodity. He's bypassed the more highly touted Josh Bell and is in the drivers seat for his position in the Pirates future OF. ETA: 2015
2013 in Review: 21 years old and he rakes High-A with a .312 AVG 17 doubles and 6 HR in 218 AB while stealing 24 bases. Overall from High-A to AA to AAA, Polanco hit .285 with 30 doubles and 12 with 38 SB in 470 AB. He plays an excellent CF and has clean hitting mechanics that will continue to translate. If he adds some weight the power will uptick. 
5. Luis Heredia, RHP 8/10/1994 H:6'6″ W:205 – Heredia signed out of Mexico as a 16 year old and it seems like he's already been a known prospect for a long time, but he's only going to be 18 years old to start the 2013 season. He has a monster frame at 6'6″ and is only beginning to grow into his strength. His fastball, although somewhat flat, sits in the low 90s and he's beginning to scrape the mid 90s. Expect that 95 mph mark to be eclipsed at Low-A this season and for it to become where he sits in the future.
His secondaries include a long used curveball that he is beginning to show feel for and changeup with good fade that he still overthrows. Right now Heredia is all about gaining a true feel for pitching. But as he matures and grows stronger it could be a bit of a roller coaster ride. I wouldn't expect him to be truly tested until he hits High-A and that could be towards the end of the 2013 season to give him a taste and get him to his US home base to end the season.
We haven't seen any true dominance in Heredia's numbers to date even though he been successful. His K numbers are a pedestrian 15% and his walk rate was good at 7.5%. But those numbers also came along with a 2.71 ERA in 2013 and the FIP if 3.37 says he did well. But there has to be more dominance here or Heredia is not using his talents to the fullest.
Our Instinct: Heredia will not begin to dominate hitters until he is able to pound the zone with his fastball and slow up bats by manipulating his velocity on the changeup. Then his curveball will become an out pitch for him. I would think we are talking more about when than if. But sometimes feel isn't a god given talent. If Heredia picks up his feel we have another#2 or #3 starter with 3 possible plus pitches. More likely is that he has the plus fastball and two above average offerings in his curve and change. He'll slot well into the middle of the rotation behind Cole and Taillon and with his size he should be another innings eater.
He only pitched 66 innings last year. So you can expect him to get a late start and finish the season somewhere in the 110-120 IP range. That would put him on target to make his debut in a few years. ETA:2016
2013 in Review: Only 65 innings in 2013. His K rate did jump but so did his walk rate. It was far from a successful season with a 4.49 FIP. His development seems to be slowing down instead of picking up speed. He's still very young though so the upside remains. 
6. Josh Bell, OF 8/14/1992 H:6'4″ W:195 – Bell was a draftee that the Pirates swiped when no one thought he was even a possible sign. They shelled out a ton of cash for him, but that's irrelevant to his prospect status. Heading into the 2011 draft we had Bell ranked higher than Javier Baez who has turned into an elite prospect himself. Here was the pre-draft take:
#9 Josh Bell OF Dallas Jesuit HS – Bell has the most projected power in the draft and he's a switch hitter. Most HS players are learning to switch hit but Bell is already established and proven on both sides. He's an advanced hitter beyond his years.
Bell played 15 games in his debut and tore his left meniscus. So the only thing we can take from his season is a very small sample size that can basically be tossed out the window. The good thing for Bell is that despite missing a season of development, his bat was his advanced tool and he should be able to pick up right where he left off and go straight into full season ball in Low-A.
Our Instinct: Bell still has the most advanced bat in the system, but he's now a year behind and will take approximately 3 seasons to reach Pittsburgh. Obviously, as with any young player, there is a ton that could go wrong and we won't truly know what type of a hitter Bell is until he gets a season under his belt. But based on his HS play and reports, Bell, could be a 30+ HR switch hitter and a prototypical RF. ETA: 2016
2013 in Review: It was a solid first full season and the Pirates have to be pleased with a .279 AVG and 37 doubles and 13 HR. I wouldn't expect a power explosion in 2014 in the FSL but he still has some high upside lurking.
7. Dilson Herrera, 2B 3/3/1994 H:5'10″ W:150 – Signed out of Columbia, Herrera is a small SS prospect who has already slid over to 2B because his arm isn't going to play up at SS or 3B. But he has the range to handle 2B and his arm is more than adequate there. It'll be his bat that will drive his prospect status in 2013.
He's a right-handed hitter with plus speed and a bit more pop than you would expect from a 150 lbs middle infielder. But the fact is that his .281 AVG and .202 IsoP are excellent numbers for an 18 year old. He has plenty of room to add weight and gain additional strength and he moves up the ladder, so more power could be in his future and he has some speed to spare.
Our Instinct: Herrera is probably the Top 10 guy here that is the furthest away from the majors. He'll need to continue to show his hit tool and mature as a hitter. If he adds additional size to his frame he could be a .280 hitter with double digit HR power and 20+ SB speed. He'll make his full season debut in 2013 and would be on target for a debut in about 3 years. ETA: 2016
2013 in Review: Traded to the Mets in the Byrd deal, Herrera had a decent season but not on target for projections. His K rate went up, but his walk rate improved. His IsoP was .156 which for his size is still quite good. He'll be a nice piece for the Mets but Pirates fans will agree that Byrd was worth it during that playoff run.
8. Tyler Glasnow, RHP 8/23/1993 H:6'7″ W:195 – Glasnow is the pitching prospect in the system that if you base your profiles on projection, you can envision big things from. Huge frame and he already flashes a mid 90s fastball and big hard breaking ball.
There is little here in terms of refinement though and with his size and age its going to take awhile before he can control his body enough to live on his command. But in time that could be there and if it is he has the 2 pitch mix now of a near frontline starter. But his changeup is only in its infancy stages. He'll need that pitch if he going to reach his potential.
Right now his strikeout potential is evident but his 11.4% walk rate also shows his mechanical issues.
Our Instinct: Glasnow has a chance to be a dominant starter and could be much closer to top of this list by seasons end. There is little chance that he has elite upside, but the stuff and size says #2 type starter potential is there. Chances are he starts in the NYP this season and will need to build on his 37.1 IP from last year. Don't expect him to bypass 100 IP until the 2014 season and still have a couple of season if additional development after that. ETA: 2017
2013 in Review: Breakout season with a 2.18 ERA that was solid even with a 3.19 FIP. His K rate was off the charts for a SP at 36.3%. Yes, he still needs to refine his approach as his 13.5% walk rate attests, but he was dominant and Sally hitters had no chance. The FSL will provide a much better challenge with more patient hitters, but with his stuff the K rate should remain dominant. He looked ever bit the part of a future #2 starter.
9. Kyle McPherson, RHP 11/11/1987 H:6'4″ W:215 – McPherson has overachieved according to popular demand, but on the profile, we're talking about a big framed innings eating starter with a low 90s fastball that he can pump up a little higher. He also has a plus changeup that is his best pitch. His third pitch is a curveball that he is still refining and if he hits his ceiling it will be an average offering.
His numbers show that he gets a fair amount of strikeouts and his command of his fastball is plus. But despite his command he has difficulty getting groundballs and the high flyball rate can become trouble at the highest level.  So far that hasn't been a detriment to his ERA which has been sub 3.00 and fully supported by his FIP.
Our Instinct: He'll need to become more of a groundball pitcher if he's going to hit his ceiling of a #3 starter, but it's more likely that he becomes a solid #4 starter. Injuries limited him to just 67 innings in 2013. But if he stays healthy he has a chance to win a rotation spot out of Spring Training. Either way, McPherson will find his way into the Pirates rotation in 2013 and could surprise a lot of people.ETA: 2013
2013 in Review: TJ surgery ended his season just 2 games in. 
10. Nick Kingham, RHP 11/8/1991 H:6'5″ W:220 – Kingham is a big right-handed starter and despite his 4.39 ERA last season there is a lot to like about his future. With his size he's already regularly in the 92-93 range and touches 95 but his velocity is still ticking up and he could be a solid mid 90s by this season. He pairs the fastball with a plus curveball that is only lacking consistency of his command of the pitch. The curve has the potential to be a true out pitch and is a big hard breaking offering.
The changeup is where Kingham is still in the developmental stage and will have the opportunity to continue to refine the pitch in the FSL this year. His K rate is in line for an uptick and his 1.68 ERA over his final 9 starts in 2012 point to something clicking and if he can carry that over into 2013 he's going to be a breakout SP.
Our Instinct: Kingham has the stuff to be a mid rotation starter and the frame to eat innings. He's just beginning to come into his own as a SP but 2013 looks to be an important year for his development. If it did click at the end of 2012 we'll know early on. His ERA will stay down and his K rate is going to jump. The FSL will help him with the ERA, but the K rate will be fully based on his stuff. He's still a few years away and when all is said and done he could be anywhere from a #3 to a back end starter. ETA: 2016
2013 in Review: It was a true breakout and one we were on the lookout for. There is some great video of him from the FSL on the YouTube channel. His ERA stayed low in the low 3s and his K rate was dominant. After 13 FSL starts he jumped to Double-A and was just as successful. He should return there to start the 2014 season and could be in Pittsburgh by 2015.
11. Clay Holmes, RHP 3/27/1993 H:6'5″ W:230 – Another big young right-hander and you notice that this system is rich with potential. Holmes was a bonus baby from the 2011 draft and is just now starting to come into his own but the low K rate and high walk rate show that there is a lot of development needed for him to get the most of his tools.
Tools that include a mid 90s fastball and hard breaking slider. Both pitches have significant upside and plus potential, but the changeup is nearly non-existent  at this point and will be a must have 3rd pitch for him to remain a SP long term. He's just about to turn 20 and will make his full season debut in 2013.
Our Instinct: Holmes should work on refining his changeup this year as he pushes his IP limit to around 100 IP. If he can successfully refine the changeup he could move quickly through the system and his dominance will uptick. But with just 54.1 IP last year it will be at least 3 seasons before his innings are built up enough to handle a full season of work. But the upside for a mid-rotation starter is there and if he can't handle the rotation I'm confident he has the stuff to work out of the back of a bullpen as well. ETA: 2017
2013 in Review: 4.08 ERA over 119 innings. His K rate remains low for a power pitcher. His walk rate makes it impossible for him to be successful and he doesn't seem confident enough in his stuff to pound the zone with his fastball. That will need to change quickly or he's going to flame out in short order as a SP.
12. Wyatt Mathisen, C 12/30/1993  H:6'1″ W:205 – Mathisen was a HS shortstop and his transition to full time backstop is now under way in the Pirates system. After failing to find their future C in previous drafts, the Pirates hope that Mathisen will eventually fill that role. He's athletic and has a plus arm, but as with any young player making a transition, he will need time to develop into a field general. But in time Mathisen could very well be a plus defender.
With the bat he projects to have above average power and his hit tool could be average or better as well. He lacks game speed despite being athletic but his in game approach is already showing signs of being being an above average tools as well.
Our Instinct: Mathisen is the organization's best bet at an in system Catcher of the Future. But he's a long way from reaching that status. He will need to become a plus defender and keep his offensive development on track. That's a lot to ask and it could take upwards of 4 seasons before we see him ready to make his debut. But we should know inside of 2 years what the Pirates really have in Mathisen. ETA: 2017
2013 in Review: Worked his way to the Sally League and overall hit .228 with no HR and 4 doubles over 167 AB. His BABIP was very low and there was a concentration on defensive development so there are some reasonings for the struggles. Still troubling numbers and the big reason I am never a huge believer in High School catchers that need defensive development at a high level.
13. Barrett Barnes, OF 7/29/1991 H:6'1″ W:195 – Barnes is the Pirates top pick from 2012 and will need to be an anchor for the draft to be a success. He has tools across the board even if he doesn't stand out as plus in any facet. He's a total player and there's a solid chance that he could actually stick in CF.
We only have 125 AB of data, so we might as well just take a look at his Tech numbers and get an idea of what's plausible. He had 93 XBH including 33 HR and hit .319 over 637 career AB. He also stole 50 bases in 56 career attempts.
We shouldn't expect him to put up numbers like that as a pro. He still has trouble with breaking balls and when the power starts to flow he can become a pull only hitter which takes him away from a more fitting all fields approach.
Defensively he has the tools to handle CF but he will need time to refine his approach and maximize his jumps and routes to the ball.
Our Instinct: Barnes is the most complete OF that the Pirates have in the system, but he's not near the elite level tools that Polanco or Bell possess. I think he'll need to stick in CF if he's going to remain more than a 4th OF. Over the course of a full season he could ultimately be a 20/20 CF. But hitting .300 and being a top half hitter might be a stretch. ETA: 2015
2013 in Review: 183 AB with 5 HR and 9 doubles while amassing 10 SB. A solid season, but he struck out 23.3% of the time and only hit .268 which is supported by his .336 BABIP. Still holding to the projection. 4th OF type lacking the tools above him in the system.
14. Vic Black, RHP 5/23/1988 H:6'4″ W:215 – After converting to the bullpen in 2011, Black has become one of the most dominant RP in the game. With a 12.8 k/9 last year, he's everything a dominant RP should be. He has a little funk to his delivery. He has a big body. And he brings high 90s heat that touches 100+. His slider is still coming along but when paired with the fastball it puts hitters away already. If the closer of the future is in this system, the odds are in Black's favor that his name will be called with close leads in 9th for a contending Pirates team. ETA: 2013
2013 in Review: Very high K rate from Black once again. He was traded to the Mets though and looks to be a part of their future bullpen. 
15. Alex Dickerson, 1B 5/26/1990 H:6'3″ W:235 – Dickerson won the FSL League MVP in 2012. He has a solid left handed swing and projects more power than the 13 HR he hit last year. Moving away from the FSL he should see a bump in HE production and should cross the 20 HR mark in 2013. A LF in college, he plays 1B now and has made the transition well. Though he still has some growth at the position. After seeing him multiple times in the FSL he reminds me a lot of Adam LaRoche. ETA: 2015
2013 in Review: He's a big kid, but if he can make the transition to the OF he will be much more valuable. His .288 AVG with 17 HR and 36 doubles are a nice line even for a 1B though. 
16. Justin Wilson, LHP 8/18/1987 H:6'2″ W:195 – Wilson has a an elite level plus plus fastball, coming in at the mid 90s with life and touching 99 in short stints. If his command was anywhere near above average, his curveball, slider and changeup all could put him into the upper echelon of LHP prospects. But as it stands he has a difficult time holding his mechanics and and it leads to trouble spotting the pitches. He got a chance to come out of the pen for the Pirates late last season and proved he has the approach for it. He has a chance to win a spot out of Spring Training and could be in the pen for good. ETA: 2013
2013 in Review: 58 games. No starts. He's a bullpen arm now and he did well. The 2.08 ERA is a bit exaggerated as shown by his 3.41 FIP. But he still had a solid season and should carve out a solid career.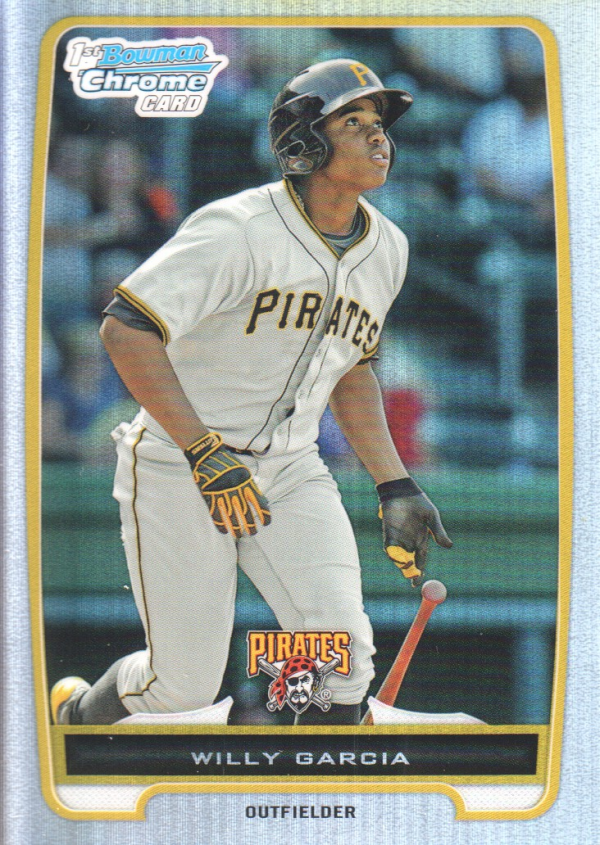 17. Willy Garcia, OF 9/4/1992 H:6'3″ W:180 – Garcia led the system in HR last year and has plus raw power. At this point he's more of a free swinger than a complete hitter. His 18 HR came along with 131 strikeouts and if he's going to reach his ceiling that will not be the same split in 2013. He teamed with Hanson and Polanco in 2012, but will be the one left behind as those two move to the FSL and he repeats Low-A to advance his approach. He has the arm for RF but there elite level talents ahead of him that may already have that spot claimed. So the power will need to be elite for him to hit his ceiling and be a major league regular. But as far as 2013 lottery tickets in this system… Garcia is the one in line for a breakout if he takes the repeat of Low-A as a challenge. ETA: 2017
2013 in Review: Garcia actually played the whole season in the FSL. It was a lofty assignment and he did fairly well. Hitting .256 with 16 HR and 21 doubles with 13 SB. Good for a .180 IsoP, showing that plus power potential in the future.
18. Adrian Sampson, RHP 10/7/1991 H:6'3″ W:200 – Sampson has the size to be an innings eating starter. If his fastball was more than average at this point,  chances are good he would be in the top 10. But it sits mostly 88-91 and only occasionally reaches into the low 90s. His curveball is an average pitch and his best pitch while his changeup is his second best. If his fastball ever upticks he's a pop up prospect. For now his ceiling is a #4. With the extra velocity he's a solid #3. ETA: 2017
2013 in Review: 140 IP and his ERA rose to 5.14 and his K rate almost got cut in half. It doesn't make a lot of sense and I can't find the glitch in the numbers. He looked fine when I saw him pitch in Jupiter. This one is a head scratcher.
19. Jin-De Jhang, C 5/17/1993 H:5'11″ W:220 – The Taiwan import handled split catching duties well with his main in system competition, Mathisen. Jhang is currently the more complete defender but has less upside than Mathisen does. Jhang hit .305 with solid discipline and should hit for more power in the coming years. Though last year he hit just 1 HR in 128 AB. ETA: 2017
2013 in Review: Provided a little more pop and a little less AVG in 2013. But overall a successful season. .277/.338/.413 with 5 HR and 8 doubles in just 184 AB.
20. Jose Osuna, 1B 12/12/1992 H:6'2″ W:215 – If he wasn't relegated to 1B, Osuna would be a more touted prospect. He racked up XBH to the tune of 52 in 482 AB last year. His bat will need to drive him the majors but he has the power potential to do that possibly. Granted we're talking about a long shot. His K to BB rate isn't optimal and he still needs some serious time to become a professional hitter. But he's a talent to watch in 2013. ETA: 2016
2013 in Review: A solid season for a power prospect in the FSL. His AVG was held down by a low BABIP and his doubles were at 25 with 8 HR. He could see a bump in production once outside the FSL.
21. Hayden Hurst RHP 8/24/1993 H:6'5″ W:235 – Hurst fell to the 17th round which most thought would put him too far down to sign. But the Pirtaes got him inked and the 6'5″ 235 lbs workhorse high schooler could be a huge steal. He has a low 90s fastball that has touched 95 and while his breaking ball is still raw, it has potential to be an above average pitch. His mechanics are clean and could be a true steal. He hasn't made his debut and his 2013 starting point is up in the air, but Short Season is the best possibility. ETA: 2017
2013 in Review: Pitched just 0.1 innings in 2013. No word on injuries. 
Other players to watch in 2013: Kevin Ross, Elvis Escobar, Max Moroff, Stetson Allie, Tony Sanchez, Bryan Morris, Andy Oliver, Zack Von Rosenberg, Jon Sandfort, Eric Wood, Gift Ngoepe, Harold Ramirez, and Clint Robinson.
Stick with Baseball Instinct and we'll keep you a step ahead of the game. Check back soon as we release our top 21 prospects for each organization. While you're here, check out our Baseball Instinct 360° – it's our in-season top 360 prospects, and we will be updating it throughout the season. Also check out a friend of ours for all of your fantasy sports needs. Fantasy Rundown is updated religiously and is truly an awesome resource. Thanks for checking Baseball Instinct. We're working hard to bring you the best of the minor leagues and make the site the best experience it can be, so don't hesitate to tell us what you would like to read about. Email us now at mailbag@baseballinstinct.com. And while you're at it head over to Facebook and join the Instinct page.  You can also follow us on twitter: @BaseballInstinc.
Related articles across the web