The Orioles' system has improved since last year, mostly on the strength of a pretty good 2013 draft along with some solid international signings.  However, since graduating Manny Machado to Baltimore, the Orioles have not been able to develop any sort of a top flight hitting prospect.  They do, however, have two fantastic pitching prospects at the top of their system and some very good pitching depth.  At the big league level, Baltimore has struggled recently with finding enough quality pitching.  In the next couple of years, their minor league clubs should be able to ease that burden.  Here are the top 21 prospects for the Baltimore Orioles: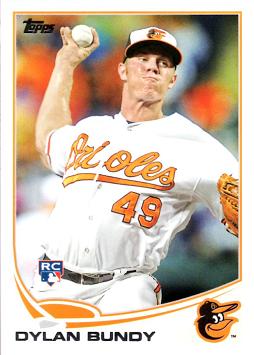 1. Dylan Bundy, RHP 11/15/1992 H: 6'1″ W: 195 – Dylan Bundy finds himself atop our Orioles Top 21 Prospects List yet again.  I'm sure he would've preferred exhausting his prospect eligibility in 2013 but Tommy John surgery in June ended his season.  If Bundy pitches at all this season, he will be extremely limited.  After all, he's thrown a total of 104.4 innings over two seasons as a professional.  Still, Bundy is an advanced pitcher with a plus-plus fastball and three other above-average pitches.
Our Instinct: The one thing that is difficult at times to see coming is injury. With Bundy, injury has led to a lost season. Bundy was diagnosed by Dr. James Andrews with a partial tear in his right elbow ligament on June 26, 2013 and had Tommy John surgery on June 27, 2013. He was advanced for his age, so the set back, while tough, doesn't change his upside. Once he recovers and gets his legs under him, there is no non-injury reason Bundy should not fulfill his potential as a front-of-the-rotation starter. ETA: 2015
2. Kevin Gausman, RHP  1/6/1991 H: 6'4″ W: 185 – The Orioles are hoping Bundy-Gausman is the 1-2 at the top of their rotation for a long time.  For now, they'll have to settle for the pair being 1-2 in our rankings for a second consecutive year.  Gausman, a 2012 first round pick, split his season fairly equally between AA, AAA, and the MLB level.  Gausman dominated at AA and AAA before being merely solid for the Orioles.  His peripherals, including strong K and BB rates, indicate that he will bring that dominance to Camden Yards this season.  The only blip in Baltimore was a high HR rate.  With the lack of a track record of struggling with giving up the home run ball, and with the continued improvement in Gausman's now-plus changeup, I am willing to overlook the HR rate.  It was most likely a product of fatigue causing his fastball to flatten out.
Our Instinct: Take the 3-6 overall minor league record this year and wrap it up real nice before you toss it aside. It means nothing. Actually the 3.51 ERA doesn't mean much either, with the 2.50 FIP saying that he was even better than that. His K rates aren't elite, but they are strong and his walk rate of 6.4% is outstanding. He's improved his changeup and it now borders on plus. That #2 SP upside is coming into reach. He'll still need to have his innings monitored in 2014. But I would expect him to find a rotation spot next year and be near the top of all RHP pitching prospects. As long as he keeps the HR ball under control, Gausman should continue his ascent toward becoming a #2 starter. Look for the Orioles to start Gausman slow so he has the ability, if necessary, to contribute down the stretch.  ETA: 2014
3. Hunter Harvey, RHP 12/19/1994 H: 6'3″ W: 175 – The Orioles selected Harvey with the 22nd overall pick in the first round of the 2013 draft.  The North Carolina prep product pitched 25 professional innings between the Gulf Coast League and the New York-Penn League and generally dominated.  However, it will be more advanced hitters that will expose Harvey's lack of polished secondary offerings.  His above-average fastball is a big league offering but he pairs it with a curveball and changeup that are less than impressive.  If everything goes right for Harvey, i.e., his fastball develops into a plus pitch and his secondary pitches become at least average pitches, he could be a very good #2/#3 starter.  However, you have to dream big to see that projection for the 19-year-old.
Our Instinct: His development during the 2014 season will go a long toward telling us whether Harvey has a chance to hit his ceiling.  Look for Harvey to start again in the NYPL before getting a taste of full-season ball.  ETA: 2017
4. Eduardo Rodriguez, LHP 4/7/1993 H: 6'2″ W: 175 – Continuing a trend, coming in at #3 for the Orioles is a young lefty with the ultimate upside of slotting in the #3 spot in the rotation.  After spending all of his age 19 season in the low-A level South Atlantic League, 2013 saw Rodriguez finish his season in AA.  The important stat to watch in 2014 for Rodriguez is his K rate.  After seeing his K rate dip in 2012 and in his first stop in 2013, Rodriguez posted a solid K rate in AA.  What remains to be seen is whether that return to his age 18 form was a small sample size special or the product of increased velocity.
Our Instinct: An uptick in velocity and success at both AA and AAA makes this 2013 season a breakout. He wasn't dominant in AA but his K rate upticked to 23%+ in AAA. I wouldn't expect a dominant SP out of Rodriguez, but he's showing to be a very capable lefty with mid rotation upside at a young age. Possible 2014 MLB debut. If Rodriguez can strike out batters at or near the rates we saw in AA, he could feature quickly in the Orioles' plans.  ETA: 2014
5. Jonathan Schoop, 2B 10/16/1991 H: 6'1″ W: 195 – Eduardo Rodriguez passed Schoop in this year's rankings mostly due to Schoop missing half the season with a stress fracture in his back.  However, during Schoop's time at AAA in 2013, he continued to show some of the troubling signs that have popped up as red flags during his development.  He failed to show improved on-base skills or any power development.
Our Instinct: Consider 2013 a lost season for Schoop who missed most of the season with stress fracture in his back. In his short AAA time this year, the AVG has continued to be depressed by his approach. Limited walks and a lack of patience has led to a .255 AVG with limited power. 2014 will be a telling season for his development. The talent is there. Fortunately, Schoop will only be 22 this season.  However, the clock is ticking on his prospect status.  ETA: 2014
6. Parker Bridwell, RHP 8/2/1991 H: 6'4″ W: 190 – Bridwell has a chance to rocket up this list during the 2014 season.  After a disappointing 2012 season, and honestly a disappointing first half of 2013, Bridwell seemed to put it all together in the second half of 2013.  Overall, Bridwell struck out more than 9 per 9 IP, walked less than 4/9 IP, and posted a very strong 3.43 FIP.  The key is Bridwell's secondary pitches.  He has always had a plus fastball but the complementary pitches are starting to round into form.  The caveat, of course, is that 2013 was Bridwell's third stint in the Sally.
Our Instinct: While Bridwell struggled mightily in 2012, he returned to Low-A in 2013 and once he was up and running he put together a dominant 2H. He still has some elite stuff and despite a 4.67 ERA to end the season, the FIP of 3.32 tells a different story. His K rate jumped to 23.1% and his walk rate dropped below 10% for the first time in 2 years. There is serious growth here and Bridwell is once again the breakout candidate we projected in 2012. Bridwell should start 2014 in AA and show the world whether his development is real.  If so, he could be on his way up prospect lists and, more importantly, to Baltimore. ETA: 2015
7. Michael Ohlman, C 12/14/1990 H: 6'5″ W: 197 – Ohlman is a guy that didn't make our 2013 Top 21 List after finally having a pretty good season in his fourth year in pro ball.  His ascent is one we maybe should have seen.  However, the 2009 11th rounder became impossible to ignore after tearing up the Carolina League as a 22-year-old in 2013.  He slashed .313/.424/.510, as a catcher, and put up an astounding .433 wOBA.  The fact is it is not unusual for catchers' bats to develop much later in their professional careers.  Minor league catchers are expected to do so many things due to the sheer number of pitchers on any given team.  For a high school catcher like Ohlman, the learning curve is especially steep.  Ohlman is suddenly a pretty exciting prospect if he can stick at catcher.  It is worth noting that he's a big dude but does have a reputation as an average defender.
Our Instinct: If Ohlman continues to mash in AA in 2014, the Orioles will start to feel much less nervous about losing Matt Wieters to free agency.  ETA: 2016
8. Henry Urrutia, OF 2/13/1987 H: 6'5″ W: 200 – In his first season in American baseball, the Cuban defector proved why his hitting skills had been thoroughly hyped.  In AA, Urrutia simply dominated, slashing .347/.406/.506.  Those numbers came down to earth slightly in AAA and in Baltimore, primarily because he stopped walking and stopped hitting for power.  At 26, Urrutia has limited upside.  Moreover, his aggressive approach and flat swing signal that he may be a low OBP/average power guy.  But let's not downplay that moving to a new country and being uprooted for your family is something that might make focusing on baseball difficult.
Our Instinct: Urrutia is likely to start the season in AAA but should eventually settle in as a second-division starter type.  ETA: 2014
9. Mike Wright, RHP 1/3/1990 H: 6'5″ W: 195 – Mike Wright doesn't have much left to prove in the minors.  He dominated AA in 2013 but there's not a spot for him in Baltimore at this time.  Unfortunately for him, he's not the kind of pitcher that forces a team to make room.  The big righty has an impressive four-pitch mix but there are no plus pitches among them.  Still, he should settle in nicely at the back of a big league rotation.  Because Kevin Gausman still needs to accumulate innings, it's possible Wright could be the first one to find himself in Baltimore in 2014 if a current starter goes down with an injury.
Our Instinct: Wright dominated Double-A this season going 11-3 with a 3.26 ERA. His K rate remained solid with an elite level walk rate. His stuff still isn't dominant, but he's successful with what he does have and looks like a back end of the rotation starter. With his size he could eat up innings as well. Regardless, he can probably help Baltimore out of the pen this year and should definitely contribute it in the Orioles rotation in 2015.  ETA: 2014
10. Chance Sisco, C 2/24/1995 H: 6'3 W: 193 – Sisco was taken in the 2nd round of the 2013 draft and sent to the Gulf Coast League.  There, the California prep product did about as well as you could hope.  His line was .363/.475/.464.  Yes, he amassed a slugging percentage lower than his on-base percentage, but we're talking about a high school kid who is just learning to catch.  As I discussed above, it's not unusual for a catching prospect's bat to be the last thing to come.  The Orioles may not have that issue with Sisco.  If not, the question will become whether it's worth it to keep working on the kid's defense or just get his bat to Baltimore.  Of course, those questions are a long way away.
Our Instinct: Sisco should spend a full season in low-A this year.  If he continues to hit like he did in 2013, Sisco will appear much higher on this list next year.  ETA: 2017
11. Tim Berry, LHP 3/18/1991 H: 6'3″ W: 180 – Berry and Wright have flipped places on this list since last season.  Wright has eclipsed Berry mainly because he dominated at AA while Berry was solid in high-A.  But moreover, Berry's repertoire consists of three pitches and only two, his fastball and curveball, are above-average pitches at this point.  Berry struck out barely more than 7 per 9 IP last season, which is pretty much in line with his career numbers.  Those kind of numbers are what keeps Berry looking more like a backend starter or middle reliever.  The curveball flashes plus at times and if it can become a consistent plus pitch for him, he may be able to miss more bats.  Even assuming the curveball comes along, Berry's absolute ceiling is in the 3/4 spot.
Our Instinct: A solid season with a 10-7 record in the Carolina league. He improved his command as we had hoped and although he didn't dominate, he is on track for a shot at Double-A next season. He's looking like a viable back end of the rotation type or possible LH RP. He'll need to uptick the K rate while keeping that walk rate at these 2013 levels. ETA: 2015
12. Zach Davies, RHP 2/7/1993 H:6'0″ W: 150 – The Orioles were somewhat aggressive with Davies, who they drafted out of high school in the 26th round, and sent him to full-season ball for his first pro season in 2012.  Davies rewarded Baltimore and put up a very solid year in the South Atlantic League.  He spent his 2013 in the Carolina League and performed even better.  Obviously, Davies is a small guy.  His size keeps the velocity on his fastball down.  Therefore, Davies really needs his secondaries, which are solid, to develop.
Our Instinct: He's improved since his Arizona high school days and will need to continue to show improvement in AA this year to factor into the Orioles' plans as a 3/4 starter.  ETA: 2015
13. Josh Hart, OF 10/2/1994 H: 6'1″ W: 180 – Hart is another prep draftee for the Os, taken in the supplemental round in 2013.  Unlike Chance Sisco, however, Hart was not terribly successful in his pro debut.  A .228/.312/.301 line in 123 ABs in the Gulf Coast League certainly didn't get anyone excited in Baltimore's front office.  Here's what we said about Hart in our 2013 draft preview:
Hart is a solid High School OF prospect with above average speed and looks like a solid CF. His bat speed is just average, but he keeps his barrel in the zone a long time and is able to spray the gaps and use his speed. There are questions as to whether he will hit enough as a pro to utilize his speed, but he has a good approach at the plate already.
Our Instinct: And that pretty much sums up Hart at this point.  However, his approach is such that if he develops some power, he should be able to hit a bit more and use his raw speed.  That possible upside makes him one to watch over the next couple of seasons.  ETA: 2017
14. Dariel Alvarez, OF 11/7/1988 H: 6'2″ W: 180 – Alvarez signed with the Orioles in 2013 out of Cuba.  The 25-year-old proved too advanced for Rookie ball and high A and found himself in AA for 31 ABs.  While it's a terribly small sample size, Alvarez wasn't terribly successful in those AA ABs.  The Orioles tried to get Alvarez some confidence in the hitter's paradise of the Arizona Fall League but Alvarez didn't fare much better there than he did in AA.  Alvarez will try his luck in AA again in 2013.  He isn't the natural hitter that fellow countryman Henry Urrutia is and never hit in Cuba the way Urrutia did.  However, Alvarez has shown raw power.
Our Instinct: So the upside is there but to date Alvarez has not shown the ability to hit with any regularity against advanced pitching.  At 25, time is running out for Alvarez.  He needs to really hit in AA in 2014 to have a future as a prospect.  ETA: 2015
15. Stephen Tarpley, LHP 2/17/1993 H: 6'2″ W: 200 – Here's what we said about Tarpley before the 2013 draft:
Tarpley is going to be signable, having been drafted in 2011, going to USC and then transferring to CC to gain eligibility again. He has a solid lefty arsenal and he'll go high enough to sign. His fastball tops out at 95 but settles in more in the low 90s range. He also throws a curve, slider and a solid changeup. All  of his secondaries need time to develop.
He has a solid frame now but as I said, he will need time to develop. If his fastball upticks all he will need is a couple of those secondaries to reach average and he has #3 upside. He could be even better than that though on the upside. With his current pitch mix he's slated for development as a SP. Possible 2nd round pick.
Our Instinct: Tarpley only got on the mound for 21 innings but they were very successful innings as he ended up posting a 1.53 FIP and striking out over a hitter an inning.  That small sample size wasn't enough to show us if Tarpley has advanced enough to get closer to his ultimate ceiling but we will see this year when he should at least get a taste of full season ball.  ETA: 2017
16. Adrian Marin, SS 3/8/1994 H: 6'0″ W: 165 – Marin got a taste of the Sally in 2012 but spent his entire age 19 season there in 2013.  And while he didn't blow anyone away, Marin put up a very solid offensive year for his age and level, posting a .667 OPS.  Marin is still striking out way too much (over 21% of the time) and walking too little (less than 6% of the time).  But, honestly, he was never expected to be a masher coming out of high school in Miami.  Instead, Marin projects to be a relatively light-hitting but solid and fast middle infielder.  He's well on his way to it.
Our Instinct: The speed wasn't as apparent as you would like, but hitting .265 as a 19 year old in A ball isn't a poor season either. As I mentioned, he is going to need plenty of time to develop his approach. Expect him to repeat Low-A to start 2014 and jump to the Carolina league by midseason. ETA: 2016
17. Christian Walker, 1B 3/28/1991 H:6'2″ W: 225 – Somewhat surprisingly, Walker found himself on the US roster in the 2013 Futures Game.  At the time, Walker was having a very good season in high-A, where he put up a .371 wOBA but was not considered to be a future star.  After the season, Walker still isn't considered to be a future star.  He struggled in 62 AA at bats.  Simply, Walker is a 1B with only average power and an average hit tool.
Our Instinct: If Walker, who will be 23 in 2014, comes into more power, he could have a chance to be a starting 1B at the big league level.  But as it is, Walker is probably a reserve.  ETA: 2015
18. Travis Seabrooke, LHP 9/16/1995 H: 6'5″ W: 182 – Seabrooke, a 5th round selection in 2013, hasn't done enough yet to be any higher on this list but there is a lot about him that gets you excited.  He's obviously a big lefty with plenty of room to fill out.  He also is extremely young; 2014 will be his age 18 season.  He's also the son of a former NHL player so the athletic bloodlines are there.  He currently has a low-90s fastball and a curveball and changeup that are works-in-progress.
Our Instinct: Seabrooke needs to fill out, harness his size, and keep developing his stuff.  But the whole package is there to be something special if everything somehow comes together.  Just give the kid time.  ETA: 2018
19. Steven Brault, LHP 4/29/1992 H: 6'1″ W: 175 – Brault is another 2013 draftee and, strangely, another D2 kid.  He had a very solid debut in the NYPL in 2013 as a 21-year-old.  He finished his 43 pro innings with a 2.71 FIP.  Brault features a high-80s to low-90s fastball, a slider that could be an average pitch, and a fringe changeup.
Our Instinct: If everything goes right, Brault could be a back end pitcher but is more likely to end up in middle relief.  That wouldn't at all be bad for an 11th round pick from Division 2.  ETA: 2017
20. Branden Kline, RHP 9/29/1991 H: 6'3″ W: 195 – Kline really fell down our list since last year, when he checked in at #8.  2013 was pretty brutal for Kline as he suffered a broken ankle after only seven starts.  If that wasn't bad enough, the Orioles sent Kline to the Arizona Fall League, where he ended up with a 10.54 ERA and 5.32 FIP as a reliever.  His fastball/curveball repertoire is probably better suited for the bullpen where he may find himself at some point in 2014.
Our Instinct: Kline broke his ankle in May and missed the rest of the season after surgery. He was only in Low-A but faired well in his 7 starts. If healthy he should move to High-A to start 2014. A possible move to the bullpen could be in order if he doesn't get off to a quick start next year. He has the stuff to be successful out of the pen. Assuming he does end up in the pen, Kline, barring injury, could find his way to the middle of Baltimore's bullpen with some speed.  ETA: 2015
21. Conor Bierfeldt, OF 4/2/1991 H: 6'2″ W: 220 – Bierfeldt is a guy you can't help but root for.  He was drafted in the 29th round of the 2013 draft after his senior season at Division 2 Western Connecticut State.  And naturally the kid went to the New York-Penn League and hit the ball really well.  He crushed 12 home runs and 15 doubles on his way to a .402 wOBA.  Beirfeldt did strike out almost 25% of the time but he did walk nearly 11% of the time as well.  The strikeout rate, along with Bierfeldt's age for the level and pedigree, makes him a wait-and-see player.  
Our Instinct: I'm not sure he's a real prospect yet but I'm rooting for him to hit like he did in 2013 at a higher level in 2014.  ETA: 2016
Stick with Baseball Instinct and we'll keep you a step ahead of the game. Check back soon as we release our top 21 prospects for each organization. While you're here, check out our Baseball Instinct 360° – it's our in-season top 360 prospects, and we will be updating it throughout the season. Also check out a friend of ours for all of your fantasy sports needs. Fantasy Rundown is updated religiously and is truly an awesome resource. Thanks for checking Baseball Instinct. We're working hard to bring you the best of the minor leagues and make the site the best experience it can be, so don't hesitate to tell us what you would like to read about. Email us now at mailbag@baseballinstinct.com. And while you're at it head over to Facebook and join the Instinct page.  You can also follow us on twitter: @BaseballInstinc.