The Chicago White Sox are coming off a season where they finished dead last in the AL Central with a 63-99 record. Scoring the least amount of runs in all of baseball outside of the Miami Marlins.
But the front office has been busy adding Jose Abreu from Cuba, Adam Eaton and Matt Davidson from the Dbacks along with Avisail Garcia.
With Chris Sale fronting the rotation, the Sox look for names like Quintana, Paulino, Danks and young Erik Johnson to step up into the spot light. While Nate Jones looks to capitalize on the trade of Addison Reed and secure a role as the White Sox 2014 closer.
The strength of the 2013 draft brings the system from a weak state heading into 2013 to a much more solid foundation, albeit young a core. So let's take a look at that core and see what the White Sox have up the sleeve for next season and beyond.
We're going to get started with a "Prospect Zero". At Baseball Instinct when we're talking about prospects we tend to steer clear of ranking in the Yu Darvish's, Tanaka's, and in this case the  Jose Abreu's of the world. We like Abreu and in other venues you will find him firmly atop this White Sox farm system. But the real world outlook is that he isn't a farm player. He's an MLB level talent unliekly to ever see a minor league field that doesn't have him on a Rehab Assignment. So we'll call Abreu our first Prospect Zero of the 2014 season.
Prospect Zero – Jose Abreu, 1B 1/29/1987 H:6'2″ W:255 – One of Cuba's top power talents, Abreu took his absurd offensive numbers and his 1B glove and made the skip off the island after the 2013 WBC. Before long the Sox had nabbed him for 6 year and $64 with a lot of zeros after it contract that included a $10 million signing bonus. The Sox must have liked him to open the pocket book to a team record pact.
He's a big kid around and bulky though just 6'2″. But he packs a lot of power into the frame and uses the whole field to tap the in game power. There is little speed to his game and he will need to pay big dividends with the bat as a R-R 1B.
Our Instinct – As mentioned, there will be little to no time spent on the Farm. Expect him to make the club out of ST and work in with Konerko and Dunn at 1B and DH through out the season until Abreu is ready to take over at 1B for the long run. I wouldn't expect anywhere near the Cuba numbers, but he does have a 30 HR type bat with a chance to hit for average as well. Though his bat speed is somewhat in question, his swing plane should help him avoid long term slumps. If he hit .280 with 25 HR this year the White Sox will be thrilled. ETA: 2014
Now onto the actual List that we kick off with a recently acquired prospect that vaults to the top of the White Sox system: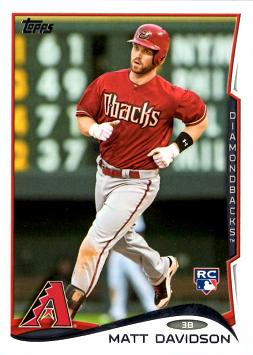 1. Matt Davidson, 3B 3/26/1991 H: 6'3″ W: 225 – Davidson was acquired in the Reed trade from the Dbacks this offseason and while he isn't being locked in as the 3B of the future much less 2014, I think that will change during Spring Training. At least the 2014 part.
In 2013 he hit .280 with 32 doubles and 17 HR and made a Futures Game appearance. His IsoP stayed intact during his MLB debut and I don't see why he can't be a productive corner infielder at the highest level. Sure, he'll strikeout his fair share but also takes walks and could be good for 20+ HR and a .270+ AVG with upside. His lack of speed will limit his ability in the OF but should be enough to continue his 3B defense.
Our Instinct: A near .200 IsoP in his first taste of the major leagues. He's still ROY eligible, so he'll remain on this list, but it probably won't be for long. He doesn't project as a .300 type, but solid power and good 3B defense is there from him. Some solid MLB season should be right around the corner. ETA: 2014
2. Micah Johnson, 2B 12/18/1990 H:5'11″ W:190 – I'm first to admit when I under rank a player. In this case Johnson didn't make the Top 20 in any other venue. We thought enough of his hit and speed tools to peg him at #17 last year. And at 17 there is no such thing as an Utter failure, but this was my failure nonetheless.
The breakout player of the system with little doubt was Micah Johnson. He stole 61 bases in 304 AB in Low-A, hitting .342 with 34 XBH. The performance prompted two more promotions during the season with Johnson finishing the year with 84 SB. His Sally League performance needs to be taken with a grain of salt though, with a .422 BABIP his AVG was inflated. So his SB opps were also inflated.
Our Instinct – He's a top prospect in the system. But don't expect a .330 hitter with 50+ SB in the future. He's more than capable of handling 2B and even moving to the OF if needed. The speed is real and he has a major league approach. He'll be a late comer prospect since he is already 23, but should see Double-A again in 2014 where he stumbled to end last season. Give him a little time to catch up to the fast promotion pace. ETA: 2015

3. Tyler Danish, RHP 9/12/1994 H:6'1″ W:190 – Going into the 2013 draft, Danish was one of my favorite SP prospects. The 1.38 ERA and 22/5 K to bb rate did nothing to sour me on his upside. Sure his FIP was 2.58 but that's still excellent and is early proof that he can succeed in short stint. Here's the pre draft take on Danish the White Sox 2nd round pick:
Danish is the pitcher in this draft that I'm going to love and that others may shy away from. He has a 3/4 arm slot in reports, but pitches from lower than that and has a short arm whack with elite arm speed. I'm not sure how high he's going to go, but signs of Max Scherzer and Justin Masterson tell you we think the upside is up there.
Our Instinct: Danish has some serious stuff with a low 90s fastball that touches 95 with a lot of movement. His slider is frisbee like, reminding me of Jeff Nelson. There's some mechanical corrections needed, like his timing with his plant foot, which would allow him a more stable base and less stress on his shoulder. The right team could be able to refine him into a major league SP with significant upside. If he grows more that upside only rises.
Our Instinct: Danish has plenty of work to do but the significant upside remains intact fully. He will most likely need 3-4 years of development and the volatility in his upside/downside risk is extreme. Though much like we did with Chris Sale coming out of the draft, we're looking past the funk in the mechanics to the talent that can be harnessed. Chances are high that if Danish can remain a starter he will take a path very similar to that of Sale only at a younger age. ETA: 2016
4. Courtney Hawkins, OF 11/12/1993 H: 6'3" W: 220 – Hawkins 2013 didn't go as planned and the assignment to High-A proved too much for the 2012 draftee to handle. His K rate skyrocketed and he struggled to find open spots on the field as luck bit him time after time.
But reports say that he continued to work hard and the tools that made him the #1 in the system last year hold strong. Still immense power potential in the swing.
Our Instinct: The good, the bad and the ugly. The good… the power was there with 19 HR and a .206 IsoP. The bad, there was only a 6.8% walk rate and the ugly is a 37.6% K rate and a just a .178 AVG.  Hawkins struggled with a .236 BABIP, so there is light at the end of the tunnel. He was pushed too far and too fast. Not yet ready for a full season ball obviously. Expect a bounce back 2014 as he repeats A ball. ETA: 2016
5. Erik Johnson, RHP 12/30/1989 H: 6'3" W: 225 – Slight under ranking with Johnson heading into last season where we had him 4th because he clearly puts himself near the top of this system. His 2013 season of 12-3 in the minors with a 3-2 record in his MLB debut put him ahead of my projected pace. But to put things in perspective, as spot on as his minor league numbers were, his MLB numbers required a big of luck and magic. His 5.40 FIP and 14% K rate are a potential warning sign for 2014. At least in the early going.
He was clearly also tiring at the end of a long season which is to be expected.
He's projected to find a spot in the Sox rotation heading into the season and it will be his command that determines his early upside.
Our Instinct: Despite under ranking him, the breakdown last year was pretty spot on although he actually made a few starts for the White Sox instead of working out of the pen. He struck out around a batter per inning with a solid bb% around 7% in the minors. His K rate will probably settle in around 20% in the majors which is solid. He projects now as a high end mid rotation starter over time.  ETA: 2014
6. Marcus Semien, 2B 9/17/1990 H:6'1″ W:190 – Across 2 levels and an MLB Debut, Semien did more than was expected and has put himself in position to possibly take the 2B job in Chicago. Something that going into last season didn't seem possible. He profiled more as a Utility Infielder and while he still does long term, right now he is in position to contend. His .284 AVG with 57 XBH including 19 HR and 24 SB was one of the best lines in the system. He struggled some in AAA and the AFL, but overall did enough to make a name for himself.
In the long run, I still see him as more of a Utility Player. But a valuable one at that and he's knocking on the door.
Our Instinct: Semien had a fantastic season over 3 levels including a successful stint with the White Sox. With the total 60 XBH on the season he moves into the upper ranks of the system and has a bright future if he continues the development he had in 2013. He could battle for the 2B spot in Chicago next season but some more AAA seasoning will make sense as well. ETA: 2014
7. Tim Anderson, SS 6/23/1993 H:6'1″ W:180 – We liked Anderson heading into the draft as a late 1st round sleeper. The Sox in the end may have reached, but the tools are enticing. Here was the pre draft take:
Anderson is one of the toolsiest players in the draft and there is a wide range of opinions as to his future. He'll go high enough in the draft based on those tools that we will see where his future lies sooner rather than later. He has plus plus speed with emerging power to match. He's still learning the game of baseball and with time he should take off as a hitter, although it's not as if he's struggled in JC hitting .495 with 10 HR. 
Our Instinct: Anderson is going to be a sleeper in the draft with very high upside. The chance to stick at SS is there, but he profiles well as a 2B. His infield actions are good and his arm will play in the OF as well. He will need time to refine his approach against breaking balls, but his tool set is that of a high 1st rounder and he'll probably still be there near the back end of the 1st for a team to grab a potential steal.
He wasn't the youngest draftee and his placement in A ball may prove to be a mistake by the White Sox. This was a raw player with limited baseball life coming out of High School and his season in JuCo being the apex of his development. He hit just .277 with a .086 IsoP while striking out 25.9% of the time last year. While 301 PA is a small sample size, it's not to be ignored. His .384 BABIP says his .277 AVG was actually lucky. Though the tools did shine some. His 24 SB show that.
Our Instinct: My fear is that the White Sox will now push Anderson to Class A Winston Salem to start the season in hopes that he will be ready to replace Alexei Ramirez in a couple of years. That could back fire and giving Anderson enough time to mature as a baseball player, even if that means that he's ready in 3-4 years, could be the only way to develop him properly. Using Marcus Semien as a stop gap could be more than sufficient. And sometimes stop gap players flourish in the spot light like no one saw coming. ETA: 2017
8. Trayce Thompson, OF 3/15/1991 H: 6'3" W: 195 – Thompson is one of the most talented players in the system based on projection. But inconsistency has plagued him throughout his career. His walk rate remains strong and his power is still developing and looks to be an above average tool. He remains a bucket of tools and is getting closer to the majors. Chances are looking like he will be a late bloomer if it all comes together. I'm still holding out hope that  everything comes together.
Our Instinct: After a breakout in 2012, Thompson gave some back on the peripheral side of the stat sheet. His IsoP dropped to .154 from the .225 range but he once again kept his walk rate above 10% and his K rate improved to 23.6%. Still not optimal. But an improvement nonetheless. This came with a career high in SB with 25. So some real underlying growth. But he's going to have to do better than the .229 AVG even if it was influenced by a .280 BABIP. Next season is a big one for Thompson's development and future. ETA: 2015
9. Trey Michalczewski, 3B 2/27/1995 H:6'3″ W:195 – Drafted in the 7th round while placing in the Top 50 of our Draft Preview makes this kid a draft steal. Here is the pre draft take on Michalczewski:
Michalczewski is a high school SS but will shift to 3B as a pro. He has a solid frame and above average bat speed from both sides of the plate. He has a solid all around game with an above average arm and solid speed for a big kid. He should have no issues handling the transition to 3B but as a switch hitter it may take some time to adjust to pro pitching. Although he does feature a pretty advanced approach for a High School hitter.
Our Instinct: Michalczewski has an all around game with upside and could be above average or better in every facet of the game. His advanced bat could see him adjust quickly and show his hit tool early, but the raw power will take some time to come along. He uses the entire field and in time more balls will leave the yard and his bat will profile just as well as his arm at 3B.
He opened his career with a .236 AVG and a lack of power with just a .092 IsoP. But as with Tim Anderson, there is more expected. Unlike Anderson though, Michalczewki was one of the youngest players in the draft and is nearly two years younger than Anderson.
Our Instinct: Michalczewski will see short season ball this year. But is at least 4 years away from a potential MLB Debut. As a switch hitter his development will clearly take time. But he could have a special bat and profile as a prototype 3B with power, hit tool and defense. ETA: 2018
10. Daniel Webb, RHP 8/18/1989 H:6'3″ W: 210 – Webb was acquired from the Blue Jays by the White Sox in exchange for Jason Frasor. The trade has worked out well, as Webb, a marginal starter, excelled in the bullpen in 2013. He breezed through 3 levels of the minors compiling 78 Ks and just 27 walks with a 1.87 ERA. His high 90s fastball and above average curveball give him a one two punch to succeed as a high leverage bullpen arm.

His MLB debut continued the 2013 success as he posted a 3.18 ERA and 10/4 K/BB ratio.
Our Instinct: While he's not a superstar name right now, Webb is almost a lock for a bullpen role and with Addison Reed out of town, Webb will be in position to take a major role out of Spring Training. He'll battle Nate Jones for the closers role and probably settle into an 7th or 8th inning slot for now. But he does have the stuff to break into the Closers role in the future with more seasoning. ETA: 2014
11. Jacob May, OF 1/23/1992 H:5'10" W:180 – May has baseball blood lines that go back to his father. But he has tools that could get him to the majors where his father fizzled out at AAA. The Coastal Carolina draftee has one elite level tool in his speed at this point, but a very well rounded game.
At this point he'll need to refine his approach at the plate to get on base enough to get the most out of his speed. Once on base, he needs to refine his jumps. But as a switch hitter he has excellent top of the order upside.
He won't have the power or the arm to move to a corner OF spot, so remaining in CF is very important.
Our Instinct: He excelled at Low-A, so a move to High-A seems likely. He should move station to station which would put him on pace for a debut in a few years. To remain a regular he has work to do. But should be valuable even as a 4th OF. ETA: 2017
12. Micker Zapata, OF 9/11/1996 H:6'3″ W: 200 – Zapata signed with the White Sox as an IFA this past summer. It took $1.6mm so the Sox have high hopes here. We had Zapata as the #8 Overall IFA and here is what Aaron Bentley said heading into the IFA signing season:
Zapata is a much more raw version of Eloy Jimenez.  He has the most raw power in the class.  He also has great bat speed and a strong arm but is not a great hitter at this point.  Zapata is very pull-oriented and tends to strikeout a lot, something that is unlikely to change.  Some scouts think Zapata can end up in CF but he currently possesses only average speed that is likely to slow down as he grows.  Zapata is already 6'3″ and over 200 pounds.  If he can't stay in CF, Zapata has more than enough arm for RF.  Zapata's tools and power ensure a relatively high ranking but he can't be ranked any higher because he is outrageously raw and will need extraordinary development to reach his potential.
Our Instinct: With no game play to change anything of Aaron's outlook, but interviews have proven valuable and just speaking to Micker brings out a person with a respect for the game, an iron clad work ethic and an understanding of his tools and needs of improvement. It's a good sign for a kid who will need to refine his raw tools. I think he holds a better chance at doing that then most. ETA: 2018
13. Francellis Montas, RHP 3/21/1993 H:6'2″ W:185 – On the surface, a 5-11 record with a 5.43 ERA signals a non-prospect to most. But take a deeper look and the sub 3.50 FIP and excellent K rate north of 25%. His walk rate was solid with Boston but turned south when traded to Chicago. There really isn't much concern to the regression post trade.

His fastball is elite level in the upper 90s with hard movement. Enough movement to even cause him trouble. He's still ironing out the slider that would make him a dominant bullpen arm.
But don't count him out as a SP just yet. He is working on a changeup that could become average if given enough innings. If that happens he could stick in the rotation plans for the future.
Our Instinct: With his fastball we're talking about serious upside. But his off and on command will need to finally come into alignment to reach his upside. He was a very nice get for the White Sox for Jake Peavy. ETA: 2017
14. Andrew Mitchell, RHP 11/09/1991 H:6′ 3″ W:205 – Mitchell came in at #58 on our Draft Preview and the White Sox selected him in the 4th round at #123 overall. A steal if consider our placement. Here's what we had to say:
Mitchell has plus stuff with the best curveball in the college ranks and a fastball that sits in the low 90s while starting, but as high as 98 in short stints. He's been a SP through his college career, but his future could very well be in the bullpen.
Our Insitnct: His arm slot and premium short stint velocity place his future in the bullpen and it could be a very solid back of the bullpen career. Is it possible that he remains a starter? Yes. But he should move quickly as a bullpen arm and could be drafted earlier than expected by a team looking to save money and has a need for the bullpen in the short term.
A 1-3 debut with a 4.50 ERA was a lackluster debut as he made 14 starts. So I want to take a step back. His mechanics and premium fastball in short stints point to a career in the pen. But to make that his only possible destination due to his mechanics is off. His delivery is very much indicative of the late Darryl Kile and Mitchell holds the best curveball that came out the 2013 college draft class. So the possibility is there.
Our Instinct: I expect him to remain a SP throughout the 2014 season and if it works out his Fastball and Curveball will be above average to plus offerings. It's the changeup that will decide his fate. I'm of the wait and see variety a this point. But there is a lot to like for a pitching coach looking for a project to mold. ETA: 2016
15. Chris Beck, RHP 9/4/1990 H: 6'3″ W: 210 – Beck was the Sox 2nd round pick in 2012 and had helium in the scouting season heading into the draft.
Here was the take heading into last season because really, not much has changed:
He has a potential plus fastball, which tailed off a bit in 2012 to the low 90s. But in college he was mid 90s and a tweak in mechanics seems to be the issue. If it's corrected he'll pair the fastball with a hard slider and average cutter. Both secondaries could be above average. If the velocity upticks again the secondaries advance, Beck is a mid rotation starter. If not he'll slide into the pen as a power righty.

Talk of a potential #2 starter are ludacris at best, jadakis at worst. The loss of his power slider makes him a back end of the rotation option now. If he focuses on it, he'll end up in the bullpen and could find success in the role.
Our Instinct:He was successful on the surface with a 3.07 ERA on the season and 13 wins. But he struck out just 79 in 146.2 innings. Very little dominance for a college pitcher. It'll be interesting to see how he fares repeating Double-A. He will see an uptick in velocity out of the bullpen and would have a higher upside from there. But you can't dismiss the actual success as a SP either. ETA: 2015
16. Keon Barnum, 1B 1/16/1993 H: 6'5" W: 225 – He's now through a full season. Barnum was drafted in the 2012 1st round supp at #48 overall and he's a monster 1B with a big swing and major power potential.
But Barnum is another player who I see very little reason to have started in full season ball. He's a full out profile power hitting 1B with little chance of being anything else. So time is what he will need to refine his approach and make that elite power game ready. He struggled at low-A hitting just .254 with a significant drop in IsoP to the .149 level. For Barnum to be a pro he will need his power to be at a .200+ IsoP. 
Our Instinct: Coming out of High School, Barnum was a top power talent. That remains intact. But there was little light at the end of the tunnel for last season. The White Sox made a mistake with him. A return to low-A is hopefully in his 2014 future. He needs time to reset the development clock. ETA: 2017
17. Adam Engel, OF 12/9/1991 H:6'1″ W:215 – Engel was drafted in the 19th round. Far below his projected spot. He holds 1st round tools with plus speed and range in CF, but his arm is average at best. It will play in CF but if he needs to move to a corner his other tools will hold his upside at bay.

His debut was a glaring success after a college season full of disappointment. He hit .301 with 31 SB in the equivalent of about a half of a season.
 Our Instinct: His BABIP says that his approach was too much for Rookie ball. So 2014 will be his first true challenge. He has some tools that could make him a top of the order CF type, but there is a fine line between that and castoff for Engel. Like the tools though. ETA: 2017
18. Matt Ball, RHP 3/25/1995 H:6'5″ W:200 – Ball was selected deep in the draft at pick 333. He's a little known SoCal High School pitcher. But throws in the high 80s to low 90s and has a frame that scouts drool over. He's already 200 lbs but there is so much room to add strength and his mechanics scream more velo in the future.
He works a solid curveball in, but both the curve and the changeup are works in progress.
Our Instinct: Consider Ball the sleeper on our list. He's still at least 4 years away. But this is one prospect that could be making noise inside of 24 months.
19. Carlos Sanchez, SS 6/29/1992 H: 5'11" W: 195 – 2013 in Review: They jumped him to Triple-A and he struggled. I don't see the reason for the expediting of a player like Sanchez. Peripherals stayed very similar, but his BABIP dropped to a more normal level and his AVG suffered. He still stole 16 bases but the power is non existent. If the bat isn't going to be high level there isn't much here to make him a top prospect. The bat is definitely a real tool. But he hasn't been handled properly and the trial by fire of this system is defeating the developmental purposes of some of its prospects.
Our Instinct: Sanchez will be given another shot at AAA and he's more than age appropriate for the level. But he's possibly damaged goods as far as his development and may need a couple of seasons to repair the damage done to his approach. He profiles simply as a Utility Infielder now with a potential, albeit unlikely, to be a rebound candidate. ETA: 2015
20. Brandon Jacobs, OF 12/8/1990 H:6'1″ W:225 – Jacobs was traded to the White Sox for Matt Thornton. At the time he was suffering another sub par season. Here was the take on him heading into 2013:
Jacobs saw his IsoP drop below .200 after a breakout in 2011. His K rate remains uncomfortably high but reports of a hamate injury may be a hidden bit of information in the loss of some of that power. He certainly needs to grow as a hitter and control the zone better, but I fully expect his IsoP to jump again in 2013.
Our Instinct: If he can make the adjustments he should bound back up the charts and could be a 20/20 corner OF. He's still age appropriate for his level and might start 2013 in High-A and then jump to Double-A midseason. He's the darkhorse sleeper on this list. ETA: 2015
2013 in Review: Jacobs slashed .244/.320/.407 with 13 HR and 12 SB over 455 AB between High-A and Double-A. He was traded to the White Sox in a deal for RP Matt Thornton. Hasn't quite lived up to expectation, maybe a change will do him good.
Our Instinct: He's just simply not developing the approach needed to get the most of his tools. Time is running short for him and this could be his last season make it happen. Still a lot of talent, but little time. ETA: 2016
21. Leury Garcia, SS 3/18/1991 H:5'7″ W:160 – Garcia was traded to the White Sox this season after a down year for the Rangers. He's a solid MI, but a very slight frame will limit his upside. He'll be 23 at the start of the season. So the time is now.
Our Instinct: If the White Sox need a utility IF, Garcia could be the one who gets the call. He'll offer  little speed, some gap power and solid D. But little to make him an every day talent. ETA: 2014
Stick with Baseball Instinct and we'll keep you a step ahead of the game. Check back soon as we release our top 21 prospects for each organization. While you're here, check out our Baseball Instinct 360° – it's our in-season top 360 prospects, and we will be updating it throughout the season. Also check out a friend of ours for all of your fantasy sports needs. Fantasy Rundown is updated religiously and is truly an awesome resource. Thanks for checking Baseball Instinct. We're working hard to bring you the best of the minor leagues and make the site the best experience it can be, so don't hesitate to tell us what you would like to read about. Email us now at mailbag@baseballinstinct.com. And while you're at it head over to Facebook and join the Instinct page.  You can also follow us on twitter: @BaseballInstinc.